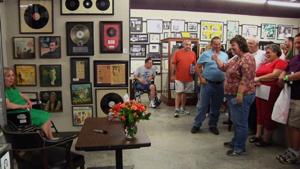 Actress Betty Lynn is wheeled into a room of adoring fans at the Andy Griffith Museum in Mount Airy, N.C., on Friday, July 17, 2015. Lynn, who played Thelma Lou on the Andy Griffith Show, moved to Griffith's hometown in the foothills of the Blue Ridge in 2007 after her Hollywood home was broken into one too many times. (AP Photo/Emily Masters)
MOUNT AIRY, N.C. (AP) - When actress Betty Lynn first moved to Andy Griffith's quaint hometown and inspiration for the eponymous show, she couldn't go to the grocery store without meeting enthusiastic fans, calling out to "Thelma Lou."
"They'd hug me and kiss me," says the actress, who played Deputy Barney Fife's girlfriend on the hit television show. "Some of them cry."
Eight years later, Lynn is "just another local," says Terri Forrest Champney, a volunteer at the Andy Griffith Museum. "She's just one of us."
Except for every third Friday of the month, when the 88-year-old actress transforms from a local to a legend.
On a recent sweltering afternoon, the line snakes out the door as an attendant rolls Lynn's wheelchair up to a small table festooned with pink-and-orange flowers, black Sharpie markers for autographs and a white sign that reads: "Mayberry Star - Betty Lynn."
More of this story