Catherine Coyne: Debut mysteries
Ever since I became hooked on the Nancy Drew series in 4th grade, mysteries have been a big part of my reading repertoire. Today, some of my favorite mystery series include those by Robert Parker, Sue Grafton, Joanna Fluke and Carolyn Haines.
Mystery readers love a good series and eagerly await the next book featuring their favorite sleuth.
However, finding a great debut mystery is another delight. Debut mysteries offer readers the chance to become acquainted with a new set of characters and new adventures. The following debut mysteries promise to be the start of wonderful new series.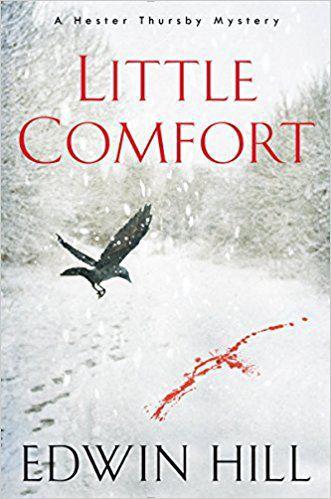 "Little Comfort" (Hester Thursby Mystery #1) by Edwin Hill
Hester Thursby is on leave from her job as a librarian at Harvard to care for Kate, the 4-year-old daughter of her best friend. With her background as a researcher, Hester sometimes moonlights in finding people, but her latest case is filled with a multitude of secrets and lots of danger. She's hired by a woman from New Hampshire to find her younger brother who ran away with a friend when they were 14 years old. Finding Sam and Gabe is surprisingly easy for Hester, but soon she finds herself caught in a web of abuse, lies and murder. What is Lila hiding about her brother? Why does Gabe stay with Sam? Why have they moved around the country so much? What happened at a campsite called Little Comfort? Soon, Hester and Kate are in mortal danger. This is a thrilling story that will keep you on the edge of your seat.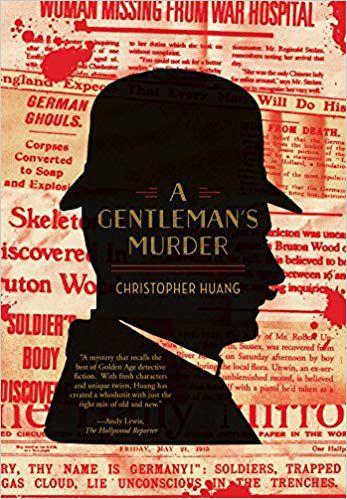 "A Gentleman's Murder" by Christopher Huang
A debut mystery set in the days following World War I, this is a must read for mystery fans especially those who enjoy authors like Agatha Christie. In the novel, Eric Peterkin recently became a member of the Britannia Club, a prestigious gentleman's club for soldiers. One of his ancestors had been a founding member and as a boy, Eric had loved visiting the club with his father. However, the current members aren't very welcoming. It may be 1924, but in England, despite his father's pedigree, Eric's Chinese mother makes him an outsider. When Eric is drawn into refereeing a gentleman's bet one evening, he has no reason to believe it will end in murder. When he notices the police inspector pocket a photograph of a Chinese woman from the murder victim's room at the club, Eric, whose job is evaluating manuscripts for mystery books, feels it's his duty to solve the crime. This is an engaging mystery filled with time-period details and men carry battle scars both outside and within.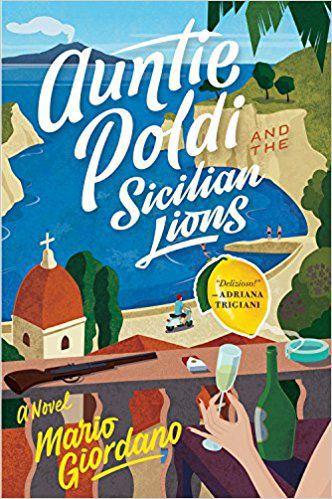 "Auntie Poldi and the Sicilian Lions" (Tante Poldi #1) by Mario Giordano, John Brownjohn (Translation)
This fun debut mystery translated from Italian stars the wonderful Auntie Poldi who has retired to a house with a sea view in Sicily. Her family worries that the glamorous, wig-wearing 60-year-old plans to drink herself to a dramatic death, but the irrepressible Poldi is soon following in her detective chief inspector father's footsteps in solving a murder. When her young handyman goes missing, Poldi hops on the case and is intrigued by dashingly handsome police inspector Vito Montana. It's filled with a cast of wonderful characters and lots of humor.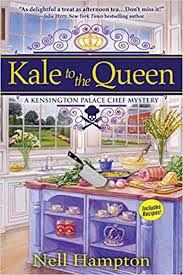 "Kale to the Queen" (A Kensington Palace Chef Mystery #1) by Nell Hampton
American Chef Carrie Ann Cole has been hired as the personal chef to the Duke and Duchess of Cambridge and their family. Leaving behind her restaurant chef boyfriend of six years, Carrie Ann is excited to begin her new job. But soon she is dealing with palace protocol, royal intrigue and the mercurial Royal Chef Butterbottom who resents all Americans. Soon after serving her first meal, she finds a dead body in the kitchen garden. While she scrambles to keep up with her duties in the midst of this chaos, Carrie Ann is also determined to solve the murder. This brings her under the scrutiny of the handsome head of security, Ian Gordon. For fans of the royal family, this is a fun behind the scenes look at life in Kensington Palace.