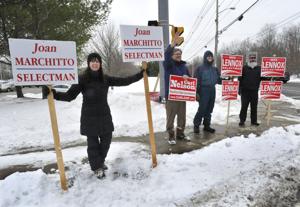 Campaigning Tuesday outside of North Attleboro High School -- where seven of the town's nine precincts vote -- during the preliminary election to narrow the field by one in each of the selectmen's and school committee races are, from left: Selectwoman Joan Marchitto;  Carl Nelson, who is running for Republican State Committeeman in the March 1 presidential primary;  Mike Lennox, a selectmen's candidate; and Lennox's friend Tom Rammel.
NORTH ATTLEBORO — Just 5 percent of the town's voters turned out to the polls on a chilly Tuesday for a preliminary election that ended Stephen Dailey's bid for the school committee and Brett Weston's for the board of selectmen.
In a close school committee race where first and last place were separated by just 59 votes, incumbents Joan Meilan and Chip Poirier and challengers Gary Lake and Ethan Hamilton will move on to the April 5 town election.
On the selectmen's side, incumbent Joan Marchitto and challenger Michael Lennox, who lost a bid for the same board last year, will proceed on to the next round.
The feeble voter participation was a slight improvement on the 2015 preliminary election's 4 percent turnout. But the 938 ballots cast this year out of 18,689 registered voters disappointed the candidates, many of whom on Tuesday night continued to call for eliminating preliminary elections.
Election commission Chairman David Torpey said improving turnout was on the shoulders of those running for office.
More of this story