Every artist has an inspiration. For André Glover, it was his parents.
Growing up, he watched them struggle through life. But he also bore witness to their hard work and eventual success.
"My mom and dad went through a lot of tough times and have been through a lot of adversity," said Glover, a 24-year-old Rhode Island College student. His mother especially had a tough life.
She came from nothing, he said, but made something out of herself. She is now an associate dean at Tufts University.
It's what inspires Glover to keep going with his art, which is on display in Boyden Library's community room for the month of November.
His art is dark and ominous, but lighthearted. It is done in wood relief. He cuts his original images into wood or linoleum and prints them on a press.
"I feel from an artistic point of view, it shows that you may feel something is impossible but if you really work hard at it, play the cards right and have a tunnel vision on where you want to get to, I know it's possible," he said.
He started to show some interest in art at an early age, around 4 years old.
But the moment that truly inspired him to become an artist was watching his father draw cartoons and doodles as a kid.
"I thought if he could do it then maybe I could," he said.
Glover's inspiration comes from the world around him, his thoughts and emotion. He tries to illustrate what that might look like from an imaginative point of view.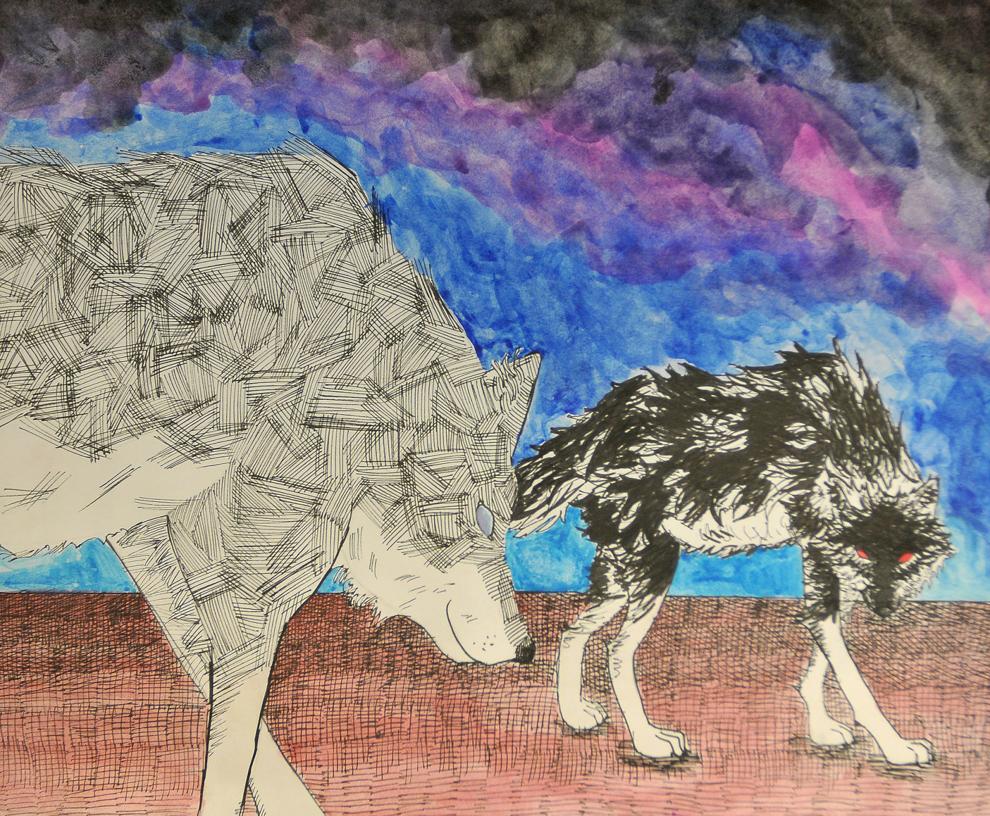 "The chance to have my work up is awesome. I am very grateful for it and I hope people enjoy my work and that they might get something out of it for themselves," he said.
Glover appreciates the opportunity more than anything.
"It means a lot to have public exposure as a student because when you come out of the school you want these opportunities to be presented to you but a lot of times many people have a hard time getting the opportunity," he said. "I'm grateful to have this opportunity where a lot of people can come in and look at my artwork, even give feedback, and maybe get something out of it. But also maybe some potential employers will come in and look at my art and give me a shot."
He tried to arrange his earliest art pieces as you enter the community room, and when you look to the right you will find his first piece, which is a John Henry illustration he did early on in college.
"As you go on it's kind of all the work that I have done consecutively. I wanted to show my progress," he said.
Manuel Leite, library director, said the community room is open to all artists in the area.
"I saw Andre's work and it was impressive, incredible. And I definitely wanted to have his showcase at our library," he added.