The coronavirus numbers game is a mixed bag. There's some good and some bad.
Vaccinations are happening, but not too fast because of a lack of, well — vaccine. But they go up every week, and that's good.
Meanwhile, testing for the disease is down, and down a significant amount. That's not so good.
Why, is the question.
The state Department of Public Health didn't have a detailed answer for that when asked by The Sun Chronicle.
The only numbers that are really good are the ones that tell us how many people are getting sick and dying. Those, thankfully, are down — way down.
As of Thursday, the daily average of new cases was 1,478, which is down from the daily average of 5,706 for the week ending Jan. 9 — the date the state reached its highest per-day and per-week total.
That's a drop of 74 percent.
For the week ending Jan. 9, the number of new cases came in just under 40,000 at 39,946.
And since the 1,170 deaths recorded for the week ending April 25, which was the highest total during the pandemic so far, with a daily average of 167, there's been a 69 percent reduction in deaths per day.
So far this week, it's 51 per day.
And since the latest high point for the week ending Jan. 9, when 562 deaths were recorded for an average of 80 per day, the 51 per day this week equals a drop of 36 percent.
In the late summer and early fall, the number of deaths fell much lower. For example, for the week ending Sept. 12 the death toll was 80, or 11 per day.
That was replicated for the week ending Oct. 10.
Both are the lowest number of deaths for any one week other than the weeks when the virus first hit and numbers started climbing.
The vaccination numbers
Meanwhile, on Thursday, as many as 1 million people jostled for a place in line to get a coronavirus vaccination.
That happened when the state opened vaccination appointments to those 65 and older and those 16 and older with two underlying medical conditions.
And, according to Marylou Sudders, the secretary of the state's Executive Office of Health and Human Services, there are still about 250,000 seniors 75 and older who have yet to receive their vaccinations.
That brings the total of those seeking vaccinations to 1,250,000.
But, she said, 51 percent of those 75 and older have had vaccinations, which is ahead of the national average of 47 percent. So that's at least a good start.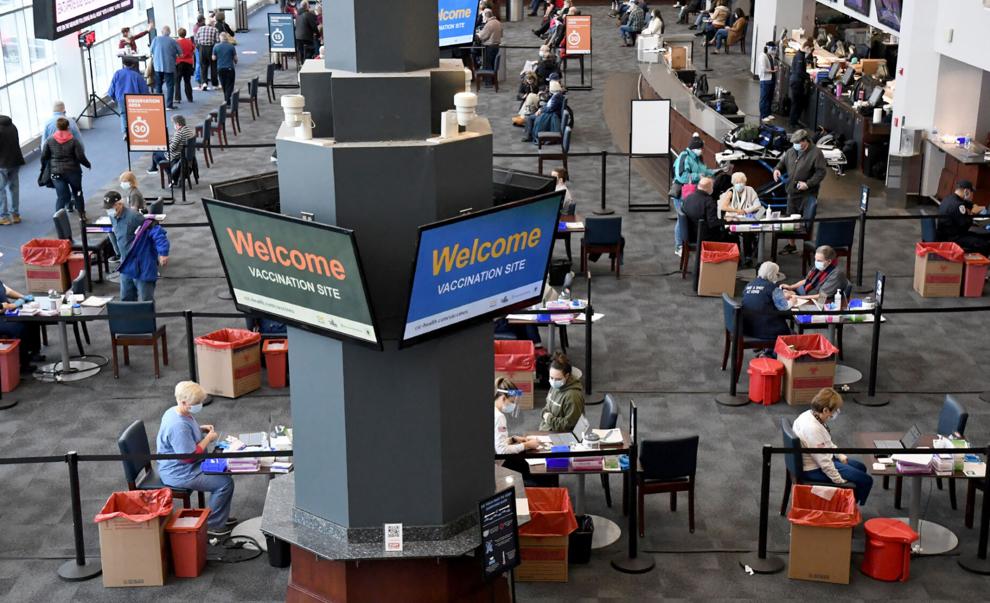 So it's no wonder the state's appointment website crashed Thursday morning when there was a mad rush to grab one of the mere 70,000 appointments the state said on Wednesday would be available at one of the its six mass vaccination sites, one of which is Gillette Stadium in Foxboro.
The latest published reports say only 60,000 people were able to sign up for the vaccinations after the website portal crashed.
However, of the initially expected 70,000 appointments, those equal 5.6 percent of the 1,250,000 people trying to get one.
All told, the state gets about 110,000 doses of the vaccine per week from the federal government, which is doling them out across the nation.
That number equals 8.8 percent of the 1,250,000.
The rest of the doses go to pharmacies, regional sites and until March 1, local health departments, which on that date will be cut out of the loop — to the outrage of many.
Bottom line — 91.2 percent of the people trying to sign up won't be able to, at least not for the coming week and the week after, etc.
It's like a mad scramble of Christmas shoppers pushing through a tiny store door for Black Friday specials. They don't all fit.
It defies the laws of physics for shoppers and in the case of vaccinations, it defies the laws of cyberspace, which is not infinite.
And at 110,000 doses a week and the requirement that each person gets two doses, it means 2.5 million are needed just for the current phase.
That's 23 weeks at the rate of 110,000 doses a week unless the supply increases.
Local health departments are being cut out so the state can focus on 20 cities deemed to have the greatest coronavirus "burden" and those with a larger non-white population, which have been deemed by the Centers for Disease Control as those more at risk for contracting and dying from the disease.
Local health departments will be deployed to arrange inoculations instead of giving them.
That touched a nerve locally and statewide.
Attleboro Mayor Paul Heroux, Health Agent Jessica Horsman and state Rep. Jim Hawkins, D-Attleboro, lambasted Gov. Charlie Baker on Wednesday when the announcement was made.
"It further shows that the governor's administration is out of touch and was not listening when we complained about there being a testing desert in this area, and other areas throughout the state," Heroux said. "By doubling down and insisting on ignoring the advice of the people on the ground, the state is going to continue to not only have black spots in testing, but now in vaccination efforts."
Horsman said she was "shocked and disappointed" that the city would not be holding its weekly clinics, something its members are well-trained to do.
Attleboro has given out 550 vaccinations to 438 people since Jan. 12.
Some have had their second shots, some have not, but the governor said cities and towns would get enough vaccine to finish the required two doses.
Hawkins called the decision to cut vaccines to towns and cities "horrible."
Those blasts were followed up on Thursday with others.
State Sen. Becca Rausch, D-Needham, who represents Attleboro as part of her district said the decision shows "regional" inequities as well.
"Although the administration claims it wants to 'address equity,' its actions speak louder than words," she said in a statement emailed to The Sun Chronicle. "The data show gross disparities in vaccination and these latest decisions will only serve to exacerbate those racial, economic and regional inequities."
A bill filed recently could point to a better way, she claimed.
"Bay Staters are scared, frustrated, and tired, and they deserve far better. My legislative colleagues and I put the roadmap in our COVID Vaccine Equity Act, crafted in collaboration with infectious disease and public health experts. All he needs to do is follow it."
State Rep. Adam Scanlon, D-North Attleboro, and 41 other representatives and senators, weighed in with a letter to the governor.
"Instead of halting the ability of our communities to vaccinate their most vulnerable populations, we should prioritize the local infrastructure," Scanlon said in his letter co-signed by 41 other lawmakers. "We continue to receive positive feedback on local clinics, and we ask that your administration reconsider the decision to limit the capabilities of these local operations."
The mad rush for vaccine over the traffic-jammed information superhighway on Thursday morning showed that communities could do a better job, Scanlon said.
"That made it clear the governor should be prioritizing these local clinics," he said.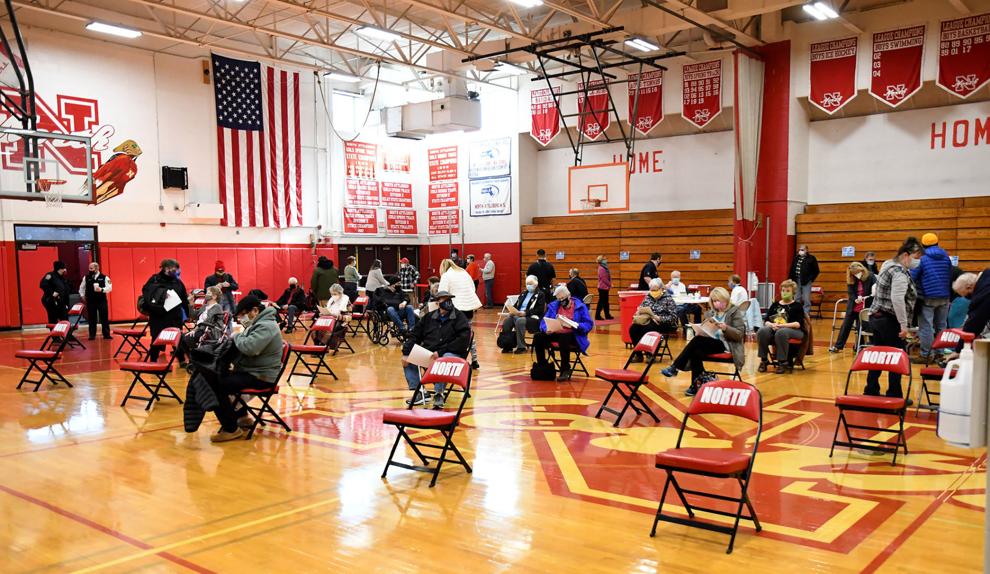 Scanlon noted that the governor's announcement came on the first of what were expected to be many clinics in North Attleboro.
The testing
With the vaccinations finally being delivered, albeit at a slow pace due to the lack of supply, there's been another development.
It's not known how or if it's related to the appearance of the vaccine on the coronavirus stage, but it's there.
Testing for the virus is down.
Not just in Attleboro, but statewide and nationwide.
A story in The Atlantic magazine on Feb. 3 reported this news at the national level.
"Fewer Americans Are Getting COVID-19 Tests" was the headline.
"Our best coronavirus tracking tool is still underused," was the sub-head.
The story, by Whet Moser, said tests have gone down and leveled off.
"But lately, daily tests have plateaued," he wrote. "After nearly breaking the 2 million mark in mid-January, daily tests today remain stuck at about 1.8 million."
That's a daily drop of 10 percent.
And that is both "good and bad news," Moser said.
"Although more testing would give us a clearer view of the outbreak, lower testing numbers reflect a pandemic in retreat, as demand for testing tends to rise with the spread of the virus."
In Massachusetts, testing dropped 6.45 percent over a one-month period, from Jan. 7 to Feb. 4.
The numbers were 2,742,523 to 2,565,373, or a total decline of 177,150 tests.
A spokesman for the state's Department of Public Health reflected the comments made in The Atlantic.
With cases plummeting nationwide, statewide and locally, fewer people are symptomatic and fewer are getting tested.
"Massachusetts and the rest of the country are seeing decreases in case numbers," DPH spokesperson Omar Cabrera said. "As cases go down, the number of people with symptoms decrease."
However, testing is still crucial, he said.
It's key to understanding where the disease is and how much of it there is.
"Testing to identify cases remains critical in tracking COVID-19 activity in Massachusetts," he said. "Testing is still widely available in Massachusetts and anyone with symptoms or those identified as close contacts of someone who has COVID-19 are still recommended for testing."
A state website identifies 403 test sites in Massachusetts.
The push for testing also seems to have taken a back seat. Public service campaigns, from the federal government on down to the state, all seem to focus on getting vaccinated, unlike earlier when the emphasis was on getting tested. Pushing people to get vaccinated is good, but considering the lack of vaccines and the age restrictions, much of the population can't get it right now anyway.
Couple the number of those awaiting vaccination with the state DPH's announcement that dozens of cases of a highly-transmissible variant of the coronavirus, the B.1.1.7 variant first discovered in the United Kingdom, have been detected within Massachusetts, and the importance of continued testing becomes even more clear.
Cabrera was echoed by Evan Berry, spokesman for Rausch, who along with Hawkins and several other state lawmakers implored the Baker administration to set up a "Stop the Spread" free, no-appointment necessary-testing site in Attleboro, a city at the hub of an area of more than 100,000 people.
"It's absolutely crucial to stopping the spread," Berry said. "It's essential. We need more access to testing."
The lawmakers described the region as a "testing desert" and it still is.
There's still only one test site in Attleboro, at Sturdy Memorial Hospital, and is not free.
Referrals and appointments are needed.
Hawkins said the best way to encourage people to get tested is with a "barrier-free" site.
No referrals, no cost and no appointments, especially in a city like Attleboro where some of the population can't easily travel to other cities where the less restrictive Stop the Spread sites are located.
All told, there are 13 testing sites in the 10-town Sun Chronicle area.
One in Attleboro, three in Foxboro, three in North Attleboro, two in Norton, two in Plainville, one in Seekonk and one in Wrentham, according to information on the state's DPH website.
But they are far from barrier free.
Twelve of the 13 say specifically there is a cost, which is sometimes billable to insurance companies.
One said "call for information."
Eight of the 13 specifically say tests are done "by appointment only."
Nine of the 13 are not open on weekends.
The one good thing for 12 of the 13 is that they don't need a referral from a doctor.
Meanwhile, the two cities in southern Bristol County, Fall River and New Bedford have multiple Stop the Spread sites, which are cost and referral free.
The two cities in the north, Attleboro and Taunton, don't have any.
Hawkins said the effort to convince Baker one was needed in Attleboro was intense and lasted for weeks, but the administration gave them "a hard no."
As a result, the lawmakers tried to set up their own with health care company Manet Inc. at the Attleboro YMCA.
It took time and the group put it together, but it couldn't get the money it needed — $70,000 to pay for the tests and equipment.
That could be one of the reasons testing declined markedly here.
In The Sun Chronicle region, testing went down by 12 percent from Jan. 7 to Feb. 4.
According to figures available from DPH, there were 6,544 fewer tests performed in the 10-town region in that month than the previous month, Dec. 3 to Jan. 6.
Reductions in testing hit eight of the 10 towns.
In Attleboro, for example there were 2,277 fewer tests performed in the January to February time period.
That was a drop of 18.2 percent.
The reduction came after increases in testing nearly every month in every community since the pandemic began now nearly a year ago.
Increases in testing were recorded even during summer months when cases dropped.
For example, in Attleboro the number of tests given increased by 1,035 in June, 3,283 in July and leveled off at 3,135 in August, before skyrocketing in September by 5,972.
But currently, testing is dropping along with cases.
Vaccinations could well be playing a role.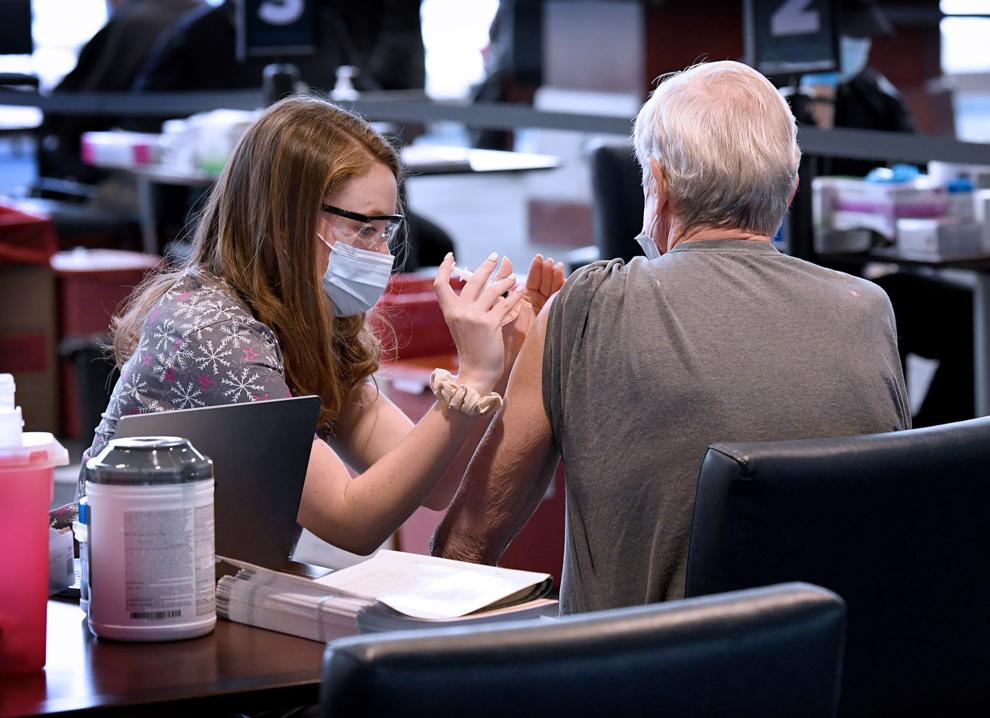 As of Feb. 18, according to DPH, 329,989 people or 4.7 percent of the state's 6,964,383 residents were fully vaccinated with both required doses.
Another 937,273, or 13.45 percent of the population have gotten one of the two required shots.
All told, 1,276,262 shots have been given, which means that 18.32 percent of the population is fully or partly vaccinated against the virus.
It's probably more accurate to say testing declined in nine of the 10 communities because while Norton actually recorded more tests in the January to February time period, its numbers had been falling since the September to October time period when it hit a high of 17,437 tests.
In the December to January period, it had just 4,971 tests which bumped up to 5,576 tests in the January to February time period.
Mansfield is the only town that registered a continual increase in testing since the pandemic began, reaching a high of 7,323 tests in the January to February time period.
This chart shows how much testing declined in eight of 10 Sun Chronicle communities from Jan. 7 to Feb. 4.
Attleboro, down 2,277 tests, -18%
Foxboro, down 2,077 tests, -30%
Mansfield, up 649 tests, +10%
North Attleboro, down 767 tests, -10%
Norfolk, down 375 tests, -13%
Norton, up 605 tests, +12%
Plainville, down 226 tests, -10%
Rehoboth, down 623 tests, -21%
Seekonk, down 536 tests, -17%
Wrentham, down 936 tests, -19%
After nearly a year of suffering these are the totals.
As of Thursday statewide there have been 534,827 confirmed cases and 15,373 confirmed deaths in Massachusetts.
More than half, about 54 percent of the deaths, occurred to nursing home patients. And about 93 percent of all deaths are among those over 60.
It's the older among us that suffer the most.
The confirmed and probable numbers of cases and deaths respectively are 563,976 and 15,686.
In the 10-town Sun Chronicle area, there have been 12,800 cases and at least 241 deaths.
So that's where we are.
Progress has been made, but questions have been raised as we near the pandemic's one year anniversary.