In September, Anissa Amancio split her classroom of 27 third graders into two groups: A red team, and a blue team.
She hoped to foster a mentality of unity, but in all honesty, the colors helped keep her organized, too.
As the coronavirus pandemic continued to interrupt her usual teaching schedule, now segmenting her students into two cohorts alternating days in the classroom, Amancio needed a new way to keep track of lesson plans and student work. The color-coded system helped.
But earlier last month, Attleboro school officials started to reintroduce full in-person learning, as encouraged by the state. Elementary students returned April 5, with middle school students following on April 26. High schoolers will be the last to return in May.
So, what to do with red and blue?
Combine them to make purple, of course.
Amancio turned it into an exercise about identity and community.
A few weeks ago, during their last virtual Wednesday meeting, Amancio asked each cohort to describe themselves to the other, to list the qualities that made their team theirs.
"I had a great relationship with each cohort, and each of them had their own personality," the Hill-Roberts Elementary School teacher said.
One group loved free-time on the playground. The other gravitated toward any sort of science experiment. They each had their own stories and silly moments.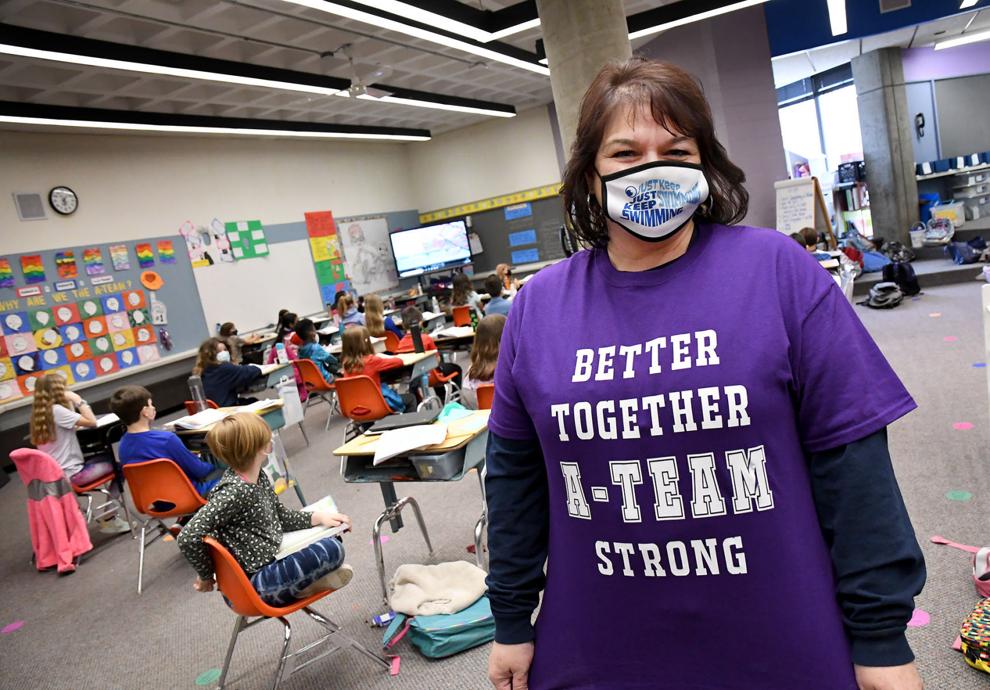 Amancio nudged them to share those things with each other. And then she talked about how they were becoming one.
You can't make purple without appreciating the qualities that make red what it is, and blue, too. Something different than the other. But when you combine them, they turn into something equally as good.
Amancio rebranded the complete class as the "A-team" — Amancio's team. She made a purple shirt that read, "Better together. A-team strong."
The lesson continued the following week, with all students in-person and questions like, "What makes us such a great team?"
Amancio wanted them to feel ownership over the new name, too, so they pulled out dictionaries and came up with words that start with the letter A — "awesome, admirable, acrobatic" — to describe their new class.
She turned the exercise into a bulletin board at the front of the classroom.
And they adapted well from there.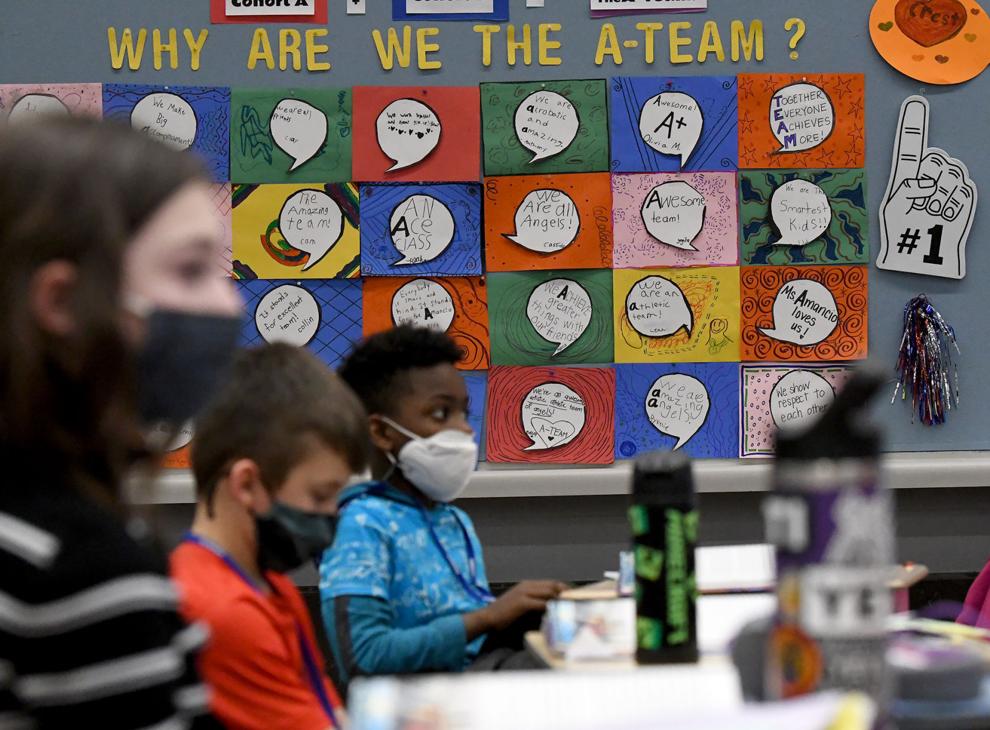 "It was sort of like the first week of school," she said. "Some were on the sidelines at recess, or a little shy, but they were quickly accepted by the rest of the group. And now they're all very talkative, like regular third graders. It's like they finally have an audience."
More than a year into the pandemic, school districts across the state are reopening their doors and reintegrating students into full-time, in-person learning. But the latest challenge in a year of pandemic education is how to do so while recognizing and honoring the emotional and physical toll the pandemic has taken on children.
While the return to school is lauded as a positive move for most, the fact remains it is still another transition, another upheaval of routines and normal in a year where students have experienced more transitions than any other.
Prioritizing mental health
To successfully welcome them back into the classroom, area school officials said first they have to prioritize students' mental health over academics.
In many ways, they said, it feels like the second first day of school.
"At the beginning of the year, there's an emphasis on community building and learning routines," Evan Chelman, the assistant principal at Hill-Roberts said. "Children need to feel safe and part of an environment before they're ready to learn in that environment.
"We never really had that opportunity at the beginning of the year. It was, 'On Monday, remember this for on Thursday.' These students have been segmented all year, and have only seen each other on screen."
Even with only 45 days left in the school year, Chelman said it was important for teachers to plan activities that brought their classrooms together.
He pointed to Amancio's exercise as acknowledging her students' experiences while preparing them for what was next.
"It gave them a sense of individual identity, but also collective identity," he said. "How are we going to change now? What we've been stressing to teachers is, don't nail down the academics yet. Yes, everyone is worried, but everyone is in the same boat. Take the time now to name what's happening and talk about it, and they'll benefit more in the long run."
Part of that work is also resetting routines and expectations, Chelman said.
In the weeks leading up to the classroom return, Chelman said his teachers practiced interactive modeling to prepare students for upcoming changes.
Some teachers rearranged their classrooms in advance, so students could get used to extra desks and sitting closer together. After months of eating in their classroom, they brought students down to the cafeteria and walked them through the new lunchtime routine.
Families who were hesitant to switch from remote to in-person learning were invited to tour classrooms during the school day. And teachers and students laid out daily schedules, especially highlighting what Wednesdays will entail after a year spending them at home.
Chelman said this practice, where a teacher stands around talking about rules and routines, seems boring. But it's necessary.
"There's some kids, that's their entire worry," Chelman said. "And then you answer that question, and all that kid's worry drips off and he's ready for math. It's about making someone feel safe in their environment, and then they'll feel more accessible to us. It sounds simple, and it is."
They used the same approach to communicate the need for patience and compassion among families.
During the first full week back, Chelman said staff could see the energy waning throughout the week.
"We had not had three days of in-person learning in a row in over a year," he said. "We knew stamina would be an issue."
The administration that Wednesday sent an email to both teachers and parents acknowledging that trend, and offered tips for the rest of the week.
The response was positive, Chelman said. Some parents thought it was just their children — and now they realized what a transition this was, and how much time it would take.
"It is about the kids," he said. "But it's also throughout our community."
Belonging, understanding
Bradley Hospital's Mary Sullivan said that sense of belonging and understanding is key when reintegrating students into whatever "new normal" schools can present.
The Rhode Island hospital, which specializes in mental health care for children, saw an increase in need for services throughout the pandemic, Sullivan said. They remained at full capacity throughout the past year, even after starting two additional after-school programs and expanding both their in-patient and partial services census. (They also operate a 24/7 triage hotline, known as Kid' Link RI, to connect families to behavioral health resources.)
Coronavirus and its new reality of isolation "promoted" anxiety and depression, Sullivan said. The transition out of that is equally a traumatic experience that once again shifts the structure of their daily life.
"Kids have been through a lot," the chief nursing officer said. "We closed down their world. Suddenly there was no school, no play dates, no visits with Grandma. That was a huge burden to put on kids, and now we're doing it to them all over again. We're taking them out of the home they've been living in for a year, and going back to the world they left, when they were just getting used to it. This is a major upheaval to the stability of their lives."
Sullivan said some students will benefit from this transition, where they can again see friends and find more structure in their day.
But another population, especially those who had negative experiences in school pre-pandemic, will have a harder time reintegrating after a year away. New rules and routines might prompt anxiety for others. And family structures have changed, creating more separation anxiety after such a tight-knit year at home.
It's important to acknowledge both experiences, she said. And for every child, it will be different.
"They're going into a world that many people still feel is unpredictable and uncomfortable," Sullivan said. "But if we can enhance their sense of mastering confidence, it's going to increase a positive attitude about this. And what a thing to have in a time of fear and uncertainty."
Sullivan said schools and parents can help their students by giving them a sense of agency again, allowing them to re-explore their strengths and interests, while also cultivating a sense of belonging with others.
"What we have to do is provide scaffolding for that return," Sullivan said. "For a year they heard this message that these germs are making people sick, and this is how we protect ourselves. Now they're going to hear a different message: That the world is safer. We need to get behind that message. Now we have to offer them a foundation and belief in themselves, a sense of belonging so that they can feel confident in their ability to enter this new world."
At the district level, Attleboro's Susan LeVine said adjustment counselors are finding themselves busier than ever.
"There are more students needing support," the academic support coordinator said. "They might've flown under the radar before, but they aren't anymore."
LeVine said some of the common themes they're seeing as students return to school are anxiety around socialization and lingering fear around the virus — whether they can play with others or touch something another student has touched.
Staff are trained to identify students who might need support, looking for children who are quieter than usual or more tired, or who may have issues with attendance or eating.
"Now there's a lot more on kids' minds, and it's not all academic," LeVine said. "Socialization is different now. Now that they're back in person, they have to relearn how to have a give- -and-take conversation and maintain eye contact. How to collaborate and navigate different views. They still did that remotely, but now they have more students all at once. It's a lot of teaching and relearning and relationship building."
LeVine said the district is trying to navigate that by heightening mindfulness activities they've always done. Teachers incorporate breathing exercises or a "mindful minute" before a content area to reduce stress, and use "zones of regulation" to help students identify how they're feeling and talk through how they can move to another zone.
The communication is key.
At Brennan Middle School in Attleboro, teachers are engaging students through a program with the Center for Restorative Justice at Suffolk University that hopes to foster a sense of community in the classroom through just that: Talking to one another.
One practice is creating a daily space for "circle time," where teachers will throw out a non-academic prompt for students to discuss. Assistant Principal Lori Santarpio said the goal is to get students talking and listening to one another, building connections and relationships along the way.
Sometimes the questions are lighthearted, like, "If you had an unexpected free day, what would you do?" Other times they follow a theme and delve into more detail. Last month focused on courage. Students started with a non-threatening prompt: Naming their favorite superhero. Then, every morning, they expanded the topic to explore how they can be courageous every day, or to lift up another student they saw as courageous — and why.
"The research is very clear that students that feel supported and connected to teachers and peers are more motivated, less apt to seek out negative attention, and are more willing to take on academic risk which leads to greater achievement overall," Santarpio said.
Teachers also say it's an effective way to check in on the social-emotional well-being of their students, and enlist the proper supports when needed.
"Because the students see that their teacher really cares about them as a person, they are more willing to share when they are not feeling quite right and seek out help where before they might not have expressed anything," she said. "Students practice talking and sharing through fun questions … so that when they need to talk about something more serious, they have the foundational skills to do so. Adolescence is so hard. Getting them to talk is half the battle, and restorative circles are proving to be very useful.
"This way of thinking gets ahead of the anxiety, the not feeling a part of," she added. "If they feel connected, it changes their whole trajectory."
And when it appears a student is in need of extra support, it creates space for another school official to step in.
LeVine said a team of the district's adjustment counselors, school psychologists, assistant principals and behavior specialists are tackling pandemic-related mental health topics together to come up with varied strategies after a tough year.
"Covid was very traumatic," LeVine said. "That's considered a trauma in their lives. And more students are coming in with more trauma than we ever saw before. We don't know what's happening at home."
The last year was "rampant," she said. Family members may have gotten sick from coronavirus or died because of it. Unemployment levels skyrocketed and many families dealt with food insecurity.
"There's so much going on, and we're trying to meet the needs of everyone," she said.
And she expects those needs to continue.
"The first week of school everyone is always on their best behavior," LeVine said. "So we're going to see more things come up as time goes on."
The district is working on a trauma-informed professional development session for all staff this summer, helping them to identify trauma and work to keep their classrooms trauma-sensitive.
"School got back so quickly we didn't have time to address this as we would've liked," she said. "But kids are very resilient. They'll get comfortable with school looking different now in the meantime. It's just going to be one of those things where they just do it."
Resources for students
In North Attleboro, the district used a portion of coronavirus funding from the state to directly invest in mental health resources in response to the pandemic.
It hired two additional elementary adjustment counselors and one at the middle school, and for the first time will keep an adjustment counselor available for extended school year students this summer. The district also purchased an assessment tool known as SAEBRS to collect data around the social-emotional health of students, just like data on reading and writing levels, the district's director of student services, Margaret Camire, said.
Students were screened over the fall through a series of questions while the district was still hybrid, and will be screened again at the end of the school year. All grades returned fully in-person in March.
Immediately it helped officials identify classrooms and groups of students who needed staff intervention, Camire said.
"Most of the high-risk students are easy to identify," Camire said. "We know who they are already. But we've been seeing an increase in numbers of students in this middle tier."
Re-evaluating students this spring will create another set of data: Were their interventions enough?
Camire said the district also put together a team of school counselors, nurses, administration and psychologists to facilitate discussions around trends they're seeing — like an increase in psychiatric hospitalizations, absenteeism or poor grades — that can be indicative of students in need of support.
Each building has a school team that addresses those needs individually. But at a district level, the team meets to discuss best practices and provide perspective.
One conversation turned to lunch.
It's natural for students to want to socialize during their lunch hour, Camire said. But the state guidance was to keep kids forward-facing, separated from each other to lessen the risk of a potential coronavirus exposure.
But how strict they need to be came into question.
"We had to remind each other that their social-emotional well-being is top priority," Camire said. "It became their health safety versus their emotional safety. There's that tension throughout the year. They co-exist, so how do we settle both needs?"
Camire said staff taught students appropriate ways to socialize — learning how to eat during a pandemic in a classroom is a new concept.
"But we realized it's something we do not want to totally limit for children," she said, "because lunch is a natural time to socialize with friends without any academic pressure."
Well-being at the forefront
The topic of social-emotional well-being is always at the forefront.
For the Dockery family in North Attleboro, the pandemic proved that mental health is just as important as physical health.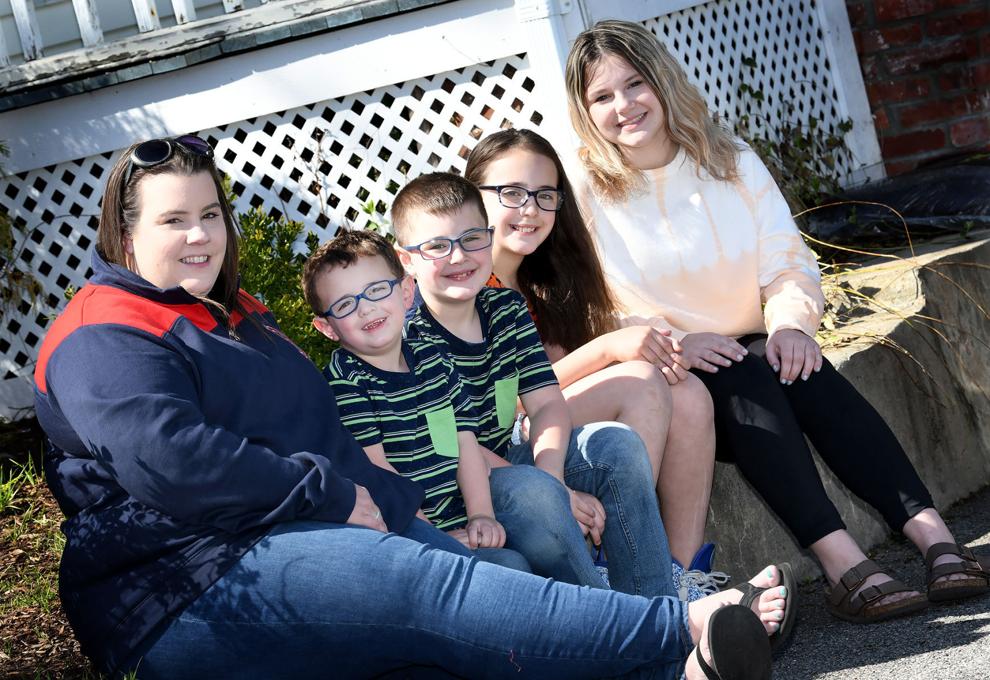 Meghan Dockery kept three of her four children fully remote in September, despite her frustrations with remote learning in the spring, because her family was concerned about the risk of coronavirus spreading throughout school.
Her third child, Jackson, has Type 1 diabetes, a condition that put him at high-risk of complications from the disease. So, the second-grader stayed home, along with his sisters Brooklyn, in third grade, and eighth-grader Hailee.
Only Logan, 3, was sent to preschool in person for the socialization, Dockery said.
But after only a few months, the family decided to transition Jackson and Brooklyn to the hybrid model.
Dockery said their mental health took too big a toll for her to continue.
"There was just a lot of anger and aggression and tears, and refusal of school stuff," Dockery said. "These four kids have always lived together as siblings, but they're always used to going out and doing their own things. It's not a constant being together. But this created a lot of tension. There was nobody but us.
"I'm their mom. They don't want me to be their teacher. To combine home and school, mom and teacher — it was very hard."
And it was taking a toll on her, too.
"As a mom, it's being anxious and worry and fear," she said. "You hurt for them knowing everything they went through over the last year."
Dockery considered the data that was now showing the virus was not spreading in schools, and consulted Jackson's medical team before making the decision in November to return him and Brooklyn in person.
"It came to a point where their mental health was struggling just as much as his physical health," Dockery said. "We thought, at what point do we have to just get back to some sort of normal? We fight hard to have him as healthy as possible, but why do that if we're not letting him live life?"
Hailee chose to stay remote: Her classes were fully integrated into live classrooms at the middle school, while her siblings' elementary classrooms mostly utilized hands-on programs with little face-to-face time.
Dockery said the impact on their mental health was immediate.
"It was an instant shift — different attitudes. They were much happier," she said. "They were able to get away from the house and get away from the computer. But then it was two days were great, and the three days online were awful. It was just hard on them and hard on me. Now that they're back full-time, all of us are happy. They can't wait to go to school. They never wanted to go before the pandemic, but that's what it's like now."
Still, the question of whether they'll ever truly revert back to their pre-pandemic selves remains, Dockery said.
Brooklyn still carries a lot of anxiety, knowing how severely other illness hit Jackson before. Hand-washing and other precautions are now ingrained in her family's routine. When allergy season kicked up last month, Dockery said her brain kicked into high-gear.
"Are we sure it's allergies and no one's sick?" she said. "It's not going away. Not now that we know what it can be. I feel like it's always kind of in the back of my mind.
"I don't know if we'll ever get back to our pre-pandemic selves, but I know we're better off going back to normal life as much as we can. They're happy and thriving in school. They're glad to be them again. As much as you try not to let anything affect your daily life, it does. But they've definitely adapted and accepted this new normal the best they can."