During the onset of the coronavirus pandemic, toilet paper wasn't the only consumer good flying off the shelves.
There were record gun sales last year and people of all ages and genders filed a flood of new License to Carry gun permit applications at local police stations.
But while toilet paper supplies have rebounded, firearms and ammunition are in short supply and police can't keep up with the demand for this type of gun license.
The unprecedented situation is likely due to the coronavirus pandemic, political and social unrest, and concerns about the enactment of stricter gun laws, local police officials and gun shop owners say.
"People want to have protection," said Ted Oven, owner of the Northeast Trading Co. on Kelley Boulevard in North Attleboro.
"There's been a lot of unrest," he said. "People are scared about what's going on."
In addition to the pandemic, last year saw protests over the killing of Black suspects, a section of Portland, Oregon, without police protection and nationwide demands to defund law enforcement.
Added to that turmoil were a contentious presidential campaign and election, which led to a homegrown insurrection at the Capitol.
Some area police departments have reported an increase in License to Carry gun permit applications leading to a paperwork backlog locally and at the state level, where local permits must be approved.
New applicants must be fingerprinted, which wasn't taking place in the early months of the pandemic as police stations were closed to the public for health reasons. Although fingerprinting is now being done, the pace is slower because pandemic precautions have to be taken to keep police and applicants safe.
In Attleboro, the largest community in The Sun Chronicle's readership area, new applications are taking up to seven months to process, according to Officer Richard Berube, who handles firearms applications full time.
Prior to the pandemic last March, Berube processed up to 15 new and renewal applications combined per week.
Now, Berube said, he takes an average of 15 new applications a week, almost four times the weekly average in the last three years.
Currently, he said, there are about 260 new applications waiting to be processed, almost twice the number of new applications he would process in a year prior to the pandemic.
As part of the background checks of some applicants, Berube said he has to obtain any necessary police reports and court records from various agencies. His ability to get those records, Berube said, depends on the staffing during the pandemic at other agencies.
The process of fingerprinting, which used to take about 15 minutes, now takes more than twice as long because of the safety precautions required by health experts, Berube said.
Renewal applications are less complicated, he said, because the license holder's fingerprints are already on file.
Most of the new applicants are residents in their mid-20s, 40s and 50s, Berube said, adding there are some in their 70s as well.
A person must be at least 21 to get a License to Carry permit in Massachusetts. The license allows a person to buy and possess handguns, rifles and shotguns as well as ammunition, according to the state.
It is different from a Firearms Identification Card, which only applies to non-large capacity rifles, shotguns and ammunition. These can be issued to younger individuals.
More couples are applying as well as parents and their adult children, Berube said, in addition to many residents who allowed the permits to lapse up to 20 years ago and are now reapplying.
"I would say the number one thing is that people believe the government is going to make it tougher to get a license so they're thinking they better get it now," Berube said.
"The other thing is the political and social climate," he said, adding that people saw the unrest and looting last year during riots and feel vulnerable.
"People saw what can happen during a riot and think, 'I have to protect my house. I have to protect my family,'" Berube said.
The run on ammunition and firearms has even fueled sales of BB guns and BBs as a cheaper way for people to take target practice, Berube said.
Last year, almost twice as many people obtained License to Carry gun permits for the first time in Attleboro. There were 257 licenses issued in 2020, many who filed in the first three months before the pandemic hit. In 2019, the number of new licenses was 126, Berube said.
In North Attleboro, 338 new licenses were issued in 2020, a whopping 148 percent increase from the 136 issued in 2019.
"I'm not surprised. It ebbs and flows. When something is happening in society people come in and apply," North Attleboro Detective Christiaan Grunewald said, adding that there is a backlog from the deluge of applications.
Grunewald said he is also seeing a lot more couples with adult children applying for licenses to carry.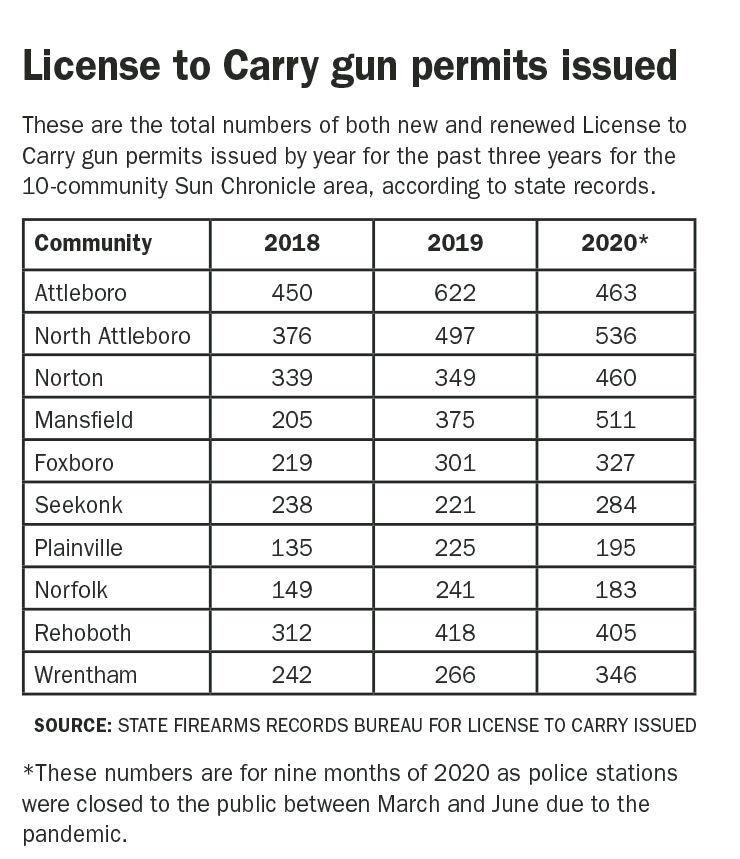 Almost two-thirds of the more than 500 licenses issued in Mansfield were from residents who got them for the first time.
State statistics show a similar trend with more firearm permits issued in 2020 than the previous two years combined. And these numbers could have been higher if police stations hadn't been closed to the public during the first three months of the pandemic.
Last year, 54,082 people filed for a new License to Carry permit, eclipsing the previous year's number by more than 30,000, according to the state Executive Office of Public Safety and Security.
Guns sales by state-licensed dealers, according to state Firearms Records Bureau, rose 52 percent, from 89,277 in 2019 to 135,641 in 2020. Those figures do not include private sales or transfers.
The sales led to an unprecedented number of background checks in 2020, with 262,583 run through the FBI's National Instant Criminal Background Check System.
By comparison, there were 212,316 background checks in 2019 — around 40,000 less. Ten years ago, the number was 115,904, according to the FBI.
Police say increases are typical for every presidential election. But the combination of short supply due to the pandemic, social unrest and politics is fueling the demand across the country.
"It's a nationwide phenomenon," Seekonk Police Chief Dean Isabella said.
According to the Pew Research Center, three in 10 American adults surveyed own a gun and view their right to own a firearm as essential to their own personal sense of freedom.
Two-thirds say this is a major reason why they own a firearm. Other reasons are hunting, sport shooting, gun collecting and for employment.
Fears that gun rights will be threatened were reinforced last week when the U.S. House passed two bills to expand federal background checks on gun purchases.
Although the bills were the first significant gun legislation since the Democrats won the White House and control of both houses of Congress, the evenly split Senate appears unlikely to grant final approval.
Gun rights advocates are also nervous about President Joe Biden.
Lukewarm on gun control early in his Senate career, in the 1990s Biden pushed through the Brady Bill — which mandated federal background checks on gun purchases — in addition to a 10-year ban on assault weapons.
The National Rifle Association has labeled the president "increasingly hostile" to gun owners' rights.
The coronavirus disrupted worldwide supply lines for gun components, many of which are manufactured overseas, and the growing demand for weapons has outstripped inventory and driven up the prices, gun dealers and police say.
"I haven't had a shipment in five months," said Oven, owner of Northeast Trading Co., on Kelley Boulevard in North Attleboro.
A box of 50 9mm bullets that used to cost $14, according to Oven, now sells for $50.
Oven said large outlets in the Midwest have made it harder for small gun dealers like him to do business by banding together and buying weapons directly from gun distributors by paying higher prices.
Oven said he has had to furlough employees, but has been able to continue selling guns in state- and federally-approved transfer sales arranged through online gun dealers.
In Massachusetts, Oven said, gun dealers can only sell certain type of firearms that are listed on an approved roster while dealers in other states don't have such restrictions.
"We are one of the toughest states as far as buying handguns," Oven said.
Businesses that train people on how to use firearms have been affected by the limited supply of ammunition in addition to COVID-19 restrictions on the number of patrons allowed inside.
"The problem we're having is getting ammunition for our training courses," said Jim Wallace, executive director of the Gun Owner's Action League.
Some courses require 1,500 rounds of ammunition, said Wallace, whose organization has 19,000 members and is the largest gun rights group in the state.
"For our advanced course," Wallace said, "we're telling people you have to supply your own ammo."
The same is being felt locally at the American Firearms School in North Attleboro, which has an indoor firing range.
"There's been a shortage of ammunition and firearms, and what you can find is outrageously priced," said Matthew Medeiros, general manager of the American Firearms School.
At the start of the pandemic and with the election year, "People started hording ammo and buying everything they could," Medeiros said.
Wallace said the upward trend in firearms ownership, specifically women buying weapons, started after Hurricane Sandy in New Jersey in 2012 and after other severe storms.
Many people saw how devastating storms could affect the ability of police to protect people when vital services were cut off or damaged.
"If you could call 911, it was a question of whether they could get to you," Wallace said.