Has coronavirus, the dreadful disease which has taken the lives of 9,260 Massachusetts residents since mid-March, given us a glimpse of the future?
Not a future where disease and death looms over a gloomy landscape, but a better one where workers can enjoy a quick and efficient drive into Boston to their jobs on the Southeast Expressway, known to some as the Southeast Distressway.
Traffic reporters had a lot to do before coronavirus.
Today, they don't.
Their electronic TV maps now show ribbons of green, indicating free-flowing traffic, where before coronavirus there were ribbons of red, glowing like angry infections, indicating massive traffic tie-ups.
So today, barring car crashes and road work, there's a much smoother, less hectic and jammed ride into the big city.
A disease, it seems, has lessened the highway hassle.
Efforts to ease the car commute in the past have failed.
What comes immediately to mind is "The Big Dig."
The Big Dig was a 16-year, $24 billion road project that started as a $2.3 billion project in 1991 and finished eight years behind schedule without — in the opinion of many commuters plodding along at rush hour bumper to bumper on a typical day — noticeably easing the flow of traffic.
The same can be said of the commuter rail ride.
People are often packed like proverbial sardines into aging MBTA cars with not enough room to sit at the busiest times and where conductors sometimes can't even collect all the fares because there are so many people.
But a glance into the MBTA commuter rail parking lot in Attleboro just off South Main Street, which is part of the Providence/Stoughton line, the busiest commuter rail line in the state, tells the tale of the train.
Every day, a 780-car lot is nearly empty as is a big private lot on Union Street.
Typically, both are packed every working day.
So those still taking the train to work have plenty of space to stretch out and conductors have plenty of time to collect fares, what there are of them.
In the meantime, the lot owners are losing a lot of lot money.
At $5 a car, the MBTA is losing $3,900 a day times approximately 130 working days since the pandemic began, which comes to $507,000 for the already cash-strapped train line. And that's just one lot.
Anyway, the answer to the question about the future is, yes.
Coronavirus has given us a glimpse of what could be the future.
Complicated road projects and new train lines and all the expense, chaos and confusion those entail may not be needed.
All people need to commute is computer, a place to plug it in or charge it and an internet connection. They don't even have to get dressed. Pajamas will do unless there's a Zoom meeting scheduled.
End of problem.
Currently a lot of people are telecommuting.
A survey of 106 Massachusetts companies with 127,229 employees by the Massachusetts Competitive Partnership published on Aug. 26 showed an average of 82 percent of employees from the 106 companies, many of which were based in Boston or within the Interstate 495 corridor, were telecommuting which explains a lot about the less congested roads and deserted MBTA parking lots.
Whether an easy, less stressful commute will come to pass on a permanent basis is for time to tell, but it's happening today for those who are able to enjoy it.
Those people are the people still going in to work.
The rest, excluding those who have lost jobs due to the pandemic, are telecommuting for most if not all of the five working days every week.
In addition, a survey of 700 workers done by the Pioneer Institute in Boston from April 22-May 15 discovered that people like working from home and want to do it on a regular basis.
"Citing an avoidance of the commute and more flexible scheduling, nearly 63 percent of respondents to Pioneer Institute's survey, "Will You Commute To Work When The COVID-19 Crisis Is Over?" expressed a preference to work from home one day a week, and a plurality preferred two to three days a week, even after a COVID-19 vaccine is available," the survey stated.
The beginning of changes
Survey analyst Andrew Mikula said it could be the beginning of big changes.
"The survey results suggest that the pandemic may lead to significant shifts in attitudes toward commuting, with potentially large impacts on the demand for commercial real estate in major job centers, internet connectivity, and transit and transportation planning and budgeting," he said.
A MassINC Polling Group survey conducted from July 17 to July 20 of 797 registered voters concluded that "commuting trips may decline overall (and) 68 percent of employed voters say they would prefer to work from home at least a few days a week as the state reopens."
"Those with school-aged kids at home are particularly eager to work from home: 46 percent of parents would prefer to work from home every work day."
And "39 percent of employed respondents said they'd prefer to work from home every day after reopening, while 29 percent said a few times a week, 9 percent said a few times a month, and 5 percent said never."
Fifteen percent said it wasn't an option for their work.
One of those who would like to work from home at least one day a week is Jeff Bradley of Attleboro, who's the community relations manager for Bristol County Savings Bank.
Bradley, 44, has worked at BCSB for five years after a 22-year stint as director of community relations with the Pawtucket Red Sox.
Prior to the pandemic, Bradley never worked from home.
He started working at home when his wife Julie, 43, was exposed to coronavirus in her job at a health and fitness business and the family, including Drew, 15 and MacKenzie, 9, had to be quarantined for 14 days.
Then the bank began its remote working plan to protect workers and customers and there he stayed.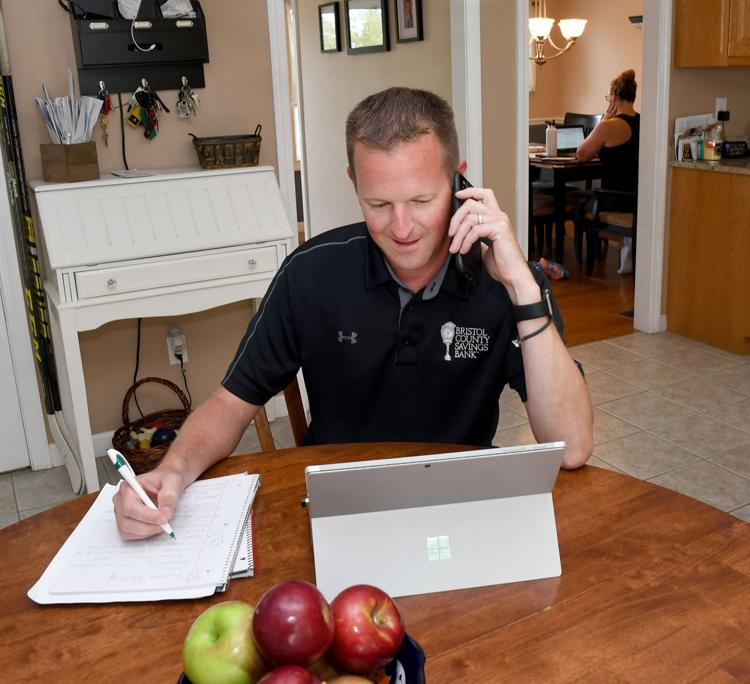 Bradley doesn't want to work from home full time, reflecting what many said in the surveys, but it does help with family life especially when kids are on the scene and two parents are working.
"I would enjoy working from home one or two days a week," he said. "It would help with the work-life balance."
Kathy Mulhern, vice-president and senior marketing officer for BCSB, said about 50 percent of the bank's workforce is telecommuting right now.
"However, in some departments we are doing this in shifts or alternating to ensure we have sufficient coverage in the event we have employees test positive for COVID," she said in an email.
According to the MACP survey, an average of 18 percent of businesses in the state had employees telecommuting before coronavirus hit the state.
Now 89 percent of businesses in Boston/Cambridge have employees who are telecommuting while 74 percent of businesses in the Interstate 495 corridor and suburbs have employees working from home.
The MACP survey indicates that at least 47 percent of employees will work from home after the pandemic.
BCSB is one of the businesses that allowed telecommuting preceding the pandemic.
"The bank has allowed employees to work from home prior to COVID and will allow the same when the crisis has concluded," Mulhern said. "Our current remote policy allows employees to work from home on an ad-hoc basis as the need arises."
Mulhern said working remotely has pluses and minuses.
The pluses include "convenience, cost containment of operating space, employee engagement, safety and security, work-life balance, reduced commuting expense, healthy lifestyle," she said.
Some of the drawbacks include the loss of an "informal communications network which takes place in hallways and break-rooms where quick solutions can be achieved," Mulhern said. "Culture of the community is somewhat diluted when half of the community is not here or rotating in and out."
"Infrastructure needs to be reconfigured to accommodate such activities such as; printing, laptops, privacy and security, which takes time and expense, (and there's) reduced camaraderie between co-workers.
That leads to a lessened sense of community.
Bradley said one of the things he misses are the in-person interactions with the other employees.
Zoom and other online meetings of "talking heads" are omnipresent and can create "Zoom fatigue."
"I think people are getting a little tired of it, but it is what it is," he said.
Those participating in Zoom meetings can be easily distracted by what's going on where they are instead of what's going on in the meeting, Bradley said.
"Sometimes you don't get everyone's full attention," he said. "Getting back to the office two days a week has been a welcome change."
As for the future, Mulhern said the bank's goal is to keep the personal touch in play as much as possible.
"Although working from home may be more common for us in the future, depending on what happens with coronavirus and a vaccine, having the personal touch will continue to be very important for us when providing banking services to our customers," she said. "Sometimes that touch may be virtual, but when possible, we would like to be back to face-to-face meeting when safe to do so."
Currently at Bridgewater State University, about 26 percent of 750 employees are telecommuting full time for their jobs, said Keri Powers, vice president of human resources and talent management.
Another 46 percent have a "blended" work schedule that includes working on campus a couple of days a week.
The final 28 percent are on campus five days a week, she said.
"I suspect we'll remain at this capacity for the remainder of the semester," she said, noting that it could change with the circumstances of the pandemic, which can change overnight.
"It's really a day-to-day thing," she said. "It's like nothing I've ever experienced."
Telecommuting has been a great learning experience, she said.
It has prompted the university's employees to learn more about and to take advantage of technology available to them, Powers said.
That's resulted in a smoother operation.
"Many processes have become more efficient," she said noting one of the benefits is a diminished use of paper.
Powers is one of those working remotely and like most employees who do so, she misses the personal interactions with other employees and entire atmosphere with students present, which makes it more than a workplace, but a community.
"I personally miss being part of the community," Powers said.
She also misses the commute, which for her is only about 12 minutes, but which allows her to decompress and switch from work mode to home mode and to "shed the stress."
Powers also said when the work day ends at home it has to end.
"You have to be very disciplined at the end of the day so work doesn't overtake the home space," she said.
On the positive side, the lack of a commute allows more time for personal care and to focus on staying well.
And like other businesses or places of work, Powers said the university could eventually adopt a more permanent home work option.
It may have other advantages like freeing up some office space for student services of some kind.
And it could provide a better work-life balance for employees, Powers said.
"The university is open to consider the working from home option going forward," she said.
Employees at Wheaton College in Norton have also been telecommuting, said Omaira Roy, assistant vice president of human resources.
"Starting in mid-March and continuing throughout much of the summer, we moved almost all of our non-essential operations to remote work," she said in an emailed statement. "This includes full remote work as well as a hybrid model with some on-campus work and some remote work."
Roy said the telecommuting for those for whom it's feasible has continued into the fall although officials are gradually bringing staffers back "where appropriate and necessary."
"This fall, we have continued to rely upon and encourage remote work where feasible and for positions that can perform their duties effectively remotely," she said.
She said it's worked well.
"It has been inspiring to see how hardworking, flexible and solution-driven our community has been — even as so many have had to juggle life responsibilities and challenges at the same time."
The future of telecommuting though remains a question at Wheaton as it does at large, she said.
"It is hard to say what will become the standard for the work environment after this health crisis ends," Roy said. "We will continue to evaluate the needs of our staff and faculty as well as continue to consider the most efficient and safest ways to carry out the work that needs to be done to support our students and the education we provide here at Wheaton."
But much has been learned and the future could have different look.
"I think we have learned that work can be conducted in many different ways, and we have also seen how much our work and traditional models of work impact our families," she said.
"We will continue to monitor and assess the impact of COVID-19 on both the workforce and campus operations before we make any decisions about remote work for the spring semester and beyond."