There was once a church that was having trouble with mice. They tried cats, they tried traps, all to no avail. A deacon finally suggested baptizing the rodents. "That way," he said, "they'll only show up on Christmas and Easter."
It's a story older than egg hunts or hot cross buns.
Christian churches traditionally see a surge in attendance at the two major holidays of their faith. Sometimes it's from students home for the holidays, or nominal Christians guilted into attending by a more fervent family member or even, perhaps, the secular-minded moved by genuine stirrings of faith during a holy season.
As one might expect, there's an occasional undercurrent of resentment of such worshipers among the more regularly faithful, who may find themselves crowded out of their accustomed pews or even shunted off to the church hall with the overflow crowd and forced to listen to the service on tinny speakers and watch on a fuzzy screen.
There's even a slang term for those who are seen as the interlopers: "CEOs," short for "Christmas and Easter only."
That may not be true this Easter Sunday.
While many houses of worship in the area are planning for expanded services and some will be welcoming congregants back in person, churches are largely still operating under pandemic rules that limit numbers and enforce social distancing, although not as strictly as last Easter when the pandemic was just beginning.
That doesn't mean, however, that there's not an uptick in interest in services this weekend.
The Rev. Rodney Thibault, pastor of the combined North Attleboro Catholic churches of the Transfiguration of the Lord Parish, agrees that the major holidays, including Easter, are when people tend to "come home."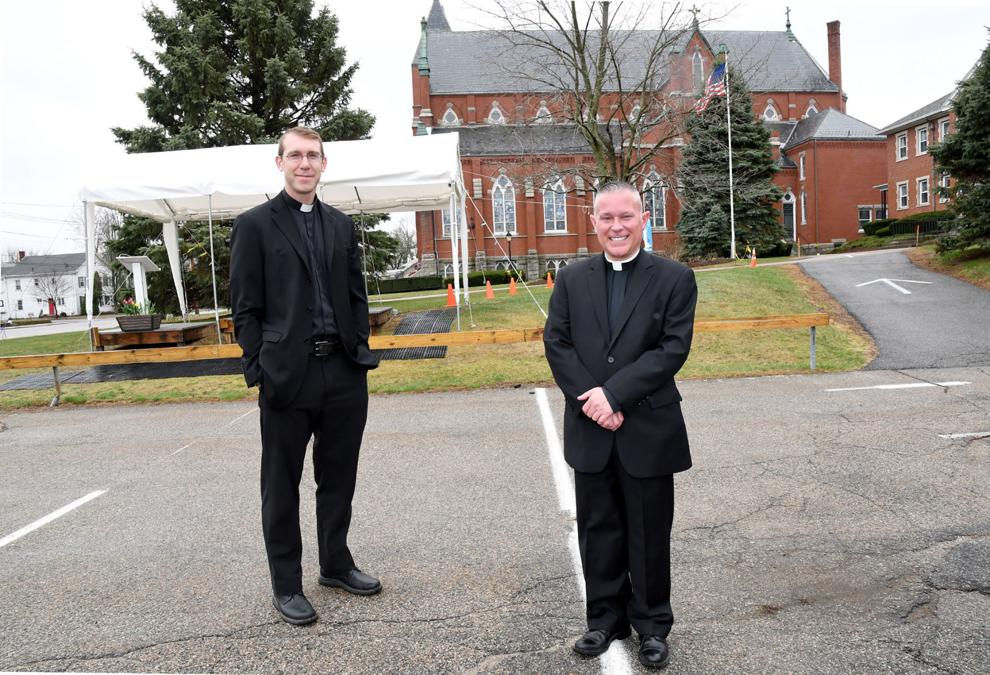 "The parochial vicar and I along with the parish staff tried to come up with a schedule to accommodate the desires/needs of our community and clearly it was a challenge," he said in an email.
"The limitations imposed on us make accommodation of everyone indoors a challenge. We were at capacity at our indoor services for Easter early this week," Thibault said.
There are no reservations required for the outdoor 9:30 a.m. Mass on Sunday.
Guidance from the Diocese of Fall River, which includes many of the Catholic parishes in The Sun Chronicle's coverage area, puts the safety of worshipers as the first priority.
"Members of the faithful who are planning on attending an Easter Mass or any of the Holy Week liturgies at a church in the diocese are strongly advised to visit the parish website or check its bulletin for the schedule and for registration requirements.
"Of primary concern and importance, as it has been throughout the pandemic, is safeguarding the welfare and health of those parishioners who choose to gather for in-person worship in a parish church," the diocese says.
But Thibault says he and his staff have been pleasantly surprised by the enthusiasm of local worshipers for alternative venues, including live streaming and outdoor Masses. "For example, on Palm Sunday, we had over 400 people at both the 4 p.m. vigil and the 9:30 outdoor Masses compared with less than 100 at our two indoor Masses."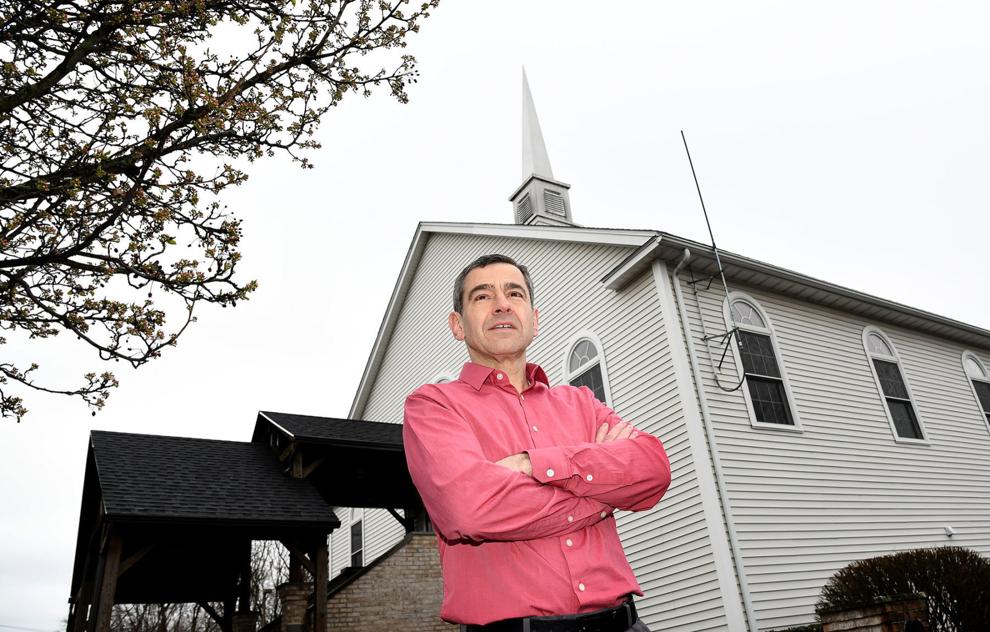 For Pastor David Meunier, leader of Plainville Baptist Church, one of the first congregations in the area to livestream services during the pandemic, a return to in-person services is nothing new.
"We have been meeting in person since May and indoors since July. So this isn't a change. We still offer livestream and nearby radio (90.7 FM). I believe we will have a large turnout and are preparing for it," he said in an email.
A time of renewal, a time of uncertainty
Easter is a time of renewal, this year sharing a season of major holy days for other faiths as well, occurring in a brighter mood than a year ago. Jews observed Passover beginning Thursday night, Hindus around the world celebrated Holi and Muslims will enter the holy month of Ramadan in about two weeks.
But it's also a time of uncertainty for many congregations and for the role of religion in American life as a whole.
A new Pew Research Center survey finds that Americans are increasingly confident they can safely go to services at a church, temple, mosque or other house of worship. And the percentage surveyed who say they actually have attended religious services — in person — in the past month is slightly higher than it was last summer. "Still, the situation in U.S. congregations remains far from ordinary, and this promises to be the second consecutive highly atypical Easter season for Christians," the center said in a report on its latest poll, released earlier this month.
In other findings, the new survey also asked Americans whether their own faith has grown stronger, weaker, or not changed much as a result of the coronavirus pandemic. It finds that roughly one-quarter of U.S. adults surveyed say their religious faith has grown stronger as a result of the pandemic, while 4% say their faith has been weakened. The remainder say that their faith has not changed much, including those who say they were not religious to begin with and still are not.
That contrasts with the finding of the Gallup organization, whose widely reported survey last month found a starkly different attitude towards religion.
As the Associated Press reported, the survey found that for the first time since the late 1930s, fewer than half of Americans surveyed say they belong to a church, synagogue or mosque, according to the new report from Gallup.
Forty-seven percent of Americans now say they belong to a house of worship, down from 70% in the mid-1990s and 50% in 2019. The decline is part of a continued drop in membership over the past 20 years, according to Gallup data.
The polling giant has been measuring church membership since 1937 when nearly three-quarters of the population (73%) reported membership in a house of worship. For much of that time, membership remained at about 70% but began to decline after 1999. By the late 2000s, membership had dropped to about 62% and has continued to fall.
Nevertheless, around the country many church leaders and their members were looking forward to a more joyful, and communal, Easter season this year.
In Houston, the Rev. Meredith Mills is eagerly anticipating a return to in-person worship Sunday in the sanctuary of Westminster United Methodist Church. According to a report by the Associated Press, the church has been worshiping on its front lawn since October except for a few Christmastime services that drew a handful of people.
"Many of our people are two weeks past their second shot of vaccine, so the comfort level is a lot higher now," said Mills, who had her own bout of COVID-19 in January. "It almost feels like we've been in Lent for a year, and we are ready for Easter."
Mills recently made a video of herself walking through the empty sanctuary and reflecting on a year of realization that God is everywhere — in people's homes and "even over Zoom" — but sacred spaces remain vital.
"So this space is about to reopen," she said. "On Easter Sunday we are going to be masked and distanced ... but we're going to gather and we're going to sing, 'Christ the Lord is risen today, Alleluia, Alleluia.' We're going to let the 'Alleluia' ring off of these walls."
At St. Barnabas Lutheran Church in the Chicago suburb of Cary, attendance inside will be limited to 50, but there also will be an outdoor service.
The Rev. Sarah Wilson said that during the past year, the congregation has endured "fear, exhaustion, change, confusion, irritation, disappointment, doubt."
But "now that more of us are getting vaccinated, we're also experiencing some hope," she said via email. "Each time a parishioner tells me they've gotten a shot, I'm so happy."
Similarly, the Rev. Bob Stec of Saint Ambrose Catholic Church in Brunswick, Ohio, said his parish's theme for this Easter is "Alive in Christ,"
"Across our world we have all experienced a year of dying," he said. "After a difficult and challenging year, we are ready to walk into a future full of hope."
Father Thibault, the pastor in North Attleboro, is among those who think the last year has made a difference. "The pandemic has strengthened and transfigured faith. We were once three separate parishes and now we are indeed one: Transfiguration of the Lord Parish," he said.
Thibault said earlier this week that the reaction of parishioners for the Easter Triduum, which began on Holy Thursday and will culminate on Easter, and its mix of indoor, outdoor and streaming services, will be interesting. "Our Sunday schedule will remain the same and everything will be live streamed at all locations. I just purchased a third iPad to have for Sacred Heart," he said.
Pastor Meunier in Plainville says his congregation's support has remained steady, but he doesn't foresee a windfall from this Sunday.
"From my experience here at the church for the last 21 years, even though we have a larger group at Easter, we don't typically have a larger offering," he said. "Yet, God has always met our needs. I believe that if you take care of the Lord's business, the gospel of Jesus Christ, He takes care of the finances."
At sunrise on Sunday, members of the Attleboro Area Interfaith Collaborative will host a service at 6 a.m, under the Newell Shelter at Capron Park on County Street.
Taryn Degon, president of AAIC, will lead the service along with the Rev. Bert Coté, AAIC chaplain.
"We are hoping to get 50 people," Coté says. "It depends on a lot of things," he said, including he weather. "The reality is it's at 6 a.m."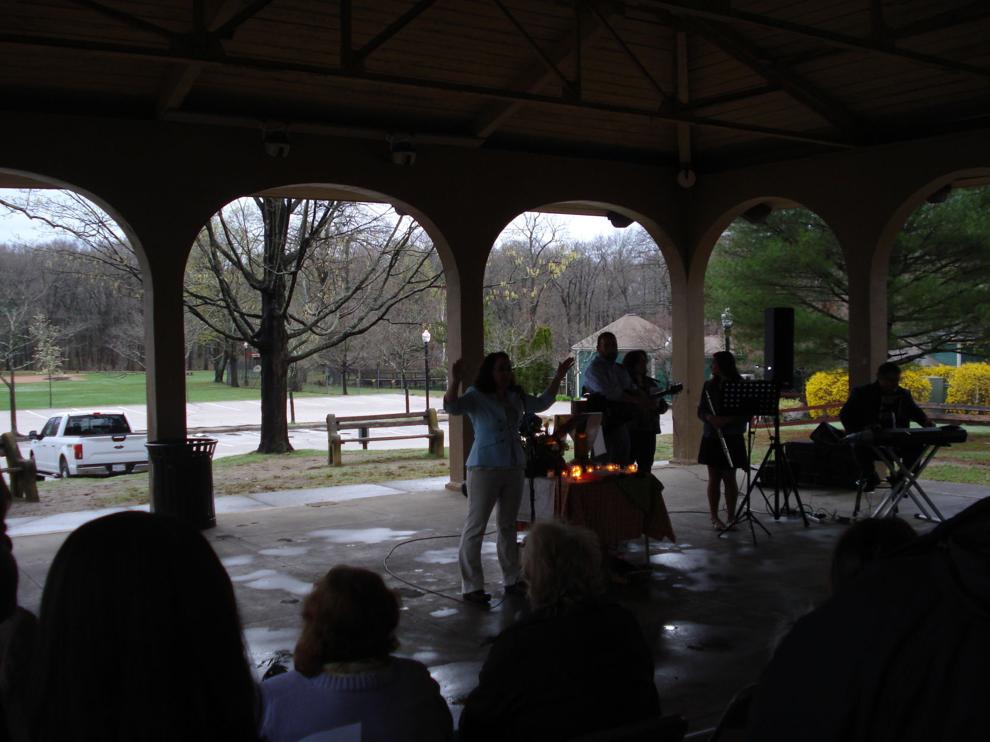 While the collaborative's mission is not to advance any particular doctrine, the sunrise Easter service has become a tradition.
"Other churches are opening up for live services and they're all trying to maintain social distancing. It will be interesting to see how this compares to last year," when the group made a video of the virtual service to go online.
This year, Coté said, "Things are heading in right direction. We are pretty comfortable going forward with it."