June Rogers would bring all of her stuffed animals to school if she could. This year, she did.
The Attleboro third grader loves to be outside — in rain, snow, wind and sunshine — and, this year, she was, even in the middle of a school day.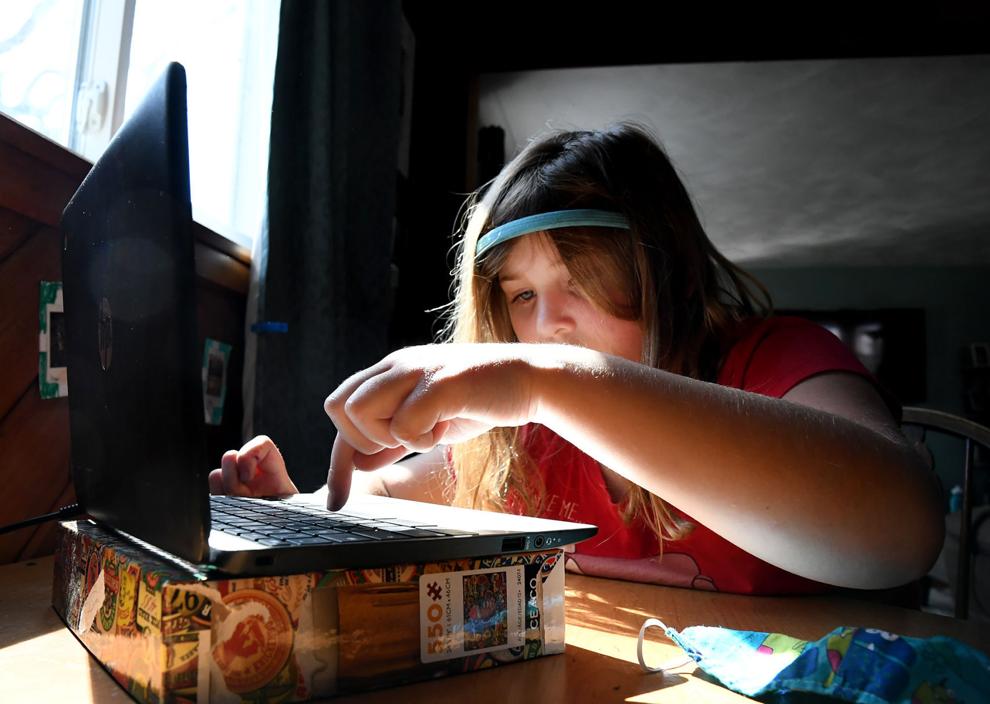 June was one of about 1,200 Attleboro students who elected to stay fully remote this year as the district navigated a mix of pandemic education options. While the majority of students experienced a hybrid of online and in-person learning, others enrolled in the Attleboro Virtual Academy: a fully remote option that utilized online programs as curriculum with various virtual teacher check-ins throughout the day.
Many remote students have since joined their in-person classmates. But about 800 remain virtual, Assistant Superintendent Laurie Regan said.
June is one of them, mostly to preserve some consistency with only a few weeks left in the school year.
But whenever her mother, Annie Rogers, talks about returning to school in person next fall, June resists. She mentions how easy it is to get her work done in the comfort of her own home, with her favorite furry friends, and the ability to take breaks on her own schedule.
"She could do that and a lot more," Rogers said.
For most families, public school is a given.
But the last year challenged traditional education. When the coronavirus pandemic closed school buildings, it also brought classrooms into family homes — forcing parents to take a closer look at their children's education, many times assuming the role of a quasi-teacher themselves.
It also highlighted the many alternatives available. Nearly every area school district reported an increase in the number of home-schooled students last year in response to the pandemic. For those who remained in-district, school administrators had to welcome online schooling platforms to combat pandemic safety guidelines that limited how many students could attend in-person at once.
Remote learning didn't work for all students — but it did for some, and many families found themselves excelling in a setting they would have never considered, or been exposed to, pre-pandemic.
As schools will likely start with full in-person learning this fall rather than a hybrid model as they did this year, some students and families aren't sure they want to return to a traditional model. So what's next? For the first time, they're considering alternative options for their children's education. And in response, both to that demand and the opportunities realized by the pandemic, some school administrators are embracing new education models to provide more options within their district.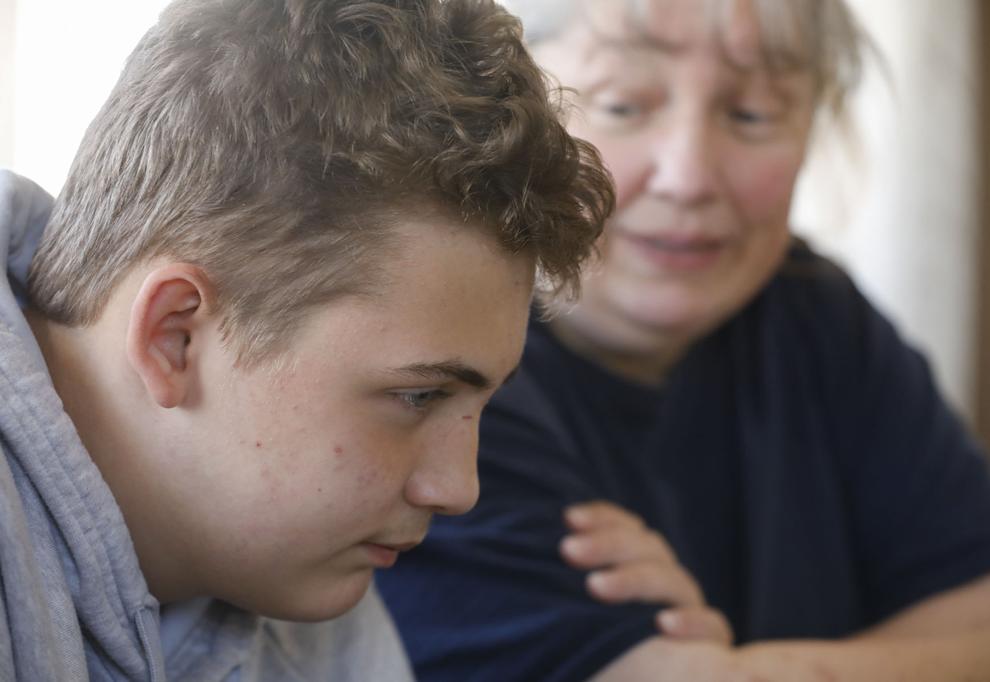 Brenda Hussey hopes her son Ayden can take advantage of the Attleboro Virtual Academy for at least another year — just long enough for him to finish eighth grade and transition to a trade high school that provides a hands-on learning experience.
Ayden finished his remote learning courses early this semester, earning straight A's for the first time and creating space for a few electives to finish out the year.
It was a welcome surprise for his family.
Ayden has autism and school is always a big point of anxiety.
Hussey decided to stick with remote learning this year to limit unexpected transitions and quarantines and instead provide the 13-year-old with some consistency throughout an unknown pandemic.
Ayden gets physically sick during the first few days of any school year as he adjusts to a new environment. Hussey wasn't sure how he would react to the added challenges of face masks, pandemic protocols and a hybrid schedule that bounced between school and home.
She wasn't sure how remote learning would work either, but her decision paid off.
Ayden thrived in the program. It allowed him to work at his own pace, start later in the day if he was having a rough morning, and get up and stretch in the middle of a lesson if he needed to — privileges he wasn't afforded in a normal classroom setting.
There were fewer social distractions, too. At home, he won't lose his focus if another student drops a book, moves around or taps their desk. He doesn't have to worry about bullying from other students who don't understand how he communicates.
He calls regular school an "antsy setting," because sometimes if he is shaking his leg or rubbing his hands together to steady himself, Ayden can't get rid of the feeling that other students are staring at him.
The Attleboro Virtual Academy provided a more comfortable setting for both academics and socialization.
He came together with peers for a daily check-in, a Tuesday "lunch bunch" meeting, and Friday socials, where students were invited to tell stories and do different virtual activities.
"That was more social than he gets to be in school," Hussey said.
Academically, his grades in reading and social studies jumped from C's to A's. The program was mostly self-guided, but Ayden had access to teachers in every subject for one-on-one help as needed. Hussey worked with him on general skills, like reading questions thoroughly and approaching tests as assignments to reduce pressure.
She noticed Ayden asking more questions than he would in school because he was in an environment where he felt safe.
And because of that, he retained more. Ayden started answering questions with more detail and would often bring up different topics he learned as they related later in board games or TV shows.
So if administrators allow, Hussey wants to see that learning environment for Ayden continue. She hopes to stick with the Attleboro Virtual Academy over another online program because it's something they're familiar with — and clearly for Ayden it worked.
"Normally, when a child goes to school, it's a given that they learn what they need and they're doing what they need to do to get by," Hussey said. "But sometimes students can slip through the cracks. It's helped us get to a point where — before I felt like he was just moving along in classes, learning just enough to pass and move on. Now, I feel like he's getting something out of it.
"Academically, for him, he survived more this year in this one-on-one at home than he would've in a classroom with 25 other students."
'It does work for some kids'
Anne Hird, a Bridgewater State University professor who focuses on computer technology in schools, said one challenge in the way pandemic education was framed was the implication that remote learning was a "second-best" option.
"I think some people discovered that while this doesn't work for all kids, it does for some kids," she said.
And the experiences of those students shouldn't be discounted.
Hird said the pandemic may have created a turning point in education for the way it highlighted how many other options were available: "Learning pods" that hired private teachers for a handful of families to share, or homeschooling in replace of remote learning.
In some cases, those alternatives are coming to life within public school districts themselves.
A study by the RAND Corporation found that about 20% of nearly 300 school administrators surveyed last fall said their district had already started an online school, was planning to start one or was considering doing so as a post-pandemic offering.
Since the expansion of public school systems in the 1920s, Hird said most families have followed a "one-size-fits-all model" through traditional education. The past year challenged that.
"Change is always difficult, and most people tend to revert to what they know," Hird said. "But I think this might be a moment like 9/11, where some things will never go back to normal. We might never go back to one option only.
"These different models that bubbled up in the pandemic provided some alternatives for families and kids."
And while many people tend to point to socialization as one of the biggest concerns about homeschooling or online education, Hird isn't worried.
She said socialization in schools has a "Lord of the Flies" aspect to it where children are fighting for minimal attention from educators and peers. Outside of school, there are plenty of resources available for interaction with others.
Her colleague Melissa Winchell, an associate professor at Bridgewater State, said two of the key differences that make online education successful in a regular year is that the students want to be there — and the teachers are prepared to make an online classroom community work.
When both of those situations exist, the opportunities are endless.
Winchell said remote learning offers creative opportunities that include students' interests and their home. During the pandemic, her daughter wanted to host a porch bake sale to benefit a local food pantry, so Winchell turned it into a homeschool lesson calculating how many sales were needed to meet their goal.
"We've been able to capitalize on her interests in a way that's never been done because of curriculum confines," she said.
Winchell said the state tends to focus on the number of "minutes" each child is learning, with a push toward in-person education. But once those perspectives shift, there is much more freedom that allows students to learn in a way that suits their needs and preferences.
She hopes to someday see a system that goes beyond an all-or-nothing option and allows high school students to pick which individual courses they take remotely, like at the college level.
Hird said alternative models of education work well for many subsets of students. If a child is bullied or has school-based anxiety, that can affect their academic performance and attendance. Remote learning provides an opportunity for an education without the fear of school attached.
Other students who excel in sports, music, arts or other extra-curriculars might find that alternative options provide an opportunity to get work done faster and in a schedule or location that works around their other needs.
Other families may choose alternatives because they don't feel supported in school. Hird said Black families make up one of the fastest growing populations of homeschool students in the U.S. — with research showing the shift is part of an effort by parents to remove their students from discriminatory social and learning environments.
Winchell added that students with prolonged medical needs could also benefit from remote classrooms, including the increasing rates of students needing in-patient mental health care.
For others, it might not work.
One of the biggest impacts of the pandemic was how it highlighted the role of education as childcare in the U.S., Hird said.
Remote learning further widened the wealth gap between districts when it introduced challenges around WiFi, computer access and parental assistance. And it showed how schools fulfill social-emotional and societal needs, like free lunch, adult mentorship and a space for children to learn without having to fulfill the financial and caregiving needs of their families.
Some academics and school officials in a recent New York Times article argued expanding remote learning options could continue to alienate at-risk students.
But Hird said these issues were already in place pre-coronavirus, and school districts were already struggling to mitigate them. The pandemic only brought that fight into the public's view.
"I do agree that danger exists, but I'm not sure how different it is than the issue of crumbling buildings, no textbooks and students not coming to school, when they're falling behind right in front of you," Hird said. "The question is, are we going to continue to lose the kids right in front of us because we're not providing an adequate in-person education either?"
Hird said in any educational model, those issues exist — and need to be addressed.
But part of the experience of the last year is also considering how students best perform, and providing those opportunities, too.
"I think we need to keep in mind one thing we discovered is that traditional public school doesn't work for every child," Hird said. "One thing we can take away from this pandemic is that we have all of these other models."
Some embracing change
Attleboro is embracing those changes by working toward a permanent remote alternative.
Assistant Superintendent Laurie Regan said the district submitted a proposal with the state to create a "single district virtual school" next year. Students enrolled in the virtual school would take self-guided classes through the online platform, Edgenuity, and have access to Attleboro teachers specifically assigned to the virtual school for content help.
The proposal only includes high school students in Attleboro.
Regan said the move is strategic and based off of feedback from families that younger remote students felt disconnected and needed more at-home support to work through curriculum this year.
Alternatively, Regan said some high schoolers enjoyed the flexibility around when and how they learned each day. An early survey of Attleboro students indicated at least 40 high schoolers want to participate in the virtual program next year.
"We recognize that some students, particularly at the high school, are benefiting from it already," she said. "That this is what has helped them to succeed academically."
The state will provide feedback on the district's proposal in early June, after which it will have to be approved by the school committee.
Other area school districts are focusing on a return to in-person learning next year.
School administrators in Mansfield, Foxboro, North Attleboro and Norton said they currently have no plans to pursue a virtual school model. Several said the majority of students have returned in person and there simply isn't the demand for a permanent remote program.
"One of the biggest lessons we learned in the pandemic was the value of our student-teacher connections," North Attleboro Assistant Superintendent Michelle McKeon said. "Having the kids come back in person — that was a big priority for our students and families."
Norton Superintendent Joseph Baeta said pursuing a virtual school option without high interest from Norton families would be difficult from a curriculum and staffing position.
Still, Baeta said it doesn't mean the district has to revert completely to its pre-pandemic ways. He is looking at ways to keep Norton schools competitive among alternatives that were highlighted during the pandemic.
One example is a better integration of technology into their programming. Baeta said the district hopes to pursue an online tutoring model that will allow students to get extra help in the evenings or around extra-curriculars, instead of the traditional after school, face-to-face sessions.
Baeta also said his district, like others across the country, has its hands full identifying and addressing the different ways the pandemic has affected students. As they head into the next school year, that will be one of their biggest priorities.
At his annual academic summer retreat, Baeta said administrators and teachers will focus on mitigating learning loss and the social-emotional factors that may play into it. Staff will navigate how to set up classrooms that include students at different levels and review ways to conduct learning assessments and utilize breakout groups to address needs at the start of school.
"For now, this is more about where we are and where we want to go, rather than bringing in new initiatives," Baeta said.
What's next for families?
That decision is true for families, too: After an atypical school year, they now have to think about where they are, and where they want to go.
When Rogers thinks of her daughter's education next year, she is left conflicted.
Remote learning was taxing. It blurred the lines between teacher and parent, and left Rogers so exhausted by the end of the school day that sometimes she had no fuel left to parent with.
More frustration came when Attleboro school officials condensed three remote classrooms last month in an effort to reallocate resources as more students returned to in-person. Students from June's classroom were split into two third-grade virtual classrooms with about two months left in the school year when her teacher was reassigned to an in-person position.
Even after adjusting to that new classroom, Rogers said it seems like resources continue to be pulled away from the virtual academy to assist in-person students. She said June's reading teacher was out for two days this week to help with MCAS testing.
"When this continues to happen, I am extremely hesitant to continue future AVA enrollment, as the education of these students is not the same priority as in-person students," Rogers said. "It's more frustration on top of frustration."
Regan said the shifting of resources is done yearly to accommodate different circumstances, like MCAS testing, that alter a regular school schedule. This year she said teachers were temporarily assigned from both in-person and remote classrooms to assist students in both settings who needed a small group accommodation for the MCAS.
"In any given year, shifts in resources and staff are made to support the needs of all students in the district," Regan said. "Given that this was the first year with a virtual learning environment, we learned that it was a great experience for some students and a very challenging year for others. If we were forced to quickly develop an environment like this again, we would build on the lessons we learned from this year."
Social skills
Sometimes Rogers wonders about the impact remote learning had or could have on June's social skills, too, especially at a young age.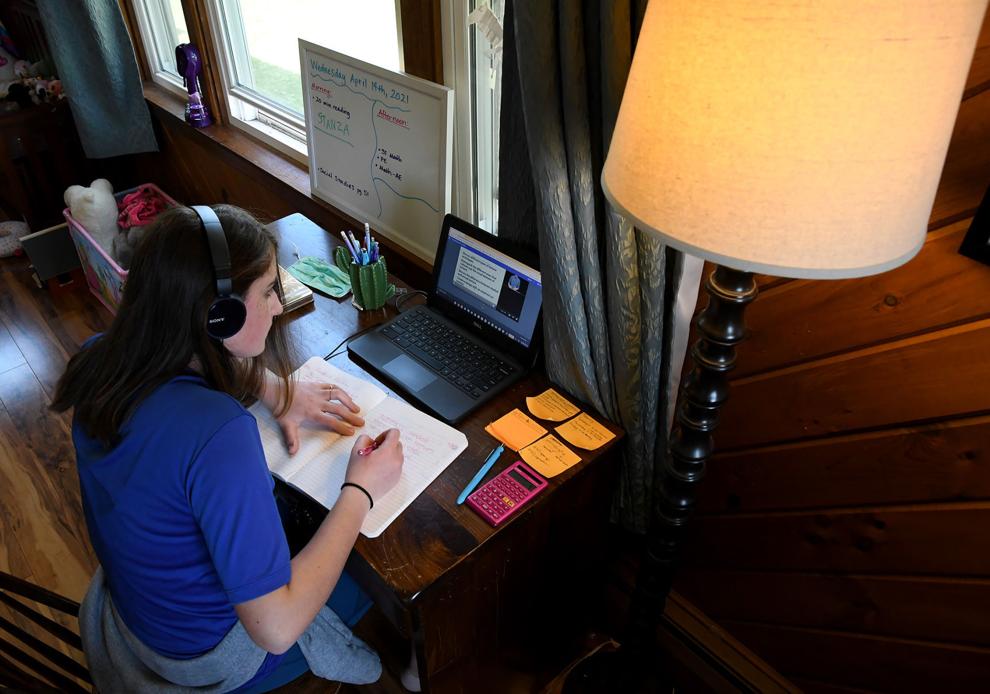 Her older daughter, Miah, 14, also spent the last year learning remotely, but misses her social life and already told Rogers she wants to return in-person for tenth grade next fall. June seems unfazed.
But when Rogers looks at her daughter's academics, June managed to stay on track — even jumping "leaps and bounds" in reading.
"I don't know if that would happen in in-person learning," Rogers said. "I kind of feel like she's a student that is easily lost in the shuffle."
Working with her daughter over the last year at home has given Rogers more insight into the type of student her daughter is.
June isn't a student who needs extra attention and support, Rogers said, but she does get quickly frustrated and quits easily when she can't figure something out. Sometimes she just needs a break before she can continue. But Rogers wonders if the 8-year-old is easily overlooked because she sits in the middle of the pack.
"In a classroom setting, she won't advocate for herself and raise her hand and say she needs help," she said.
She also wonders to what extent those needs can be accommodated.
"In a classroom, you're kind of shuffled to where the schedule goes," Rogers said.
One of her biggest concerns is how schools will mitigate different learning levels after a year where education was inconsistent across students in the same grade.
Some students had more one-on-one time with teachers under the hybrid model. Others learned mostly online and will have not been in a classroom for nearly 18 months by the time they return in September. Several had private tutors at home while others did not.
"Putting all of those kids back together seems impossible," Rogers said.
She started looking into TEC Connections Academy, a free virtual K-12 public school based in East Walpole, as an alternative if Attleboro doesn't offer a remote option next year.
Rogers said in an ideal world, she'd like the state to take the lessons learned over the pandemic as an opportunity for education reform, perhaps considering skills-based learning levels rather than focusing on numerical grades by age.
It's an untraditional approach, but she asked: "Is there anything traditional about what happened with Covid education?"
"Are we just going to plow forward and pretend to go back to normal and try to catch all these kids up? I don't know if that's an approach I care for," she said.
It's a new way of thinking about her children's education, Rogers said. And a heavy one.
Education used to be a given: Once they hit 5 years old, your children go off to kindergarten in an education system you trust, and there aren't many parental decisions to be made.
"Over the past year, we've never stopped thinking about these decisions," Rogers said. "It's been a constant weight on our mind. And I think parents and students both are exhausted thinking about it. It's all new territory for us."