At some point last fall, Georgia Blagrove-Mandley hit a wall.
The Attleboro woman had been working on mutual funds in the finance industry for nearly 25 years, commuting into Boston three days a week.
She had a routine and she found enough purpose in it to continue. She woke up at 4:30 a.m., got herself and her two daughters, 6 and 14, ready for the day, and caught the train into Boston at 7 a.m. She would use that commute to decompress, focusing on her hobby of writing or other personal goals. On the two days she didn't have to go into the office, Blagrove-Mandley worked from home.
"I was a well-oiled machine," she said.
But then the coronavirus pandemic hit last spring, flipping her well-scheduled life on its head. And just a few months later, the police killings of several Black individuals across the U.S. brought forward a more visual representation of racial injustice than Blagrove-Mandley had ever known, igniting summer protests nationwide in their wake.
Blagrove-Mandley said both events forced her to look at life differently.
She wasn't happy at work, feeling unsatisfied with the lack of growth she was experiencing. She also wanted to find ways to put herself first again.
"For me, the silver lining has been the ability to redefine my life the way I want it to be defined. I learned to no longer squash the feelings that surface," Blagrove-Mandley, 46, said.
"It was a combination of so many things, but the pandemic is what pushed it in my face. The pandemic, then being at home confronted with everything at the same time — I stopped and asked myself, 'What am I doing?'"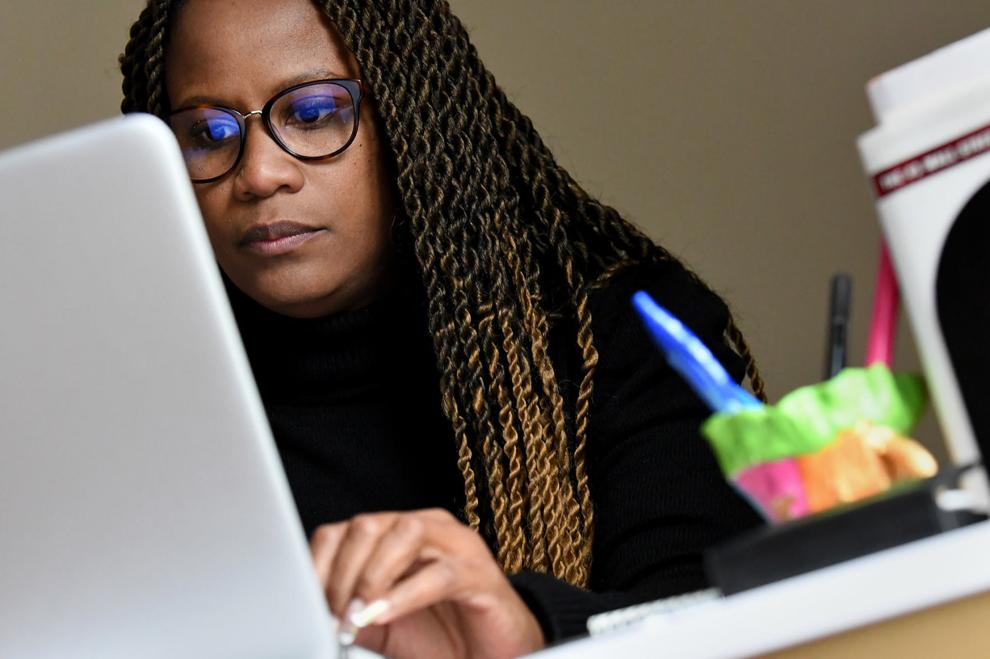 She remembered a quote she heard at a women's conference in Boston a few years ago: "Will the outcome of my decision have a significant effect on my happiness in a year?"
And then she decided to take action. She spoke up about the lack of room for growth in her work, and when nothing changed, she looked for a new position within the same company. She switched roles to a project manager in November.
"I never knew what the next steps would be, so I didn't want to take that chance," Blagrove-Mandley said. "But I realized, I don't need to know the next step. I just need to step."
That translated to her personal life, too.
Balancing work and life is hard. But Blagrove-Mandley said she has individual dreams and hobbies she wants to pursue, too, that lingered in the background as a source of personal disappointment overcome by professional obligations.
"I see my job as a necessity," she said. "I'm working because I have to work to provide for my family. I make my situation work for me, but there's no such thing as balance. There's always a struggle between work and family for me. The pressure of work is always pulling. There's always a deadline, always a loud and verbalized need.
"But I got to a point where I no longer accepted what came my way. I owe it to myself to push forward my own agenda. I'm placing 'Georgia Blagrove-Mandley Incorporated' first."
So, she's started calendaring her personal obligations alongside her professional ones.
She blocks out time each week for networking calls, to attend virtual lectures or conferences, and to pursue her other passions – like writing. She mainly focuses on poems and creative writing. This summer she plans to redecorate her bedroom — a few swatches of paint colors already sit behind her desk as a sign of what's to come. The desk that she'll eventually remove, to allow her bedroom to become a "haven" again, instead of a quasi-office, quasi-living space.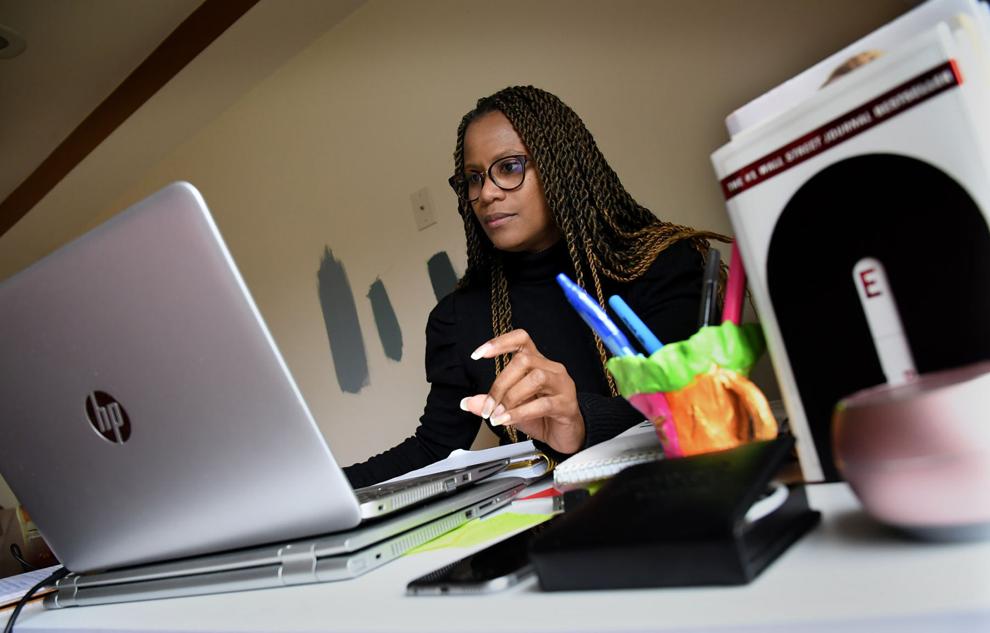 She wants to be more intentional in choosing her interactions and fostering closer relationships with family and friends. Post-pandemic she hopes to get back into dancing, whether at church or in a class.
Calendaring allows her to see the real time she has available. And it creates a schedule and a structure that's easier to adhere to. When something is on her calendar — whether a professional obligation or a personal one — she's unavailable. And she is strict in holding that line.
"I think for the majority of folks, when we shift our mindset we focus on adding values to ourselves," she said. "But when your to-do list is a mile long, you have to ask yourself, which one of these items do I have to do first? I will have to make work work around them, because I need to rid myself of this feeling that I'm not pushing myself to accomplish the dreams I have for myself."
A temporary shift becomes something different
When the coronavirus pandemic sent all but essential workers home in March 2020, many people thought the shift was temporary. There were new platforms to learn, and work came at a distance, but overall, it became clear that many jobs can be done remotely. And that realization came with mixed reviews.
Some workers relished the flexibility and casualness the opportunity offered: A chance to work in your pajamas, from the comfort of your home, and take mid-day breaks to meet other needs. For others, it muddled the line between work and home — especially as schools and daycare centers closed soon after, leaving many parents with the added responsibility of hands-on childcare. It was stressful, and exhausting, and came with constant interruptions and working late into the night — now without an office to leave at the end of the day.
But a year into the pandemic, many Americans are still working from home. A May survey from Gallup found that 52% of all workers surveyed, including 72% of white-collar employees, are still working remotely on at least a part-time basis.
Thirty-five percent said they would continue working remotely if given the choice — a majority of that group indicating their decision is simply by preference, rather than safety concern over coronavirus.
And as life starts to return to normal, it begs the question: What does a post-pandemic work-life balance look like?
It's a question many people have considered over the last year, seeing new opportunities for where they work, how they work and when they work. Like it did in many other areas, the pandemic may have upended many of the traditional values that society holds for the workplace.
Todd Harris, an associate professor at Bridgewater State University, said employers shouldn't expect or assume that the culture of work will return to the way things were before the pandemic.
"This whole thing was an experiment that was unplanned," Harris said.
And how they prepare a return to the office holds just as much weight as how employers treated their employees outside of the office over the past year.
Harris said both situations have consequences that will influence how employees consider their organization and what they value in the workforce overall.
To some degree, Harris said the pandemic humanized people by providing a window into each other's homes.
Throughout the pandemic there were countless stories of work meetings interrupted by little ones, and employers now faced with home and family responsibilities had to provide the same flexibility they needed to employees in similar situations.
"To one extent, it demolished the complete fiction that we have everything squared away and perfect," Harris said. "It injected an element of sympathy and empathy and understanding of the other world. Hopefully we retain some element of this on the other side."
Others who found no support from their employers may now have a more negative view of the organization and their workplace, Harris said, which could impact employee retainment.
And the return to the office is also a heavy responsibility.
Harris said organizations need to consider how to create a "climate of psychological and physical safety for employees." While some employees may be ready to head back to the office, others may be hesitant.
Offering autonomy, support and time in that decision making — along with continued flexibility in the choice to work remotely where appropriate — could go a long way in cementing a relationship between employees and their organization.
"To some degree, flexibility in terms of where you do work, how you do it and when you do it was becoming more and more of an expectation in the employer-employee relationship," Harris said. "That was already happening prior to Covid. But Covid really accelerated these underlying expectations and changes already in motion.
"Companies have to think — to what extent have my employee's expectations about work and life shifted? How we work and what we value from work. Many of us have sort of been reflecting and thinking this through in terms of our lives: Work, family, health, hobbies. We want to see what it's going to look like."
Harris said a remote workforce may not be appropriate for every organization, job or even individual. There are fears over what happens in terms of the organization's culture, creativity and innovation over time, and some roles and projects are needed in person.
But he said companies that can provide more flexibility and autonomy to its employees after a year of just that will put themselves in a better position to attract and retain talent.
"It's interesting the degree of importance Americans put on work," he said. "I think maybe that's going to change a bit. We've all had the opportunity to think about what we value and what's important to the lives we live."
Erika Morin found herself viewing work more positively because of the changes and flexibility her employer provided during the pandemic.
Morin keeps work a large priority.
The 42-year-old Norton woman works as a manager of training and member services for a deposit insurance corporation in Newton.
Before the pandemic, she left the house by 6:30 a.m. and didn't arrive home until nearly 12 hours later – just barely in time for the dinner, bath and bedtime routine for her daughter Eloise.
Her husband Jason works as a teacher for a remote school and handled a lot of the childcare.
But soon Morin was sent home to work because of the pandemic, and Eloise's preschool closed, creating a lot of challenges and varying schedules for two working parents and a 5-year-old.
Morin said she likely put in more hours working from home than she did in the office. There was no leaving the work behind: People had access to each other all day and night through email, phone calls and text messages.
But she was also able to move her schedule around throughout the day. She got into a routine of alternating working for a few hours and caring for Eloise. She reinvested the two-and-a-half hours she spent either commuting or preparing for that commute each day into getting actual work done, or spending more time with her family.
When Eloise returned to school, Morin found she could do drop-offs and pickups. She signed Eloise up for a 4:30 p.m. horseback riding class – something that would've been impossible under her old schedule.
So, when she looks to the future, she appreciates that flexibility.
"When we were first sent home, I was thinking this is no way to work," Morin said. "But this is nice. I'm just as productive, if not more than before. And the whole team has proven that this is something that can work for us."
Morin said her employer hasn't indicated a transition back to the office yet – but even if they do, she'd like the option to work from home a few days a week if possible.
It would allow her time to engage in activities with Eloise, and make appointments without missing a day of work – or rushing back and forth between Norton and Newton trying to make up lost time.
"Appointments are always a point of stress for me," she said. "I try to do a 7 a.m. or 7 p.m. appointment. But now I could take whatever we can and work around that.
"I'm a worker, and my attitude is always to get it done. But I'm able to manage more than I used to. It would give me more of a balance. I could contribute more at home, but I can still contribute to my career. And that's important to me, too."
Before the pandemic, Morin said work consumed most of her life – nearly 75%. Now, she feels there's more of a 50-50 split. She's seen Eloise more over the last year than she has since maternity leave. And her career didn't suffer for it.
"I love being a mom," Morin said. "It's my biggest gratification. But I also enjoy working. When this whole transition came about, it was just as important to keep my head above water for work as it was to keep my head above water mommy-ing. My career is something I work hard for and I'm proud of. It's a big part of who I am."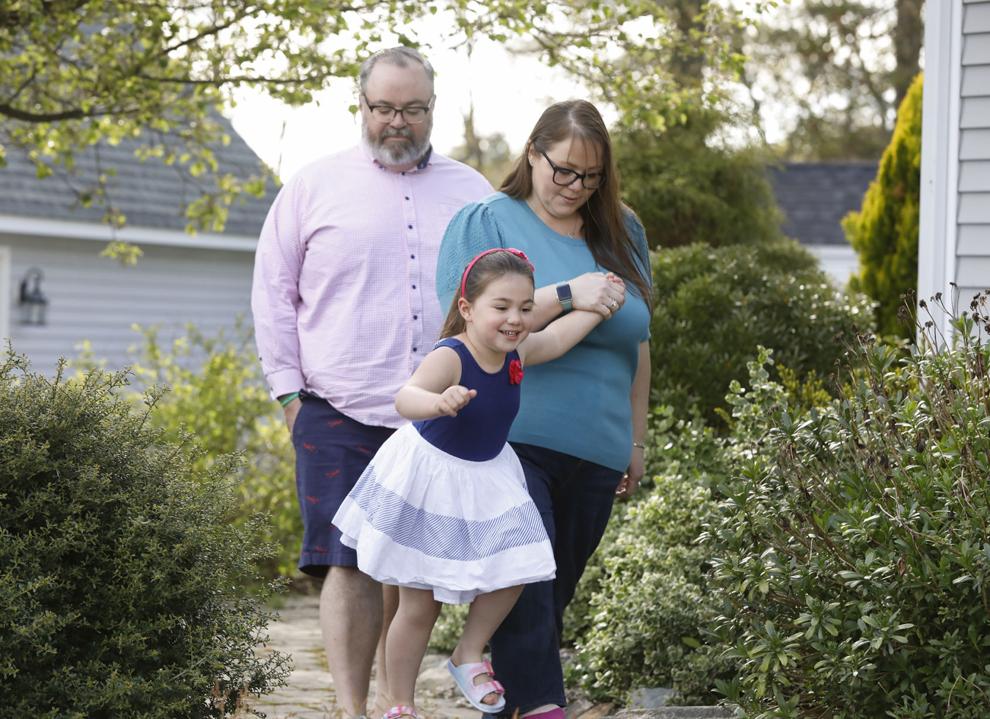 So when her employer recognized that both of those things were important – and that adjustments were needed to help both areas flourish during the pandemic – Morin felt lucky.
When she compared stories with other friends balancing parenthood with work over the last year, not all of them found the same empathy.
She will reach nine years with the company in June. And it makes her want to stick around longer.
"I wouldn't be as invested in my company if they weren't as invested in me," she said. "A lot of things had to come together to make this work, but a big part of that was having an employer who cared."
For Gregory Weishaar, the pandemic provided a reality check in the way he prioritized the different factors of life.
And it came from one of his two daughters.
Before the pandemic, Weishaar spent most of his day in Framingham in his role as a manager of HR software systems – leaving early and returning well into the evening. Office life has a way of bogging you down with endless tasks that extend the workday, Weishaar said.
Now working at his North Attleboro home, a few weeks ago he logged off early to make dinner – a new part of his routine – when one of his daughters joked, "What are you doing home so early?"
"It's easy not to leave the office once you're there," Weishaar, 47, said. "Someone pops into your office to talk, or you take on one more task, and suddenly the night is gone. That's been eye-opening. I didn't have the same discussions prior to the pandemic. It's sad when people come to expect that work comes first. And it's easy to fall into that trap because you feel that's right. But they had noticed I was done early and that was unusual."
Working from home has changed his relationship with his daughters, 12 and 14.
There were challenges, especially in the setup.
When Weishaar transitioned home to work, it was just him at the kitchen table. Soon when schools closed, his two daughters and his wife joined him – and there was simply not enough space, not enough ethernet cords, and not enough understanding or empathy of conflicting schedules.
Weishaar had to learn how to work while one of his daughters practiced piano in the background, or household distractions pulled him from his work.
When the rest of the family returned to school, Weishaar had a few hours of quiet at home – but his children returned before the end of the school day. And more than that, Weishaar was now their "bus driver," taking on the school commute three times a week.
While on one hand, it created a new overbearingness toward chores and homework schedules that the teenagers didn't know to expect – or appreciate – it also allowed more room for day-to-day activities together.
Weishaar could attend track and field meets and soccer games, participate in carpools and help out more at home.
"Over the last year, I've really started scheduling work around life," he said. "My life schedule was the priority. For better or for worse, I've prepped dinner more in the last 12 months than in the last five years combined. Now I don't mind repurposing my time. I can log off to make dinner at 5 p.m., and know I can go back once everyone's in bed at 8 p.m. to finish up."
His family has had more meals together and embraced board games with a new frequency and sense of competitiveness. And Weishaar has appreciated having more time in their lives.
He hopes it will continue.
His company indicated they will give employees a 90-day notice before they're expected back in the office. Weishaar hopes to negotiate a 60-40 split between the office and home.
He's had conversations with his team about where they need to do their work and how. Their ability to communicate with one another hasn't slipped, aided by technology.
And his employer seems to appreciate a work-life balance. The vice president of the company in a meeting last month said she didn't want to see any more emails traded with a timestamp of after 10 p.m. One of the dangers of working from home is the sense that you are never "off," Weishaar said, but it comes with an important shared responsibility and accountability.
"It really behooves each individual to build those boundaries," Weishaar said. "But it's also on the employer to ensure just because you can, doesn't mean you should. By saying that, you're empowering your employees to take a break."
And one colleague summed it up best: She was once driving an hour into work just to shut her office door and make phone calls across the country each day. For what reason?
Weishaar said having a few days at home each week would allow him to recapture some of that commute into productive work, while still allowing the flexibility to attend his daughter's sporting events or schedule appointments or a repairman without taking a personal day.
It would allow him to recapture some parts of life he wasn't before.
"My kids are in middle school," he said. "I don't have much time to do this before they're more independent. I want to take advantage of this.
"I want to better appreciate the things outside of work and consider how they need to be prioritized better in the future. I want to prioritize me over work, my family over work and prioritize work itself differently – with start and stop times, and how many calls you're choosing to take on the weekend. It's easy to get stressed about work. It's an important part of what we do to fit into society, but it should not be all encompassing."