It's 80 years on and they're almost gone.
So when the National Park Service issued a press release on Dec. 1 stating that 150 veterans of World War II, including 40 survivors of the attack on Pearl Harbor, would be present for the annual 80th Day of Remembrance on Dec. 7, it was hard to believe.
The remainder are obviously a hardy lot.
If not 100 years old, the Pearl Harbor survivors are near it. Those who were 20 then are 100 now and many were 20. Some younger and some older.
Those 40 survivors have stories of that day and some have told them.
For veterans of war, that seems sometimes to get easier with age.
Of course, some have not or have not told the worst which stays locked away.
Horror is hard to repeat.
But one thing is sure, what was likely the worst day in their lives can't be erased.
That was case for Eugene Marchand, a survivor of the attack by the Japanese on Pearl Harbor on Dec. 7. 1941, when interviewed by a Sun Chronicle reporter a few years before his death in 2007.
At that time, the attack was 60 years gone, but vitriol for anything Japanese lingered long within him. He said after the war he would not buy anything made in Japan.
Without a declaration of war or any warning at all, Japanese war planes launched from aircraft carriers 274 miles north of Hawaii after a 12-day trip from Japan in total radio silence.
They came out of the blue on a peaceful Sunday morning dropping bombs and torpedoes on the U.S. Naval fleet anchored there.
The attack killed 2,403 sailors, Marines, soldiers, airmen and civilians. Another 1,178 were wounded.
That's 3,581 casualties in a two-hour span of fire and fury.
The attack started at about 7:55 a.m. when the first wave of 183 Japanese war planes burst out of the rising sun.
At 9 a.m., a second wave of 171 war planes was unleashed on the unprepared fleet.
The second wave hit just as news of the first reached the United States.
At the time, Marchand was a carpenter's mate first class in the Navy and a crew member of the U.S.S. Cassin, a destroyer in dry dock.
It was hit by Japanese bombs.
Marchand wasn't on board; he was in the base hospital recovering from appendicitis.
He said he watched the attack from the hospital roof, and what was happening before his eyes and below him defied description.
He could see and hear the chaos in front and underneath in the hospital as hundreds of the wounded were treated in their anguish and pain.
That was a memory seared into his mind.
It's something that if not experienced is hard to feel and understand as a witness does.
As the former veteran's agent of North Attleboro James McCann said to a crowd gathered to remember the day, to truly understand it, you had to be there.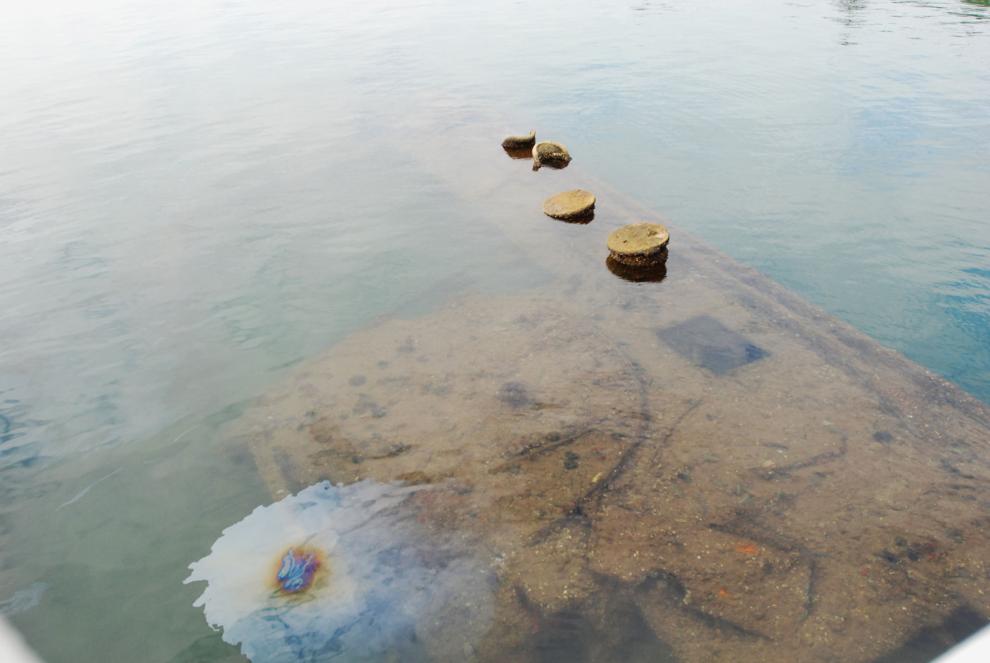 "You have to smell the oil and feel the heat," he said during a remembrance ceremony in 2011. "It's very sterile when it's presented in statistics for public consumption."
And even the stories told by survivors can't capture the moment.
They can describe it, but to feel it is something else again.
After the war, Marchand was a resident of Plainville, North Attleboro and, at the end of his life, Christopher Heights in Attleboro, where he would walk his dog Zack through The Sun Chronicle parking lot next door and chat with editor Craig Borges who would write about him after his death.
But at the beginning of the war, he was at Pearl Harbor and the attack was devastating.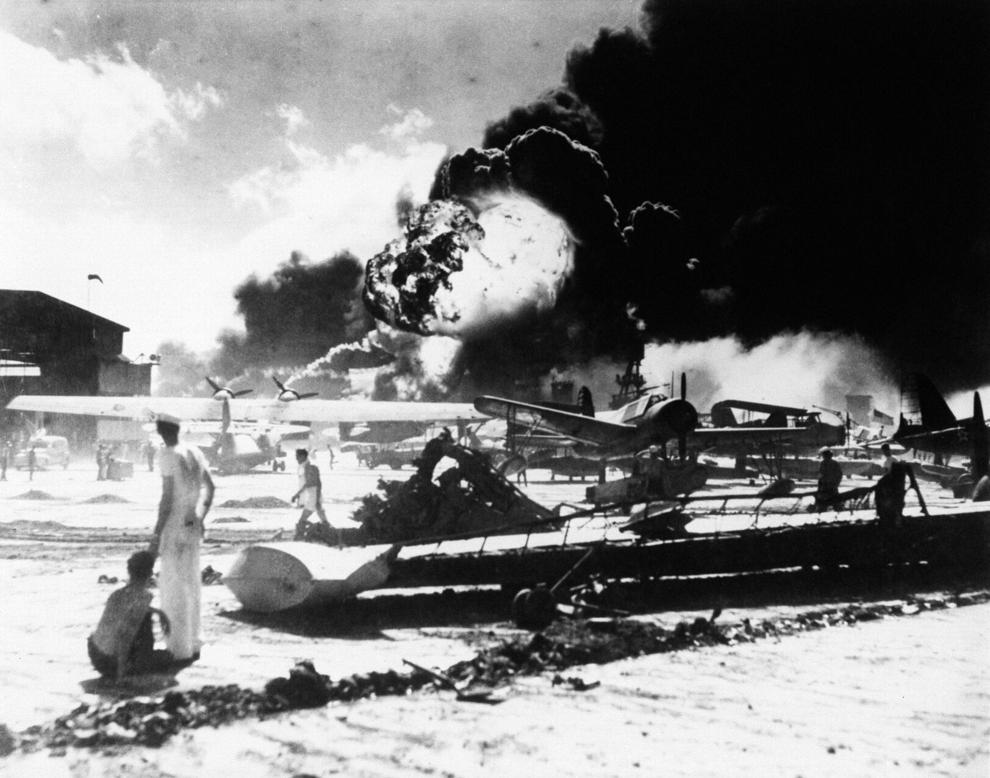 Thick black smoke from dozens of burning ships blotted out the sun.
Dead and dying sailors floated in a hellish harbor of burning oil as others rushed to man their weapons.
Japanese Capt. Mitsuo Fuchida radioed "tora, tora, tora," a code meaning complete surprise was achieved.
Marchand watched the bloody spectacle unfold, which included the aftermath of a direct hit on the U.S.S. Arizona, which exploded killing 1,177.
It belched thick clouds of black smoke shrouding the panic and pain within.
Meanwhile, another sailor on another ship struggled to save the life of his mates.
His name was Stephen Pepe.
Pepe's job was that of a "water tender" or "fireman," on the U.S.S. Oklahoma, which means he stoked the boilers of the nearly 600-foot-long warship.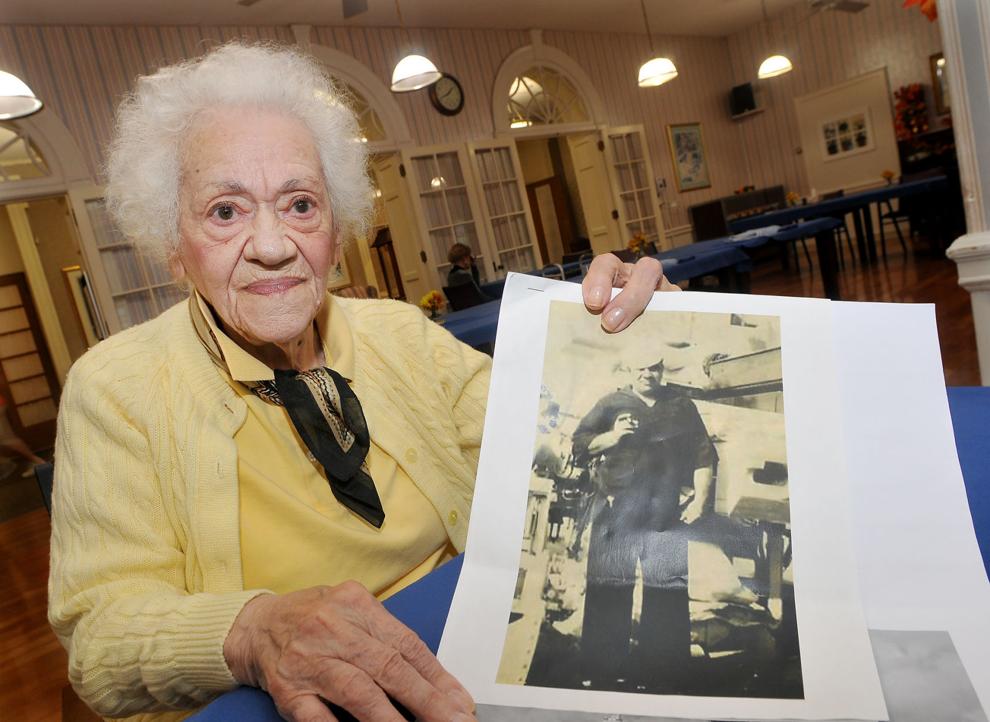 She remembered him as a big man with a big heart.
That was in 2018 when it was learned Pepe's remains had been identified and would be coming home for burial.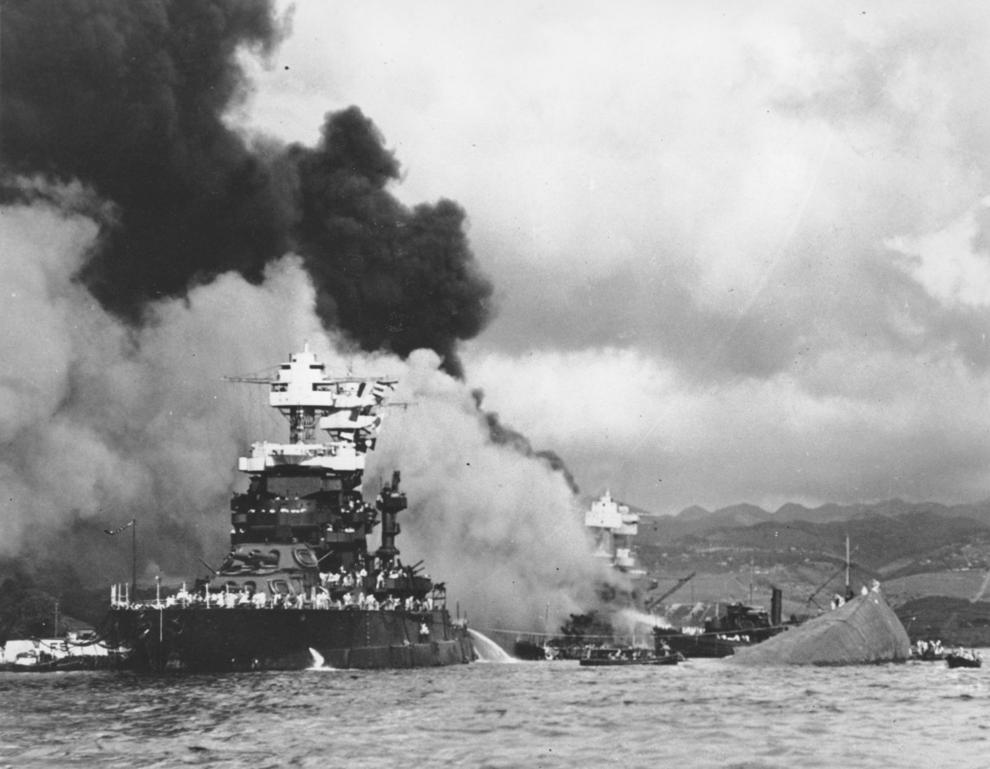 What was found of him after the onslaught had lain in a grave mixed with the bones of some of the other 428 Oklahoma shipmates who perished on that dark day.
DNA from Terry and her daughter Barbara Kovacs, who was 72 in 2018, identified him.
He did not live to tell his story. It was told instead by a survivor of the Oklahoma.
A packet of information provided by the Navy included a news story told to a reporter by the widow of one of Pepe's shipmates, Finch Stowell.
She told the story her husband told her to reporter Phil Luciano of the Star Journal in Peoria, Ill.
Published in 2011, it revealed Pepe put himself in danger to save others and paid the ultimate price.
The Oklahoma was blasted by eight torpedoes and as it began to fill with water, Pepe helped shipmates squeeze through a porthole to safety.
Stowell's husband, Finch, was outside pulling men through.
Pepe, who was too big to fit through the porthole, was inside lifting them up and pushing.
He didn't leave until the water got too high.
"Pepe helped save a lot of people that day," Lida Stowell said in the story.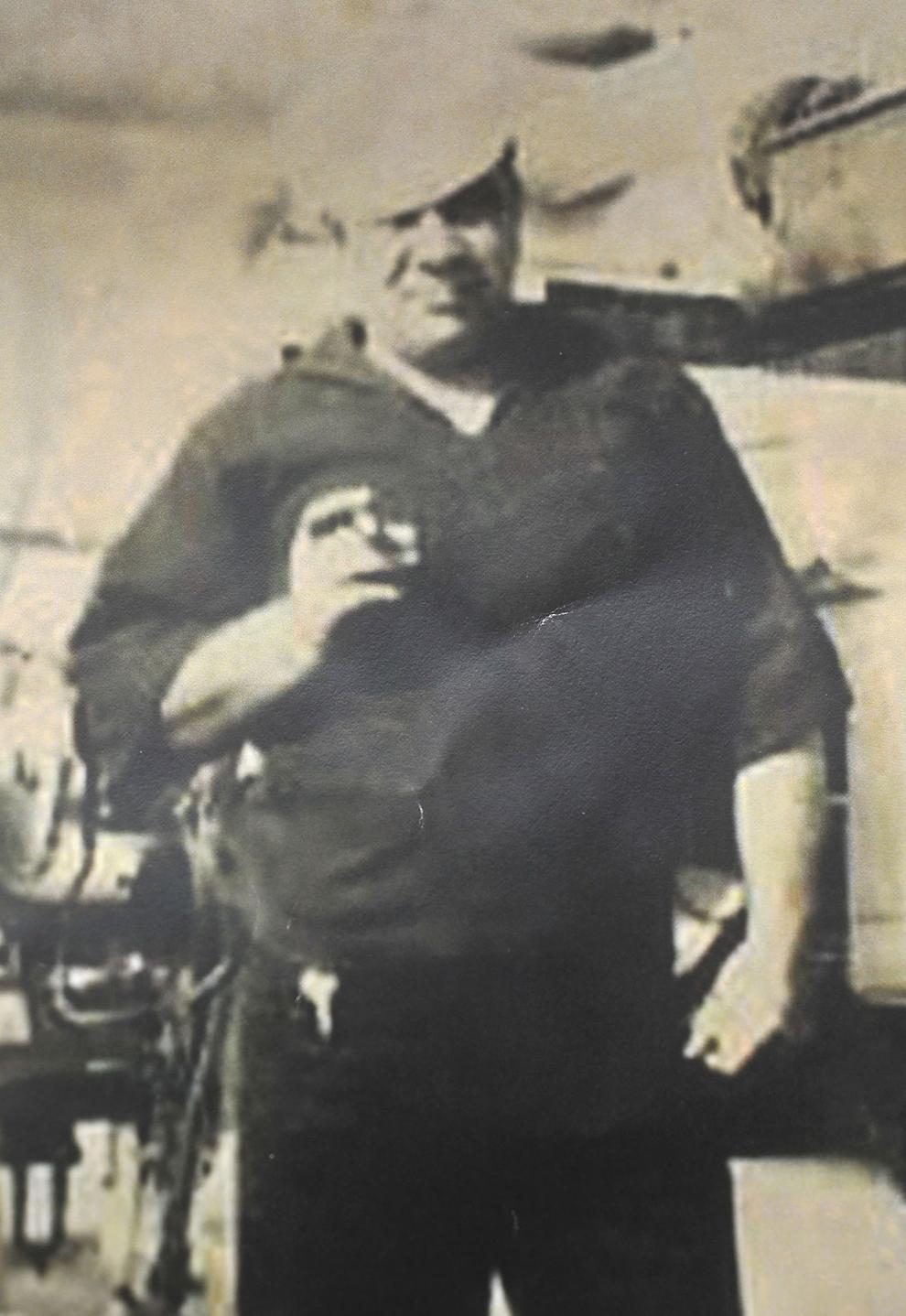 Pepe drowned in the underwater maze of the ship, unable to find his way out of the ship.
Those are just two stories from the thousands who were there.
And then there are the dead who took their stories to the grave.
After 80 years, it's not likely there's much left of the 1,102 sailors and Marines who were entombed when the U.S.S. Arizona was blown to smithereens.
All told, 1,177 died aboard the Arizona.
So they were considered buried at sea in the clothes they donned that day.
They lay where they fell.
Whatever is left lies beneath the calm blue waters and balmy breezes of Pearl Harbor today.
They will never tell their stories.
Their families all have stories of their own.
Who those men were, where they came from who they loved what they did and what they were like.
It may be that some of those stories are recorded somewhere.
Arizona survivor stories
Survivors of the Arizona have their stories, too.
One of those is that of Marine Pfc. Frank R. Cabiness.
Cabiness was one of 337 survivors from the Arizona who went on to survive the war and live a long life.
Cabiness was a crew member on the Arizona and was at his battle station under machine gun fire when he was forced to abandon the crippled and burning ship as it lay at anchor in Pearl Harbor.
The Marine wanted his remains placed in the Arizona so he could be with his shipmates, his family said.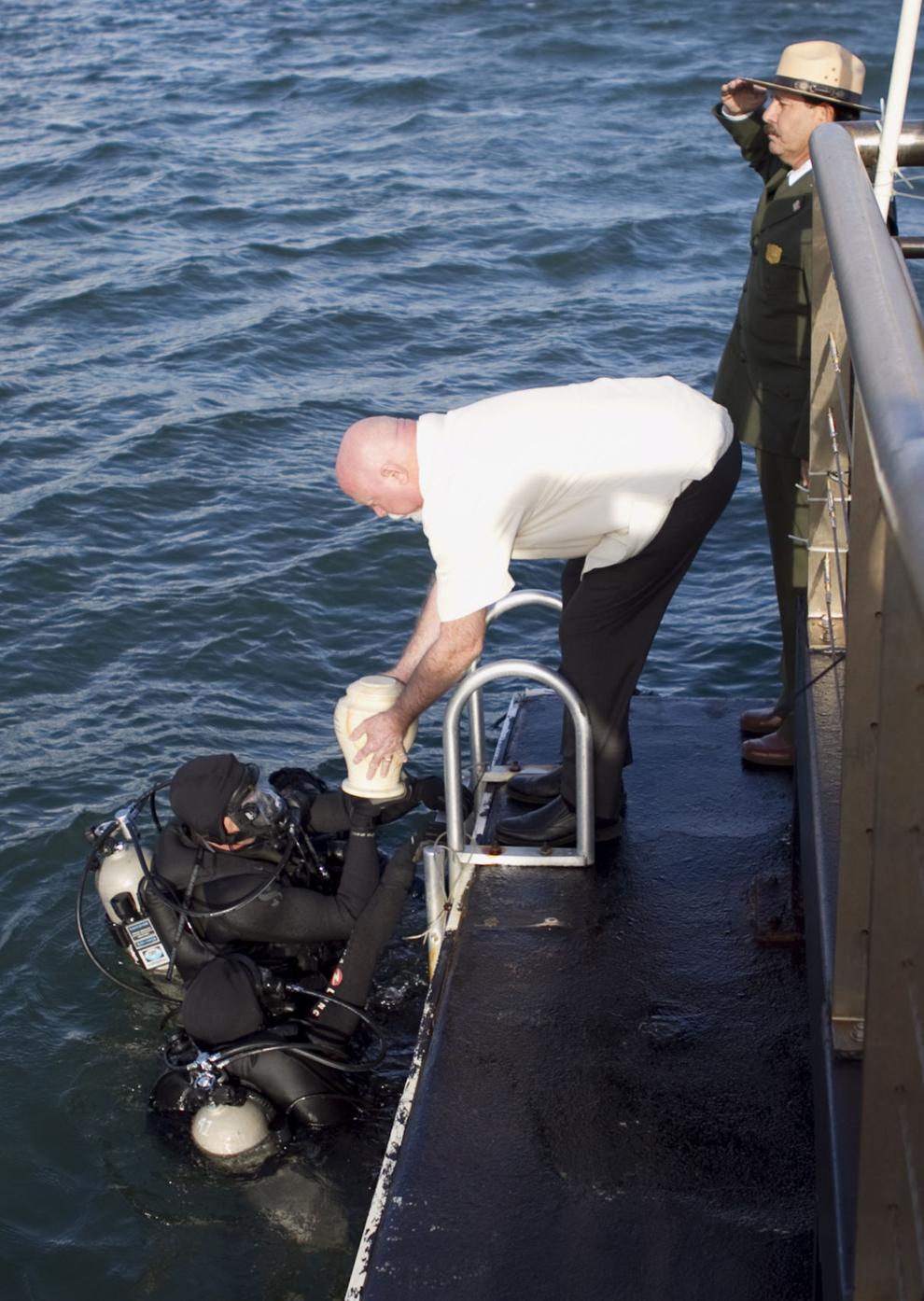 Four Navy divers placed the urn containing his ashes in Turret 4 in the aft part of the Arizona, which lies about 15 feet below water.
But that's not the end of the story. One of the divers had an Attleboro connection.
Daniel Soulliard, was a Navy diver and 20 years old in 2012 when he helped place the remains of Cabiness on the Arizona.
He's the step-grandson of former Attleboro city councilor Walter Thibodeau.
Soulliard's mom Cynthia Thibodeau and step-dad Frank Thibodeau lived in North Attleboro at that time.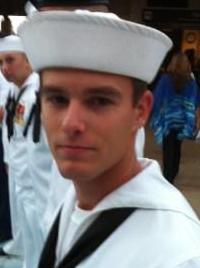 Soulliard, who at 20, was as young and fresh-faced as many of those who died on that dreadful day, Dec. 7, 1941.
He was proud to be a part of the team who laid a fellow sailor to rest.
"I never thought I'd be doing something as honorable as burying someone on the Arizona," he said.
And family members cherish the watch Cabiness was wearing that day, which stopped at 8:15 a.m., the point at which Cabiness hit the water — about 20 minutes after the aerial attack started.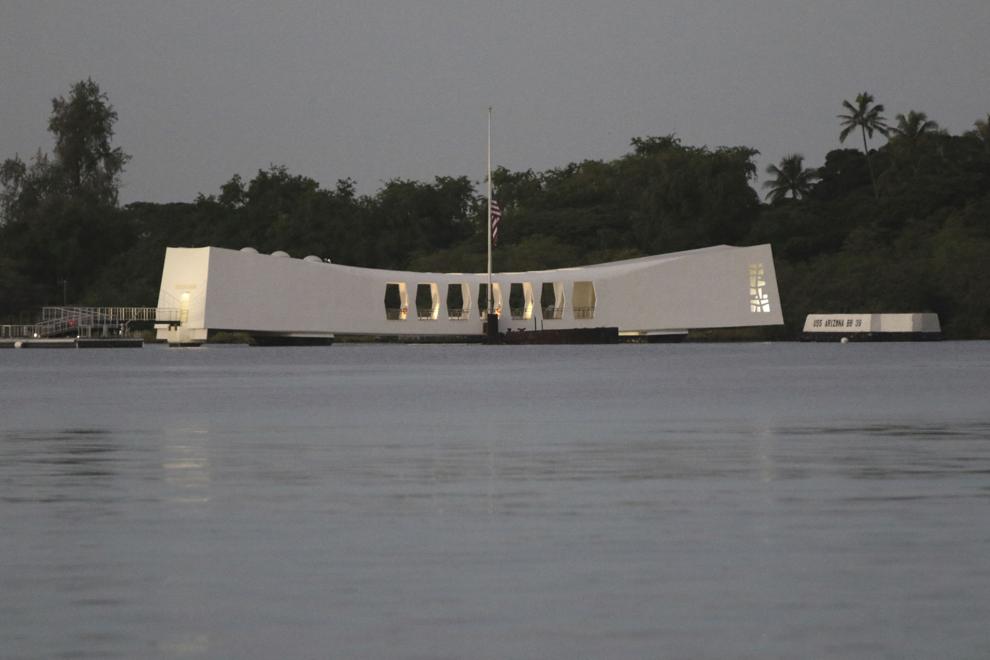 Today, there's a memorial built over the remains of the sunken Arizona.
It was built with donated money, which included the proceeds from a benefit concert by Elvis Presley on March 25, 1961.
Presley's concert was held at the Bloch Arena in Pearl Harbor where 4,000 fans flooded in to see him that night.
The event raised $54,000 of the $500,000 needed for the memorial.
Thanks in part to Presley, the memorial was completed in 1962 and today, 50 years later, visitors silently shuffle through to pay their respects.
The 1,177 from the Arizona were only part of the toll that day.
All told 2,403 service members and civilians died in what President Franklin Roosevelt called a "dastardly attack" in his address to Congress the following day.
He said Dec. 7, 1941 would be "a date which will live in infamy."
America was at war and it was to be its second bloodiest after the Civil War.
In the end, the Empire of Japan, whose goal was to dominate the Pacific, and Nazi Germany, whose goal was to dominate Europe if not the world, were defeated after the deaths of at least 70 million worldwide and perhaps as many at 85 million.
The war in the Pacific ended when America dropped two nuclear bombs on Japan incinerating the cities of Hiroshima and Nagasaki and killing tens of thousands of civilians in a frightful display of a power that could not be resisted.
After the attack on Pearl Harbor, Japanese Admiral Isoroku Yamamoto, who conceived the venture, was uneasy.
He feared his nation had only won a battle and not the war, and he was right.
The stunning victory left him unsettled.
"I fear all we have done is to awaken a sleeping giant and fill him with a terrible resolve," he said.
That statement was the prelude to a story that for him would unfold as a nightmare over the next four years.
Telling the story
While Dec. 7. 1941 is a date which will live in infamy, as Roosevelt said, it hasn't always been commemorated.
Its story hasn't always been told.
Ten years after on Dec. 7, 1951, there was little mention of the "dastardly attack" in The Sun Chronicle on the anniversary.
There were few who wanted to tell their stories then.
Who knows how many had tucked the horror away. Who knows how many suffered from post traumatic stress disorder.
Many in what was to become known as The Greatest Generation were busy looking forward rather than behind.
They were building America and their families, the children of which would become known as the Baby Boomers.
But on page four there was a short piece that told of two Japanese diplomats who were in Washington, D.C., negotiating with the U.S. who wanted Japan out of China and to cease its aggression in Asia.
The story said the two men, Ambassador Kichisaburo Nomura and Special Envoy Saburo Kurusa, claimed they had no knowledge of the coming attack.
"Both wanted to forget the dark days of the past and look ahead," the story said.
If they knew, they didn't tell of the sinister intent with the obvious aim to keep the American administration off guard. And if they didn't know, they were being used in a malevolent way by their own government.
And on page six, there was a one-paragraph story about a group of North Attleboro veterans seeking to establish a Pearl Harbor remembrance day.
It was eventually established and continues to this day. It's one of just a few in the area.
In 1961, 20 years on, when fundraising for the Arizona memorial was underway, the only story about Pearl Harbor was one which said the Pentagon considered the investigation into why the U.S. was caught off guard as "a closed matter."
"No more official investigations are expected," it said.
Ten years later, 30 years on, the story of Pearl Harbor again failed to make the front page.
On page two, there was a story headlined "Pearl Harbor remembered 30 years later."
An Associated Press story told of the Pearl Harbor Survivors Association with 2,500 members.
It wasn't until 1981, 40 years on, that the horrific events began to be told in a more dramatic way in the local press.
A front page story was headlined "Infamy was a nightmare."
Eugene Marchand, then of North Attleboro, was quoted.
"It was an experience I'd never want to repeat," he said.
An understatement if there ever was one.
He said could see hundreds of wounded lying in pain, some perhaps dying, on the grass in back of the hospital.
The story of Andrew Cassidy of Attleboro, a mess cook on the U.S.S. West Virginia, was told.
He had to swim through the floating fire of burning oil to escape his ship.
And he did so under threat of an officer.
"He said jump or I'm going to shoot you," Cassidy said. "I did."
Cassidy, like many veterans, did not want to talk about the horrors he witnessed in war. To relive it is painful and to talk of another's death when by the grace of God you survived is disrespectful.
"But I lost a lot of good buddies there," he said of that day. "I rather see (the anniversary) passed over quietly."
In 1991 on Dec. 7, 50 years on, there was a story below the fold on the front page about the bitterness veterans felt because Japan never apologized for the carnage at Pearl Harbor.
It's obvious the pain ran deep for those who were there.
It's harder for those born later to feel that.
And that same year, President George Bush, himself a World War II veteran, paid tribute to those who sacrificed everything.
"America must forever remember the brave and innocent who gave their lives to keep us free," he said.
It was reported that he was overcome with emotion and "choked up" when speaking those words.
Another story on page seven told of veterans in Boston telling their tale of terror at Hynes Convention center in Boston.
With the comforting distance of time, more could talk about it and recognize the loss and the courage of many.
They paid tribute to those who died and those who endured.
And in a Sunday story, local veterans could finally after 50 years relive, if only for a brief moment, what they experienced.
The story was headlined "A day of infamy."
"Local vets recall the horror of the attack on Pearl Harbor."
The anger was still there. The rage still burned.
Those vets included Albert Leverone of Norfolk, Carl Otto of Attleboro and Marchand.
"It was an unprovoked attack," Otto told reporter Virginia Terhune. "They were still negotiating. It was murder, that's all it was."
Leverone said America need never apologize for using atomic weapons to end the war quickly. It saved lives, he said.
"I would not apologize to anyone for saving American lives," he said.
Ten years later, on Sept. 11, 2001, Islamic terrorists attacked America by flying airliners into the World Trade Towers in New York and the Pentagon.
In a fourth plane, heroic passengers attacked the hijackers and crashed the aircraft into a Pennsylvania field before it reached another target in Washington, D.C.
That day, 2,977 were killed, 574 more than at Pearl Harbor.
And today, more are dying of diseases linked to particulate and materials at Ground Zero encountered during the rescue efforts there following the attacks.
Particulate floated in the air at Ground Zero in New York like snow bringing long-term health problems, including cancer, to heroic crews who breathed it in looking through the rubble for someone to rescue.
A story on Dec. 7, 2001 compares the attacks.
"Decades on, lessons of Pearl Harbor resonate," a headline said.
An AP story said "Sept. 11 stirs renewed interest in Dec. 7, 1941 attack," as if at 60 years on it had begun to fade away like the old soldiers and sailors who endured it.
On Dec. 8, there was a photo in The Sun Chronicle of Alvin Berman, a Norton resident and survivor of Pearl Harbor, standing in front of a war memorial in North Attleboro during the town's annual remembrance ceremony.
A story on page three was headlined, "A day they can't forget."
And 70 years on, when the sailors, Marines, soldiers and airmen were in or approaching their 90s, there was a story headlined "A few still remember."
Now there are fewer still, and they are fading fast.
Their stories will soon go to the grave.
And perhaps there's really no way to tell those stories of suffering. The only thing to do is pay tribute to those who died and those who endured.
And while war is insane, some must be fought to preserve freedom from tyrants, but they are always inexpressibly tragic.
In December 2016, 75 years after the attack, President Barack Obama and Prime Minister Shinzo Abe met at Pearl Harbor. Abe did not apologize, but conceded Japan "must never repeat the horrors of war again." Seven months earlier, Obama became America's first sitting president to visit Hiroshima; he did not apologize for the U.S.'s dropping of an atomic bomb in a bid to end the war.
He recounted something he observed at Pearl Harbor during a visit to the memorial.
"I witnessed a very old Japanese man and a very old American man walk up to each other, hug and cry," Brogan said. "They were two kids during the war but now, as old men, they communicated how stupid all wars are, not verbally, but with their eyes. I will never forget that moment."
And it's hoped America will never forget Pearl Harbor.