As Keith DiPalma lay in an ambulance heading for the trauma unit at Rhode Island Hospital, all he could think of was his wife.
It was she who emerged through the physical and mental shock and pain of what he would soon learn was a crippling injury.
There's nothing he remembers about the accident itself on that Monday before Thanksgiving, but he does remember what he thought was his last message to his beloved.
"Please tell Cindy she's the love of my life," he told the paramedics who were trying to stabilize his condition and keep him alive until he got to the hospital.
"I kept saying it over and over," Keith said as he sat, wheelchair-bound in the kitchen of his Turner Street home in South Attleboro on a dismal Tuesday afternoon three days before Valentine's Day.
He and Cindy, who've been married for 19 years, had been fighting, and if he was to die that day he wanted to make sure she knew how he felt.
Keith did not lose his life that day, but he did lose the use of his legs.
The accident happened as he walked Princess, his family's beloved Australian shepherd, on Collins Street in South Attleboro.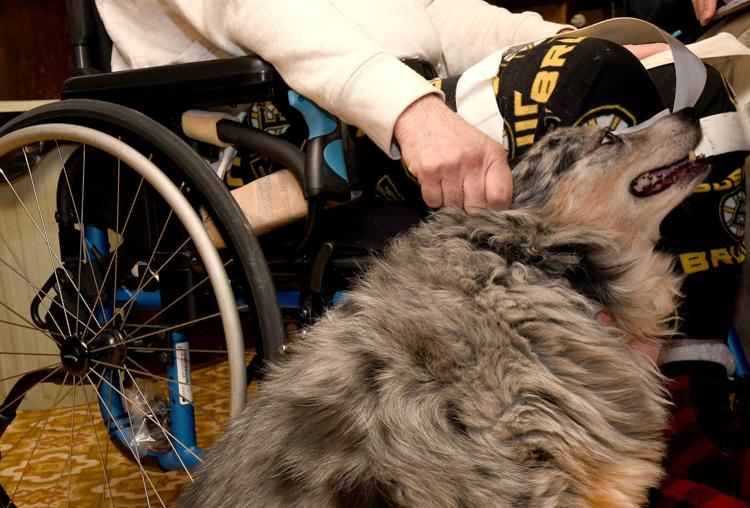 All he knows for sure is that a pickup truck hit him in the gathering gloom of that late fall day.
The result was devastating to the 53-year-old, who's accustomed to getting up and going to work every day.
He repaired copy machines for a living and it was a good job, he said.
People whose workloads were frustrated by a broken copier were always happy to see him.
And he was always on the move.
But on that Monday, he had taken the day off to cut his mom's grass in Johnston, R.I. and to pick up supplies at Market Basket for the coming Thanksgiving holiday.
Keith loves to cook and is often the chief cook in his household, which includes his wife Cindy, 51, and their two teenagers, Naomi, 16 and Zachary, 18.
His words as paramedics worked on him are words typical for lovers on Valentine's Day, when the mood is light and love is in the air.
But the mood was not light in the ambulance as Keith clung to life.
Doctors at Rhode Island Hospital called in a trauma team.
Immediate surgery was the best chance to lessen the damage to his spinal cord and to keep alive any hope of him walking again.
But in the end, the prognosis was not good.
After a year he'll know for sure how much he'll heal, but doctors are not overly optimistic.
Cindy, who deals with tragedy and grieving families every day in her job as an oncology nurse at Kent County Hospital in Warwick, said the doctors warned against optimism.
"Unfortunately, he had so much nerve damage," she said. "They gave us no hope at the hospital and preferred us not to have any."
So Nov. 25 was the first day of a new and more difficult life for Keith and his family.
It was the first day of a long struggle.
He was hospitalized until Dec. 20 and then he was sent to a rehabilitation facility, Compass Health in Braintree, where he worked to strengthen his body and restore mobility to the greatest degree possible.
He came home Feb. 6 after rehab specialists said they'd done all they can.
Cindy said the hospital wanted to send him home earlier, but she wouldn't let them. She wanted more for him.
"I had to fight to get him 15 more days in rehab," she said.
Getting help is not easy, Keith said.
"The insurance companies are a nightmare to work with," he said.
But Cindy keeps him alive, he said.
"She's everything to me," Keith said. "I don't think I could survive without her, mentally or physically."
Keith and Cindy met when she was a nurse at a rehabilitation facility in Pawtucket. His dad was a patient there after a stroke.
And stroke or no stroke, he noticed there was an attraction between his son and his nurse.
"My father actually fixed us up because he knew we were both kind of shy," Keith said. "It worked out for me. I don't know how much it worked out for her."
But it seems it worked for her too as she hugged her emotional husband hard.
"I want him to get back as much as he can," Cindy said. "We let him know how happy we are that he's here. That's all that matters."
And "here" means both alive and in the house.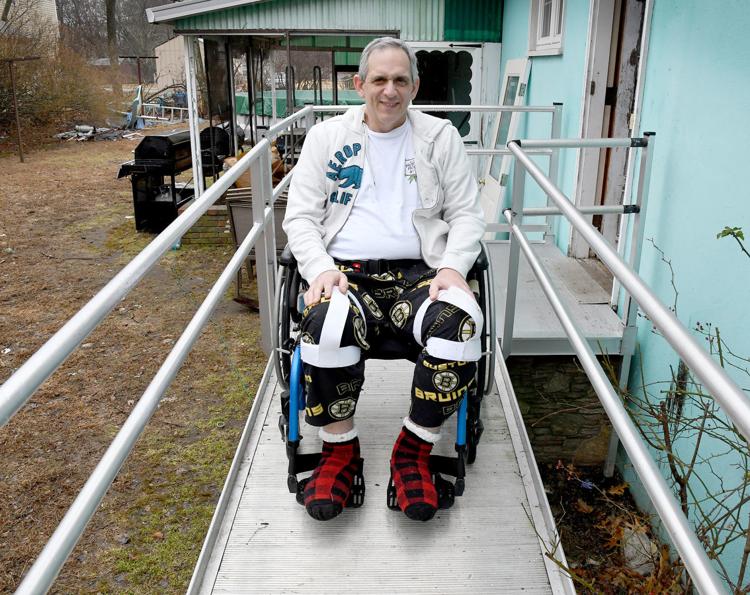 And thanks to the South Attleboro Lions Club, Keith can get into his house.
The club bought and installed an aluminum ramp.
It was an act that overwhelmed Keith.
"I can't thank them enough," he said.
On Nov. 25, Keith and Cindy and their kids were plunged into a world of challenges and problems they never imagined facing.
It's a lonely world, but in the larger world they are not alone.
There are many in the nation facing the same problems, although they may not be next door.
According to a study published by the Christopher & Dana Reeve Foundation in 2013, there were at that time 5,357,980 people in the U.S. afflicted with some form of paralysis.
And out of that number, 1,462,220 had suffered a spinal cord injury.
Many of those are in Keith's age range.
The average age of someone reporting paralysis was 58 and the largest age group with the affliction was 45 to 64, about 46 percent of all people with paralysis.
Christopher Reeve was an award-winning actor, most often remembered for his movie role as Superman.
He was thrown from a horse in 1995 and suffered a spinal cord injury that left him a quadriplegic.
For the rest of his life, Reeve was wheelchair-bound and needed a portable ventilator to breathe — but he persevered.
He went on to direct and act in films.
But, most importantly, he started his foundation, through which he lobbied for people with spinal cord injuries and pushed research for a cure.
Reeve died in 2004 and his wife died in 2006, but the foundation continues its mission today.
Among the core principles are the following:
"We believe in empowering those affected by paralysis with the best knowledge, resources and support and we believe in the power of 'we' not 'me.' We believe you should not be alone."
Reeve was one of those who was instrumental in bringing notice to those afflicted with paralysis.
And now, 25 years later, there are others, less famous but who labor as hard.
One is Susan Jenson, secretary for the city's Commission on Disabilities, whose other members are Mary‐Jane Jenson, Jennifer Davies, Kevin Lacoste, Cynthia VanVoris and William McDonough.
On Tuesday, Jenson appeared before the city council to talk about a $60,000 grant awarded to the commission. It will pay for a study aimed at finding barriers of various kinds in public places and then creating a plan to remove them.
It's a big step for the city. Eventually it will make things better for those with disabilities, including those in wheelchairs.
Jenson, 56, is disabled and narrowly avoided paralysis when she broke her back. She's had a severely broken leg and is hearing impaired.
She knows what the fight is like for those whose mobility is hindered and whose senses are afflicted.
She can't stand for long periods and sometimes must use a cane.
Jenson endures daily pain.
She had a long career in sales and then worked for nonprofits as a fundraiser and public relations professional.
Now, she's a volunteer for the commission.
And while Keith and his family are not alone, it may well feel like that, she said.
When she became disabled, she wasn't sure where help could be found.
"I floundered for a little while," Jenson said.
She eventually called a friend who was a licensed social worker and helped her find help.
What to do and how to do it isn't always clear. It's a battle and it's one Keith and his family have to fight as they come to terms with their new reality.
"This is going to be a long hard process," Jenson said.
She summarized the challenges, not the least of which are psychological.
"There is the disappointment and emotional loss of one's career, certain hopes, dreams, some friends and independence," she said. "And there are the financial worries…about how you will keep your home, pay your medical bills and simply provide for your loved ones."
When a person is accustomed to moving about freely and interacting in the world without help, the change to needing help is hard, Jenson said.
"There is a horrible guilt felt about needing help when you were always the one who assisted others," she said. "Learning to ask for help is extremely difficult. There is also the guilt in knowing that you may be placing additional daily challenges and stresses on your loved ones."
And sometimes the disabled are marginalized. Jenson said they are treated almost like non-citizens.
That's wrong and that's one of the things the commission is trying to correct, Jenson said.
"The disabled pay their taxes, too," she said. "They're part of the community."
Three months into a new life
Keith is experiencing all of that.
The Lions Club has enabled him to get into his home, but getting inside is just the beginning.
There's so much more to be done, Cindy said.
She's hoping that eventually the kitchen can be remade so Keith can cook again, one of his favorite activities, but for the moment they're working to make the home handicapped-accessible and learning the ropes of a whole new way of living.
Doorways need to be widened. Carpeting, which makes it hard to move in a wheelchair, needs to be replaced.
And someday, Keith is hoping the family can afford a wheelchair van, preferably one he will be able to drive with hand controls. But at this point it all seems far away, physically and financially.
And then there's the psychological healing.
For a man used to being on the move and who has a family who are used to him being on the move, the change to a hard stop is a hard one with which to cope.
"It's a struggle just to get up and function," Keith said.
The struggle is mental and physical.
Keith said he has a metal cage in his back to protect his spinal chord.
He has pain in his back and in both of his legs, one a little more than the other.
And the stress of having to depend on others is a burden for them and him, he said. It's not the way he wants it.
"It's been challenging," Keith said. "Especially for my wife. It seems like it's a full-time job. I want her to be my wife, not my nurse."
And then there are the finances, Keith said.
The family will be forced to rely on Cindy's pay, although Keith will be eligible for Social Security disability, but that won't equal his former take-home pay.
The renovation and medical expenses are great.
So far they've raised about $8,650.
In a year, they hope things will be easier, but the learning curve is big.
"I'm not feeling very confident yet," Keith said. "I hope I'll be getting more confident as the days go along."
But in the back of his mind, that same mind that went right to the love of his life in the fight of his life, there's a seed of optimism and a goal.
He's grateful for the help he's gotten so far and for any that comes in the future, and he's determined to repay it in any way he can.
Keith said maybe that will involve joining the Lions and helping them in some way or joining some other group in which he can be of assistance.
"I can't do much," he said, "but if I can give back anything…"