In the end, the petitions may tell the story.
One is in favor of the Attleboro Mayor Paul Heroux's proposal to extend the city's wetland "no disturb zone" from 25 feet from the wetland border to 75 feet.
The first argues that the additional distance is needed to keep the water clean.
"Everyone who signed this petition has a different set of circumstances, but all have one thing in common. Each is a human being with a right to clean water," the author said.
At the time the petition was submitted on June 1 of this year, 179 residents of Attleboro had signed it.
The second petition, which was offered in opposition, says the proposal is nothing more than the confiscation of private property.
"This proposal will take your current property rights away and stop you from enjoying and improving… the property you have now," its author said.
It was submitted on Aug. 17, and 192 people signed it.
One of those was mayoral candidate Todd McGhee, which puts him in direct opposition to Mayor Paul Heroux on the issue.
The yeas have 48.25 percent of the signers and the nays have 51.75 percent.
If both sides went out for more signatures, both would likely find them and perhaps the division would stay the same, 50-50 more or less, which may indicate residents are not ready to move out another 50 feet or any number of feet.
But one thing is for certain: Heroux wants it and the director of planning and development, Gary Ayrassian, along with conservation agent Nick Wyllie want it.
But others, including homeowners and developers, have protested at public hearings because it restricts what they can do with their land, which they bought and for which they pay taxes.
And lately they have been the only ones to show up at an ongoing public hearing before the city council on Heroux's proposed ordinance change.
The next hearing date is Oct. 5.
The mayor's proposal is just one of many efforts he has made to make the city "cleaner and greener."
What his legacy will be is for future historians to determine, but for now it's clear he has pushed a strong environmental agenda to the edge in a number of cases and been successful on a number of fronts.
In September 2020, Heroux submitted to the city council a number of bans he wanted to put in place.
Those included polystyrene (Styrofoam) food containers and cups, plastic food containers and cups, fluorescent compact light bulbs (which contain mercury), insecticides containing neonicotinoids (which kill bees), single-use plastic water bottles, micro-plastic exfoliating beads found in body washes, plastic nip bottles and single-use plastic straws.
Under a separate request, he asked that the release of balloons for celebrations be banned as well.
Seven of those nine have been approved by the council. Requests to ban plastic nip bottles and single use plastic water bottles were defeated.
Prior to that in January 2019, the council banned the use of thin-film, single-use plastic bags used by many retailers including grocery stores. In total, eight out of 10 of Heroux's proposals approved.
The plastic bag ban is not uncommon.
Areawide, it is also in effect in Mansfield, North Attleboro, Plainville, Seekonk and Wrentham.
And statewide 144, or 41 percent, of the 351 cities and towns have banned their use, according to the Massachusetts Sierra Club.
With regard to the use of polystyrene (Styrofoam) food containers and cups, Attleboro and Mansfield are the only two of the 10 area communities covered by The Sun Chronicle to ban their use. The other eight are North Attleboro, Plainville, Wrentham, Norfolk, Norton, Seekonk, Rehoboth and Foxboro.
Statewide, Attleboro and Mansfield are two of only 52 cities and towns to ban the containers as of June 2021, according to the Sierra Club.
Bans on single use plastic water bottles are in place in 26 communities in Massachusetts, but none in The Sun Chronicle area, as of June 2021, according to the club. Bans on plastic nip bottles have been passed in four communities — Chelsea, Falmouth, Mashpee and Wareham.
With regard to the other bans, Attleboro leads the 10 area communities that responded to The Sun Chronicle's request for information.
Mansfield, which has banned single-use plastic bags, polystyrene and plastic straws, is the second most stringent community in the area when it comes to bans.
Plainville rejected a ban on nip bottles.
****
Information provided by the Massachusetts Association of Conservation Commissions states that as of December 2019, there were no 75-foot "no disturb zones" in the state. Some towns or cities may have instituted those since then, but at that time they did not exist.
What did exist were 212 communities out of 351 in Massachusetts with conservation ordinances or bylaws stricter than those provided under the state's Wetland Protection Act, which requires conservation commissions to oversee activity in the state's 100-foot resource protection zone and issue an "order of conditions" for work in that zone to define what can and cannot be done.
Than means 139 communities operate under the WPA alone.
Out of the 212 communities with wetland bylaws or ordinances, 92 communities had "no disturb zones" and, or "no build zones" enacted through local councils, boards and commissions. That means 259, or 74 percent, of Massachusetts communities don't have this type of measure in place.
The no disturb zone means what it says, although conservation commissions can waive certain requirements if it is believed little or no harm will be done. No build means just that.
No disturb zones come under various names and are sometimes called no activity zones, no work zones, no alteration zones and no touch zones. The widths varied, but the majority, 52, or 57 percent of the 92 communities, were 25 feet.
On the larger scale, that means 15 percent of the state's 351 communities have 25-foot no disturb zones.
Another 25, or 27 percent of the 92, were 50 feet.
Again on the larger scale, that means 7 percent of the state's 351 have 50-foot no disturb zones.
Three communities, Dunstable, Norwell, and Palmer, had no build zones, but did not have no disturb zones.
Brookline had a 150-foot "resource protection area," which is 50 feet more than the state's 100-foot area.
Another 11 communities, or 12 percent of the 92, have no disturb zones of 30 to 36 feet.
So if the mayor succeeds in convincing the council that a 75-foot no disturb zone is needed, the city would be the first, or at the least among the first, if there are others, to mandate that distance.
****
On the list provided by MACC, seven of the 10 communities in The Sun Chronicle area had tougher buffer zones than the state.
Attleboro with a 25-foot no disturb zone, Foxboro with a 25-foot no activity zone, Mansfield with a 25-foot no disturb zone, Norfolk with a 50-foot no disturb zone, Plainville with a 35-foot no disturb zone, Seekonk with a 25-foot no disturb zone and Wrentham with a 50-foot no work zone.
There was nothing listed for North Attleboro, Norton and Rehoboth.
While there's no formal bylaw in North Attleboro, Shannon Palmer, the town's conservation agent, said it has a 25-foot no disturb zone policy.
A bylaw has been rejected twice by town meeting, she said.
"The commission adopted a 25-foot NDZ policy over a decade ago and has been successful at incorporating this into the vast majority of development projects," she said.
Palmer said the commission hopes to get town council to approve a bylaw in the coming year.
There's no formal law, but the conservation commission has 25-foot no disturb zone policy in place, Town Manager Michael Yunits said.
****
While most of the proposals Heroux pushed for were approved by the council, it's less certain that the increase in the no disturb zone will go through.
There has been much public opposition from ordinary residents who fear losing control of the their property and from builders who argue that a 75-foot rule coupled with already existing small lot sizes in the city will cut their ability to build homes, especially at a time when there is a big demand for homes in Attleboro.
While the mayor and at least 179 residents are pushing for a bigger no disturb zone, there are many on the other side.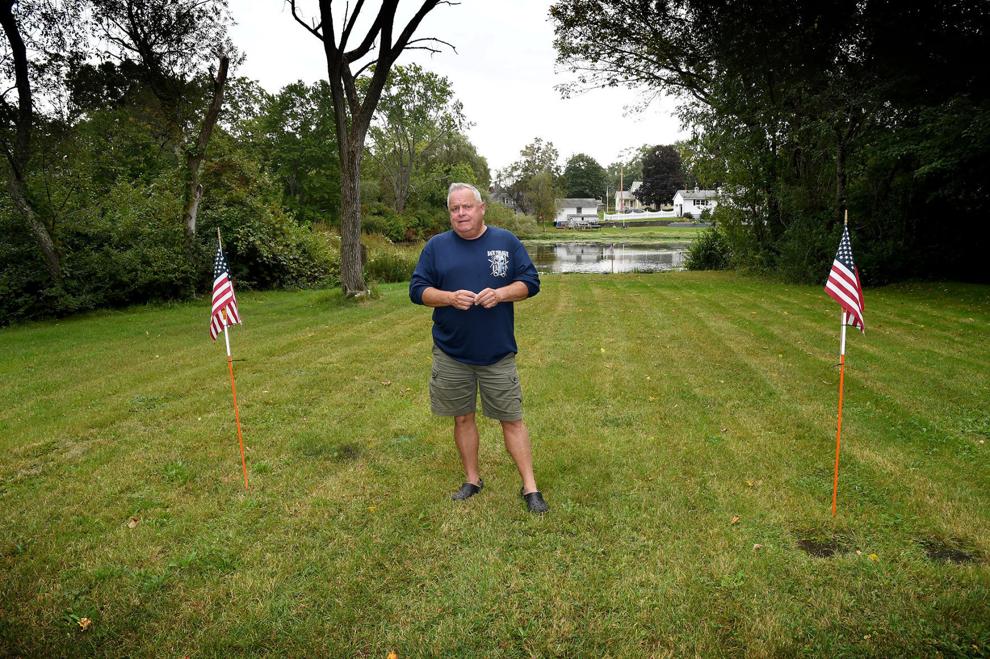 One is Leo Johnson, who owns property on Phillips Street that backs up to the Ten Mile River.
At an Aug. 17 public hearing, he said if the proposal passes it's the same as "stealing" his property.
And he said that many of those backing the plan don't have property near wetlands so they are unaffected.
"I appreciate their passion, but most of them don't have skin in the game," he told the council. "In the end, it's 75 feet of my property and I'm not going to give it up for anybody."
In more recent comment to The Sun Chronicle, he described the proposal as "government overreach."
"The end result of this unfair, illegal, arbitrary and inequitable display of government overreach will be, diminished property values, dramatic loss of value for many, and for those who purchased property as an investment for their future, a worthless piece of property with no value whatsoever," he said. "This is nothing more than activism run amok."
He described it as "shameful."
Builders are also actively arguing against the plan.
One, Paulette Rioux, told the council at the same hearing that the 25-foot no disturb zone has worked, but the 75-foot proposal is too much.
"This mayor has basically said he doesn't give a damn about developers," she said. "We need protection so we can build beautiful homes for people who want to move to Attleboro."
Property owner Greg Dorrance of Oak Hill Avenue said at the hearing the law is flat out "unconstitutional."
"I can't see why it is not a land taking," he said.
He doesn't believe the mayor's argument that adding space around the wetland will improve water quality.
"Taking another 25 or 50 feet from the homeowner is not going to solve the problem," he said.
And local builder Bill Ward of WB Construction, who has built many homes in Attleboro, said most land available for construction is in areas zoned for 20,000-square-foot lots and that makes it a tight fit, if not an impossible fit.
"Trying to build a home, septic system, driveway and lawn area on a 20,000-square-foot lot that may have wetlands on it is probably a non-starter," he said in emailed comments to The Sun Chronicle. "The setback distance is so large that it would severely restrict what you could build on the lot to a point that it would not likely work."
Builders know they have to live with the 25-foot restriction, which was imposed in 2001, but adding to that will hurt home building.
"Most of the builders I know have accepted the fact that the 25-foot setback is something we have to live with, but most agree with me if this proposal passes it could be problematic with the development of land in the future or with homeowners considering adding an addition to their home," he said.
And there's the question of land loss which in the end is loss of property value and cash.
"The real question here is who is going to pay for the loss of land," Ward said. "My guess is anyone with property that is in close proximity to wetlands (is) likely to lose here. This setback proposal is simply a land taking if passed. In my opinion, it is not necessary."
But in a July 7 public forum to talk about technical aspects of the law, Ayrassian, said adjustments can be made and, in many instances with the current 25-foot law, have been made.
"Please understand it's not a complete shutdown," he told a group of concerned residents and builders. "The ordinance allows relief by asking permission to work within in it."
He said "discretionary waivers" can be granted by the conservation commission as they have been regarding the 25-foot no disturb zone.
In addition, he said buildings and lawns that already exist in what would be the 75-foot no disturb zone are "grandfathered."
A public hearing on May 4 attracted a number of people both for and against the proposal.
During that session, Ayrassian said he analyzed six subdivision plans submitted to his department with 183 lots and determined that 29 lots would have been affected by the new ordinance had it been in effect when they were laid out.
He said out of the 29, 15 could meet the new standard by moving the location of the house and another eight could meet the standard if lot lines were modified.
He noted a number of exemptions are available under the proposed amendment.
For his part, Heroux argued that "green space in the city is disappearing at an alarming rate" and something needs to be done.
"What we are doing is not sustainable," he said. "We cannot keep going down this path."
He said a wider protection zone is more effective and will better protect water resources and biodiversity now and in the future.
"It's imperative we act as good stewards of the land," Heroux said.
Nobody disagreed that water resources need protection, but the question was how much protection is needed and how to balance that protection with the growing need for housing and landowners' rights.
There were opponents at the hearing such as Bill Larson, who owns a home on Fairway Drive and a business on Olive Street that abuts the Ten Mile River.
He said the amendment would chew up most of his backyard and a good chunk of his commercial property.
Larson, who's a member of the school committee, argued that the amendment would take away 120 acres of otherwise developable land throughout Attleboro.
He also said the law is unnecessary because the state already has a 100-foot buffer zone that requires builders to submit applications to the conservation commission.
"People are losing a little more control over what they can do with their land," he said. "I think this is an overreach on the city's part and I think it's a land grab. I don't think it's fair, and I don't think it's right."
****
Meanwhile, Conservation Agent Nick Wyllie has submitted information to the council backing the proposition that greater distance between development and wetlands is better for the wetlands.
The information shows that it is not just the mayor and other advocates who believe that greater distance enhances water quality, but that scientists who have studied it found it to be so.
One, a 1992 study done for the Washington State Department of Ecology, concluded the wider the buffer the greater the protection to the wetland.
"Buffer effectiveness increases with buffer width," it said. "As buffer width increases, the effectiveness of removing sediments, nutrients, bacteria, and other pollutants from surface water runoff increases…"
Meanwhile, MACC had a report that drew the same conclusions.
Dorothy A. McGlincy, a professional geologist and a licensed site professional with MACC said "size does matter" when it comes to buffer zones.
She cites a study done for MACC by Gillian Davies, a senior ecological scientist of BSC Group, who wrote in her report that greater than 75 percent of pollutants might be removed if the width is between 25 to 700 feet.
The city already has a 25-foot buffer and as such is among the 26 percent of the state's communities that believe more protection than the state's 100-foot resource protection zone is needed.
More testimony for and against may be given on Oct. 5. Whether the hearing will be continued again is not known.
But what is known is that councilors have a lot to consider.
For example, should the city join the 8 percent with a 50-foot no disturb zone or take the big leap and go to a 75-foot no disturb zone, which as of December 2019 had no takers.
What also is known is that a lot of people are for expansion and lot are against it.