Stuck between Black Friday and Cyber Monday, Small Business Saturday — observed today — would seem to be an orphan among the country's business promotions.
For area store owners, though, it could mark the turning point in a comeback from a year of pandemic shutdowns, customers reluctant to venture beyond their doors and vexing supply chain woes.
Small Business Saturday was established during the Great Recession in 2010 by American Express, anxious to boost use of its credit cards at the mom-and-pop stores that were threatened by an economic meltdown. It's been officially co-sponsored by the U.S. Small Business Administration since 2011. According to the National Federation of Independent Businesses, fully 70% of consumers are now aware of Small Business Saturday, according to a 2019 Small Business Saturday Consumer Insights Survey by AMEX and NFIB.
There's little doubt it's had an impact. Last year, even during the pandemic, Americans spent about $20 billion on Small Business Saturday, up slightly from the previous year, according to the SBA.
Some 650,000 concerns in Massachusetts qualify for the "small business" label, which the SBA says means something privately owned with fewer than 500 employees. According to visitma.com, the state's Office of Travel and Tourism website, 99.5% of businesses in the commonwealth are small businesses, employing 1.5 million people. In 2019, small businesses were responsible for 53,980 net new jobs in Massachusetts. Forty-six percent of employees in Massachusetts work for a small business.
"Massachusetts' small businesses are still under a tremendous amount of pressure right now," Christopher Carlozzi, NFIB state director in Massachusetts, said last week. "Small Business Saturday encourages consumers to shop and dine locally, exactly what many of them need heading into the holiday shopping season."
In its latest Jobs Report, released this month, NFIB recorded 49% of its membership reporting job openings they could not fill despite the record high in pay they were offering.
Also this month, NFIB released the latest findings of its special COVID-19 polls showing 62% of small-business owners say supply-chain disruptions are worse now than three months ago and 90% expect the problem to continue for the next five months or longer.
NFIB's Small Business Economic Trends report found the percentage of small-business owners expecting better business conditions falling 4 points to a net negative 37%. This indicator has declined 17 points over the past three months to its lowest level since November 2012.
"Our communities always benefit from shopping small, but with the ongoing impacts of the pandemic, it is more important than ever that consumer dollars are spent in local shops and restaurants," Carlozzi said. "While many small businesses were forced to close their doors last year, recent challenges include a severe labor shortage and significant disruptions in the supply chain. You can help keep our downtowns vibrant and friends and neighbors employed by making Small Business Saturday a priority for your holiday shopping plans."
****
It's one of the oldest businesses remaining in Attleboro's beleaguered downtown. Only the century-old Morin's restaurant beats it for longevity.
Bob Ryan, co-owner of Ryan and Sons Gob Shop sporting goods store — started by his father as an Army surplus outlet shortly after World War II — is a good barometer of the retail climate. For much of the last few years, that outlook has been stormy.
Over a year ago, in August 2020, Ryan told The Sun Chronicle that government pandemic aid had staved off the store's closing. But he wasn't optimistic about the future.
A few months earlier, another story in The Sun Chronicle had noted that Ryan & Sons, as a "non-essential" business under the state's lockdown rules, was shut down with a notice posted on its front door.
At the time, Ryan's wasn't alone. As of July of that year, Massachusetts' in-store foot traffic was only 31.2 percent of its 2019 normal, a survey had found.
Ryan — along with his son — are still holding down the fort but, for once, the outlook is a little brighter, he says.
"It's getting a little better," the elder Ryan said this past week. "People are coming back who haven't been around for a while." While Ryan says the retail scene downtown will never be what it was, "there are a lot of good people that remember us and work with us."
People have grown leery of online shopping, Ryan says. They would rather try on something they are going to wear or use for years, he says.
It's not all good news, of course. Issues with suppliers and rising prices have impacted Ryan just as they have bigger outlets.
"It used to be if we needed (an item) we would just go and get it," Ryan said. That's not possible anymore. Prices are going up due to transport hassles. "We can't quote the same price year after year."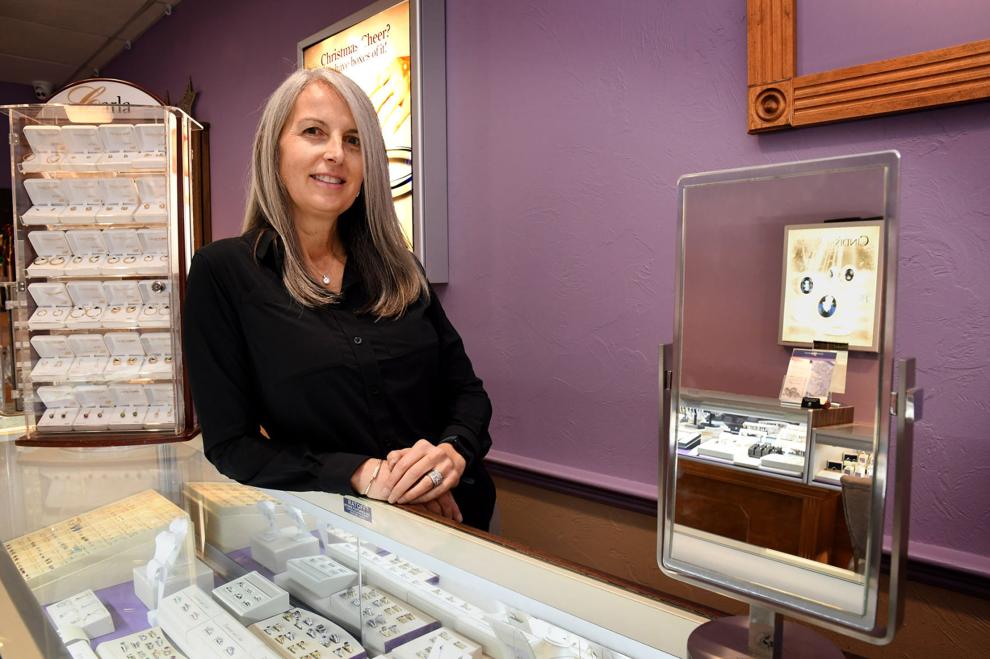 Cynthia Haddad-Drew of Cindi's Jewelry in Foxboro is showing her appreciation for customers this holiday season by sending out flyers to the ones "who have been loyal to us for a long time."
After 29 years in business, there are quite a few.
"More people are going to be out, more are buying in person," she says. Last year more people were buying online. Cindi's has a website but that's not its focus for sales. "If I did that, I wouldn't have time to pay attention to it," she said.
For a business that specializes in custom and unique pieces, the personal touch is important.
"People want to see things in person, touch and feel the merchandise and have a personal connection," she said.
That's especially true with jewelry.
"A lot of it is a trust issue," she said. "It's better to try things on and see how it looks and feels."
Something might look good in a catalog or in a screen shot or in a case but wind up not being flattering. "Or, it might look horrible in a case but try it on and it looks really awesome," she said.
While supply chain issues have less impact on her stock in trade, she agrees with Ryan that those are having an impact on an aspect of retail that customers might not expect.
"Everything is taking longer ... things like bags and boxes," she said. But she's prepared: "We started in August getting ready."
****
Leaf Boutique in Mans-field, despite its small business status, has embraced online sales, but owner Leaf Shea emphasizes the human touch, too.
And she says it's working for her this year.
"Everything has taken a total reversal from the shutdown," she says of business at her women's clothing and accessories store in advance of the holiday season.
"A lot of people are more focused on shopping small," Shea said. "They saw places close that they loved and realized they need to step up and support them more."
Shea opened her store in Mansfield, where she lives, three years ago after over two decades in Brookline. ("The commute was killing me," she said.) She specializes in all new women's clothing and jewelry, much of it trendy or one-of-a-kind, "but really good quality."
The supply chain problems that are bedeviling bigger retailers aren't a problem for Shea. "Boutique lines like I carry are better about getting supply and demand," she said, adding her store "is fully stocked for the holidays."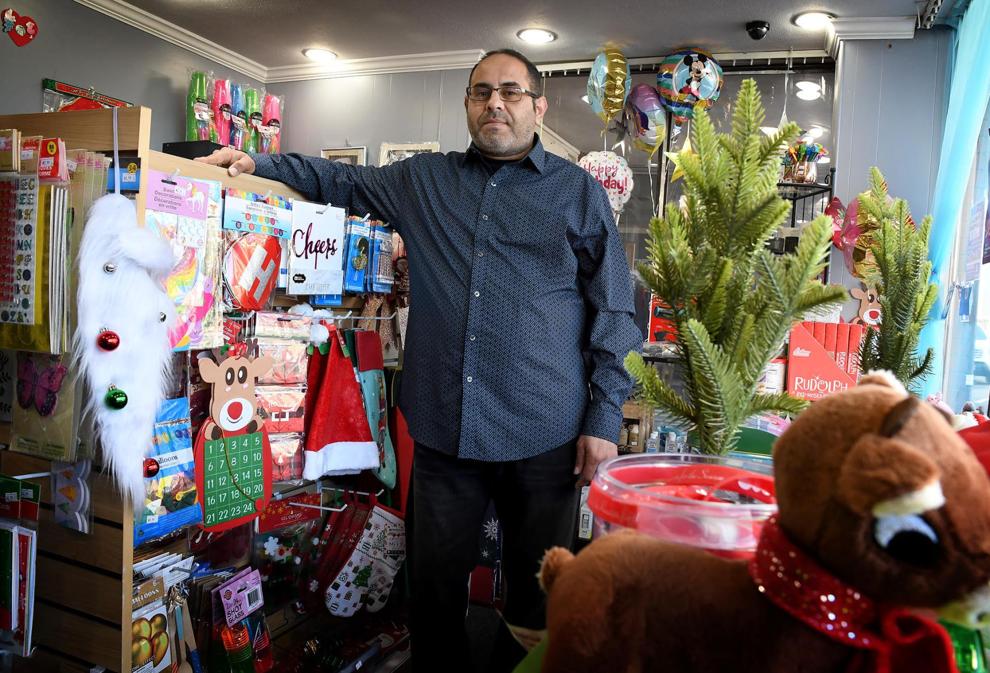 From the oldest business in downtown Attleboro to the newest is a gap of about 75 years. Adel Guirguis took a chance and opened the Gift Hub on South Main Street in October.
He wasn't new to retailing, however. He's been buying and selling online for years. Guirguis, who emigrated from Egypt to the United States 11 years ago, got his start selling souvenirs to tourists in Sharm el-Sheikh, a resort town between the the Sinai Peninsula desert and the Red Sea.
After a month in operation, and a little marketing, he said, business is "not bad ... Some people come in and buy and check it out."
His stock of gift items ranges from wallets to key chains to watches and party supplies.
He's not having a problem keeping items in stock, either. Some of them are still the kind of things he buys online. "Some I get from auctions. I try to get the best of quality and get decent prices for me and my customers," he said.
He's taking the risk of starting a new business in stride, and he has faith in the future of his startup. "God willing, it will start to be good," Guirguis said.