The average American produces about four pounds of garbage every day, according to the Environmental Protection Agency.
That adds up to 258 million tons of municipal solid waste generated yearly in the United States.
More than half of it ends up in landfills, but approximately 34 percent is recycled and composted. And environmental advocates hope to see that number increase.
Sunday marks the 48th anniversary of Earth Day, a nationwide observance started in 1970 that focuses on giving back to the planet. It inspires millions of people all over the world to plant a tree, clean up their towns and put into action the three R's: reduce, reuse and recycle.
Advocates say it is important for everyone to get involved in caring for the planet. If everyone made a small change in their lifestyle, it could lead to big changes for the environment.
But it goes beyond just a single day.
We talked to some people who are doing more to go green: A community organization that is increasing awareness of recycling by teaching it to the town's youngest consumers. A high school that offers students the opportunity to learn farming hands-on. And individuals who are continually expanding ways their lifestyle can help the environment.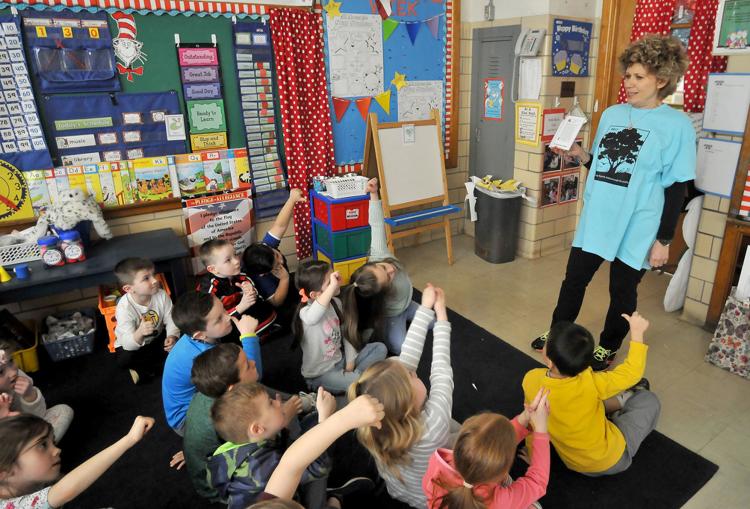 Keep North Attleboro Beautiful
Marsha Goldstein of Keep North Attleboro Beautiful spent a recent Monday morning talking about recycling with her most eager audience yet: A group of 5- and 6-year-olds at Roosevelt Avenue Elementary School in North Attleboro.
There, students in MaryAnne Carter's class learned which items from their trash can be recycled and which items can't, how long it takes discarded items to break down in landfills and about the Great Pacific Garbage Patch, a collection of debris floating in the Pacific Ocean that is now twice the size of Texas.
They learned it takes 450 years for a plastic bottle to decompose. Goldstein explained why pizza boxes cannot be recycled. (The greasy runoff contaminates the cardboard.)
But she also shared a little bit of hope: Plastic can be recycled into almost anything, she told the students, including building materials or even clothing.
"We want to recycle everything we can so it doesn't end up in a landfill and so it can be turned into other things," Goldstein told the students.
Monday's lesson was the first time that the local nonprofit brought its message to schoolchildren. Keep North Attleboro Beautiful typically focuses its efforts on beautifying the town, celebrating businesses and individuals whose efforts do the same and sponsoring the annual townwide cleanup. But Goldstein said collaborating with the schools has been a goal of the group for years.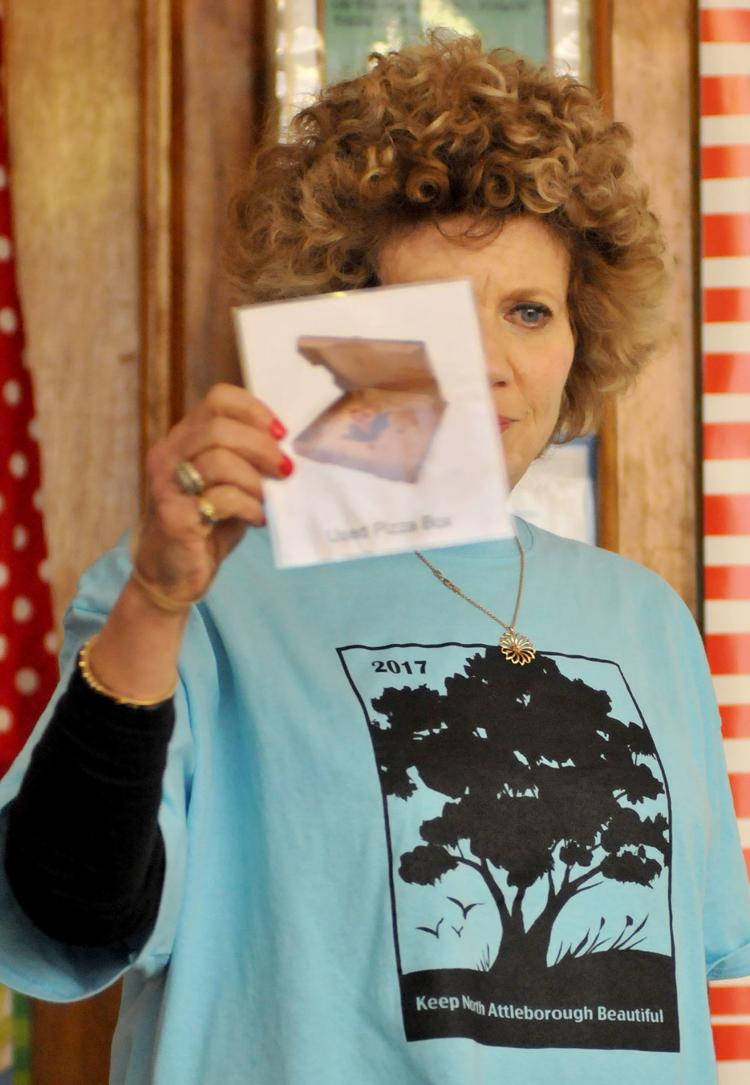 The district's STEM (Science, Technology, Engineering, Math) curriculum for kindergarten and fifth grade includes recycling and caring for the environment. But Goldstein's presentations bring the community in to share in that initiative.
She'll offer similar advanced presentations to fifth-graders in the fall.
Following the presentation to her students Monday, Carter said it kept them engaged in a fun way.
"I think it's current because they're recycling in their homes and it gives them some responsibility," she said.
Goldstein said the effort is simply to get children to think, with the hopes that they'll apply and share what they learn with family and friends.
"Instilling these values at a young age is critical for awareness and positive change," she said. "Building awareness for taking care of our environment is the main thing. That's what it's all about."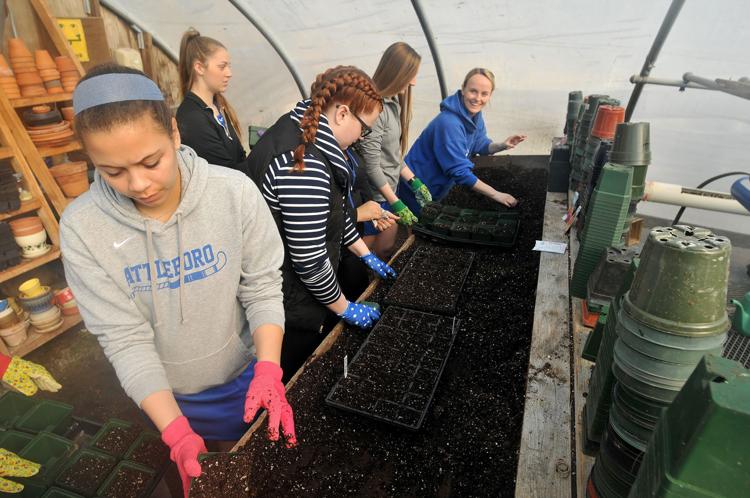 Attleboro High School
Students at Attleboro High School have been growing food for years, but this is the first year they can do it for credit. Students in the new Farm-to-Table class, taught by Ari Weinstein and Gregg Finale, grow vegetables, fruit and herbs in outdoor beds and in a greenhouse, learning the history and importance of farming in the process. The produce is used in the school's culinary program and the extra is donated to area food pantries.
But the Farm-to-Table class is just one of two project-based courses where students address community concerns and try to find solutions. In the other class, Science and Public Policy, students are trying to encourage their classmates to recycle.
"These courses are one of the ways that our district first started to enhance the relevancy of instruction by having our students focused on more project-based learning," Principal Bill Runey said.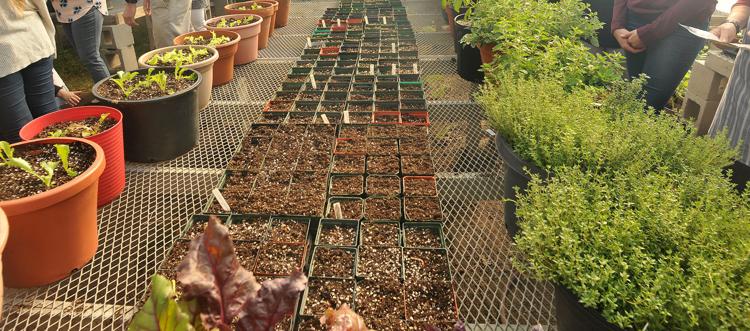 There are now 60 kids in 18 groups farming at the school. Each group chooses a different vegetable or fruit to grow, including strawberries, pumpkins, corn, carrots, tomatoes and a range of different greens, to name a few.
"This year we're looking at being able to grow a lot of food and getting it out to the community, which is very exciting," Weinstein said.
But it also carries lessons of how consuming locally grown food can help the environment, from using less gasoline to transport the food to lessening the environmental impact of food production to health benefits from eating organic.
"Localizing your agriculture is pretty environmentally friendly," Weinstein said.
Seniors Evelyn Mortimer and Kyle Watson manage the greenhouse and work with one of the groups to keep it running.
"It's a great way to do urban farming. This is all local, organic food," Mortimer said.
Farm-to-Table students who also take Early Childhood classes are working with kids in the preschool to teach them about gardening.
Students at other area high schools are also doing their part — from recycling to gardening to composting. Seekonk High School used grant money and donations to fund a fountain and water bottle filling station to encourage students to use refillable water bottles. Attleboro students are now pursuing a similar initiative.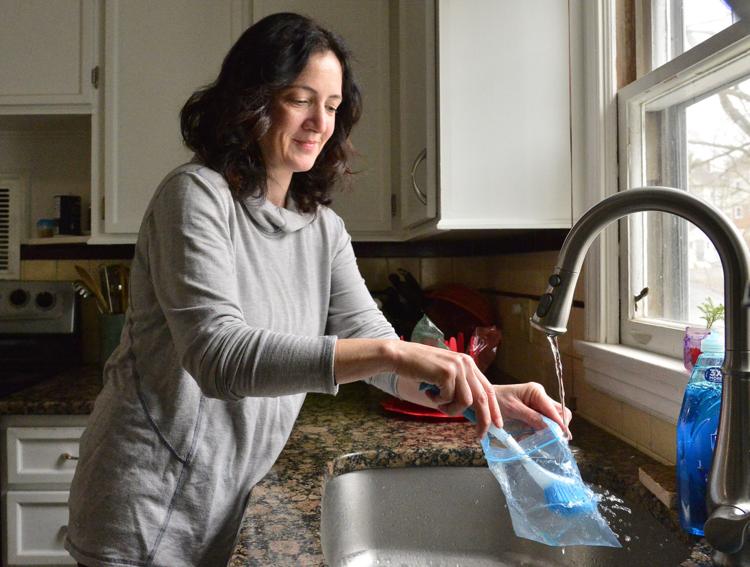 Individuals doing their part
Alexandra Colacito of North Attleboro finds ways to recycle items that most people wouldn't even think of: Toothpaste tubes, dental floss containers, old credit cards and more.
What others may see as simply waste, Colacito sees as part of an effort to stay green. She's been collecting recyclable items for about two years and plans to ship the items to a company that recycles such goods.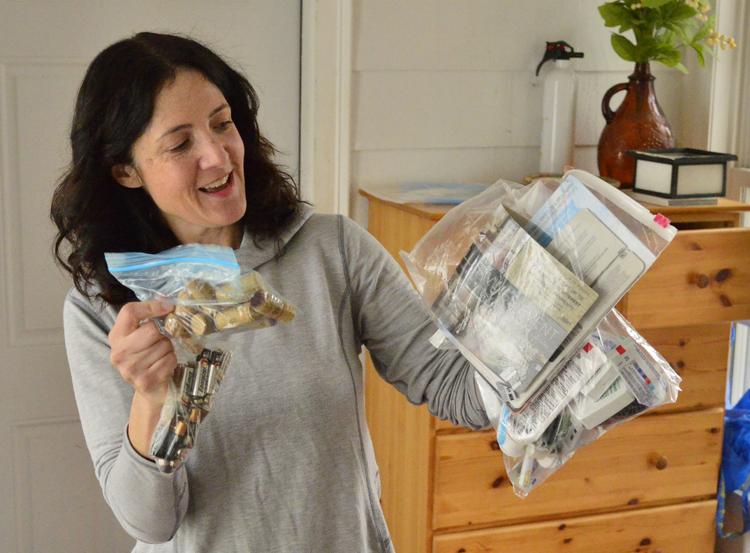 "You can recycle anything but it becomes expensive (due to shipping costs) unless you do it in bulk," she said.
But to Colacito, a Berkeley, Calif. native, it's worth it.
She has been an avid recycler and environmental activist her whole life — and has even gone as far to change her diet to help the environment.
But there are smaller ways that residents can enact everyday changes, Colacito said. One thing that has made a huge difference in her family's waste is recycling plastic bags in the grocery store recycling bins. She also reuses plastic sandwich baggies by washing them out and letting them dry.
"I've seen plastic bags in the oceans and on the beaches and I know it harms turtles and other sea life," she said.
Her husband Mark, a solar engineer, even works in a green industry.
But she said the biggest impact she has had on the environment is becoming a vegan three years ago.
"I did it because I was concerned about animal welfare. Afterward I found out about the effects of animal agriculture on the environment," Colacito said.
Studies have found that livestock production causes more greenhouse gas emissions than growing plants and vegetables. Reducing the amount of meat in your diet may not just be better for your health, it may be better for the environment, Colacito said.
"Meat, dairy, eggs — all those industries are bad for the environment. They use more water, they use more land and they create more pollution than plant crops," Colacito said.
While she is focusing most of her energy on her diet, Colacito tries to do whatever she can to reduce waste because she doesn't want to be part of the problem.
"I'm perpetually worried about our planet," she said.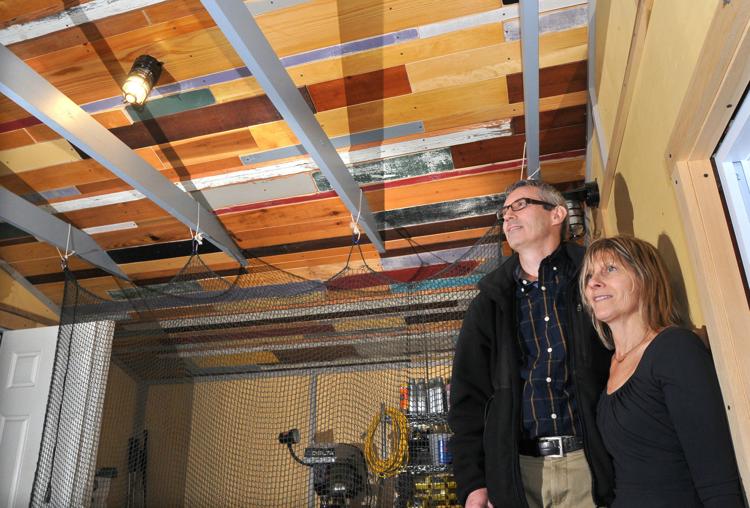 Meanwhile, Todd Hagenburg and Angela Johnson of Seekonk are strong advocates of recycling, energy conservation and re-use.
"It's always a consideration as to whether it's using energy, buying materials, processing something. We think about it a lot," Hagenburg said.
Johnson has been carrying cloth grocery bags for 25 years. Hagenburg takes his lunch to work wrapped in parchment paper instead of a baggie.
"We don't buy plastic water bottles. We only use glass bottles that you re-fill," he said.
They don't use a clothes dryer; all their laundry gets hung on a clothesline, even in winter.
When the couple renovated their kitchen, Hagenburg used the reclaimed wood to line the ceiling of the garage and build kitchen cabinets. They don't use a dishwasher.
The couple only uses non-toxic cleaning products or paints.
They recycle anything that can be recycled and "try to be as green as they can," Johnson said.
"We like the idea of a low carbon footprint," Hagenburg said.
And even with all that, the couple says they are just scratching the surface, but they do what they can.
"I think it's important because we need to make some contribution to a greener planet. It's the least we can do," Hagenburg said.