One day last January, Paul Wagstaff was having trouble breathing so he went to an urgent care center in North Attleboro.
Soon the Attleboro resident was in an ambulance that headed first to Miriam Hospital and then to Rhode Island Hospital, both in Providence.
Heart surgery followed along with a 17-day stay in the hospital, amounting to a bill of $32,680.
That was shock enough for one person.
Then Wagstaff, 77, received a $2,100 bill for the eight-mile ambulance ride.
He said he is on Social Security and receives only $874 a month. The medical bills were far more than he could afford.
Medicare has paid for the bulk of the hospital stay bill, but there are still bills for deductibles, co-pays, medication and the ambulance ride.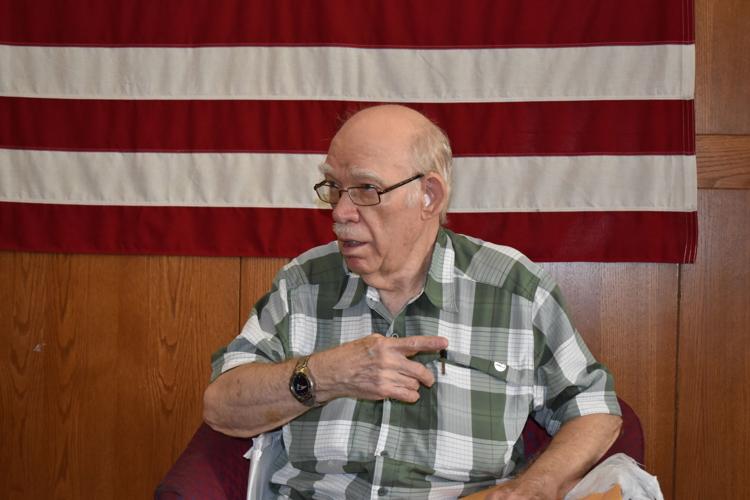 Wagstaff, who is deaf, told his story by answering questions about his situation written on a whiteboard.
"I'm trying to pay the little bills," he said, noting payments of $341 here and $167 there. "But, I'd be broke if I paid all that."
Wagstaff got some good news recently in the form of a letter from Lifespan, which owns Miriam and Rhode Island hospitals, saying it was waving his portion of the bills.
Then on Monday, North Attleboro Town Manager Michael Gallagher said Wagstaff's application to waive the ambulance fee was approved. He received the letter Wednesday.
"I am happy. I got more bills to pay for doctors and medicine," Wagstaff said.
While Wagstaff's story had a positive ending, the issue remains that ambulance services and rides can amount to thousands of dollars, and come as an unwelcome surprise for people who need emergency care.
North Attleboro Fire Chief Christopher Coleman said the town's rescue service charges according to how advanced the treatment the patient on board receives.
Patients who get basic life support treatment are charged $1,118. Those who receive advanced life support — such as intravenous fluids and EKGs — are charged $1,862 to $2,858.
There is also a transport charge of $30 per mile.
Gallagher said those who cannot afford the charge can appeal the bill by filling out a form at the fire station. If the chief approves, he sends it along to the town manager, Gallagher said.
Attleboro Fire Chief Scott Lachance said a contributing factor to the costs of ambulance care that most people don't recognize is that government programs such as Medicare and Mass Health pay only a small fraction of the actual cost of the service.
For instance, the average cost of a basic ambulance services in Attleboro is $1,346, but Medicare pays only $392.
Although Medicare will sometimes supplement its share at the end of a year, most of the unmet costs are passed on to patients with private insurance in the form of higher charges.
But, because of the demographics of Attleboro, two-thirds of all ambulance patients are on Medicare or Mass Health, he said, so it leaves a small pool of people to make up the difference.
Ambulance services in Attleboro total about $3 million a year, he said, and all of that is paid through fees charged. No taxpayer money is involved.
Lachance said another factor is often patients have to pay a high deductible and co-pay before their insurance kicks in.
But, he said, he has received few complaints.
There are 5,500 ambulance runs per year in Atteboro and only about eight to 10 people appeal their bill.
He suggests people with a question or who are unable to pay contact fire headquarters and consider filing an appeal.
According to health care reports and consumer websites, factors that go into how much the patient has to pay include the percentage their insurance company provides, whether they have already exceeded their yearly deductible limit, and whether the use of an ambulance was truly an emergency.
The website Medicare Interactive states Medicare will pay if it's an emergency, meaning a serious health danger, if the patient is confined to a bed, or if he or she cannot be transported without receiving medical services at the same time.
Private insurance companies have their own rules.
Christopher Garmon, an assistant professor of health administration at University of Missouri at Kansas City, told The Sun Chronicle that ambulance bills can be staggering.
"Some of these bills are just outrageous," he said.
He said his research has found that half the time, a private ambulance that responds to an emergency is not in the patient's health insurance network, which is a large source of the problem.
That means the patient is responsible for more of the bill.
Of course, people do not pick where they will get sick or injured, so they have no choice which ambulance responds to them, he said.
Kaiser Health News reviewed complaints about ambulance bills and, in a report, cited the case of a New York City man who got hurt while on vacation in the Chestnut Hill area of Newton.
A private ambulance picked him up and drove him four miles to Brigham and Women's Hospital in Boston. He got a bill for $3,660, including $915 per mile for the ride because the ambulance company was not in his New York-based insurance network.
Garmon said the problem is even worse with air ambulances, which are more expensive and, two-thirds of the time, out of network.
Bills for an ambulance can amount to thousands of dollars, but those for air ambulances they can reach into the tens of thousands, he said.
Congress is in the process of addressing a similar problem of surprise medical bills, mostly for emergency room treatment.
The surprise in those cases come when patients go to a hospital that is in their insurance network, but one or more of the doctors who treat them there are outside the network, and they get charged accordingly.
But sometimes ambulances bring patients to the first available hospital, not the one in the patient's network, so the hospital bill becomes an issue.
One bill addressing the situation is supported by the Democrats on the House Commerce and Energy Committee, including U.S. Rep. Joseph Kennedy III, D-Brookline.
However, a spokesman for Kennedy said the bill does not address surprise bills for ambulance service.
Garmon said the problem needs to be addressed, but he also does not know of any proposed legislation that deals with ambulance bills.
In a recent blog post, the National Consumers League urged Congress to act, noting that more communities are moving away from ambulance service from fire departments and toward private companies.
Kaiser said its study found some collection agencies for ambulance services can use high pressure tactics to get people to pay.
It also said that 40 years ago most ambulance services were provided by either professional or volunteer fire departments and the service was fully paid for by taxes, not the patient.
The National Consumers League advises people to check what services in their area are in their insurance network.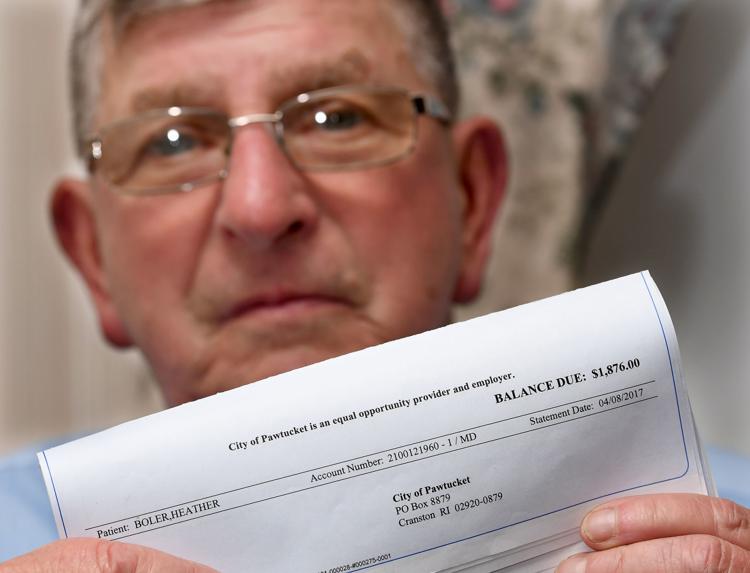 None of that, however, will help George Boler of South Attleboro.
He has slowly been paying off a $1,800 bill his 44-year-old daughter Heather got a few years ago when she had a seizure at McCoy Stadium in Pawtucket and was transported to Memorial Hospital, a distance of about half a mile.
His daughter, who is disabled, is unable to pay because she only receives $530 a month from Social Security.
Boler said he has called and written to the City of Pawtucket, the Rhode Island governor's office and Mass Health, but has not received any help.
"I offered to pay half the bill, but her hardship (appeal) was denied," he said, adding that the collection agency kept calling.
"I'll do what I can, but it ain't easy," Boler said.