Rehoboth residents Randy Larrivee and his daughter Mandy like to take the train from Attleboro to Boston a few times a year to enjoy the events, restaurants and entertainment the city has to offer.
The $21 round-trip fare per person and $5 parking charge for the commuter rail is worth the price of avoiding the aggravation of driving to Boston and paying exorbitant parking fees, they say.
One time, Randy drove to Fenway for a Red Sox game and paid $62 to park.
But, if there is one thing they don't like about commuter rail is the lack of trains at night, in the afternoon and on weekends.
It makes it tough to get back and forth.
"There aren't enough trains," Mandy said.
Randy Larrivee said if he takes the commuter rail to Boston for a Sox game, he has to leave before the game is over to catch the 11 p.m. train home. If he misses that, he has to wait until midnight for the next train.
There are no trips out of South Station between 8:45 and 11:10 p.m. and there are no trains at all after 11:10. That means anyone who wants to go out on the town until late at night has no way home.
Linda Edetsberger of Cumberland, R.I., has a similar complaint.
Overall, she enjoys the train, but often there isn't one at the time she needs to get to a doctor's appointment and take a class at University of Massachusetts at Boston.
There are two-hour gaps in service from the Attleboro station after the morning rush hour.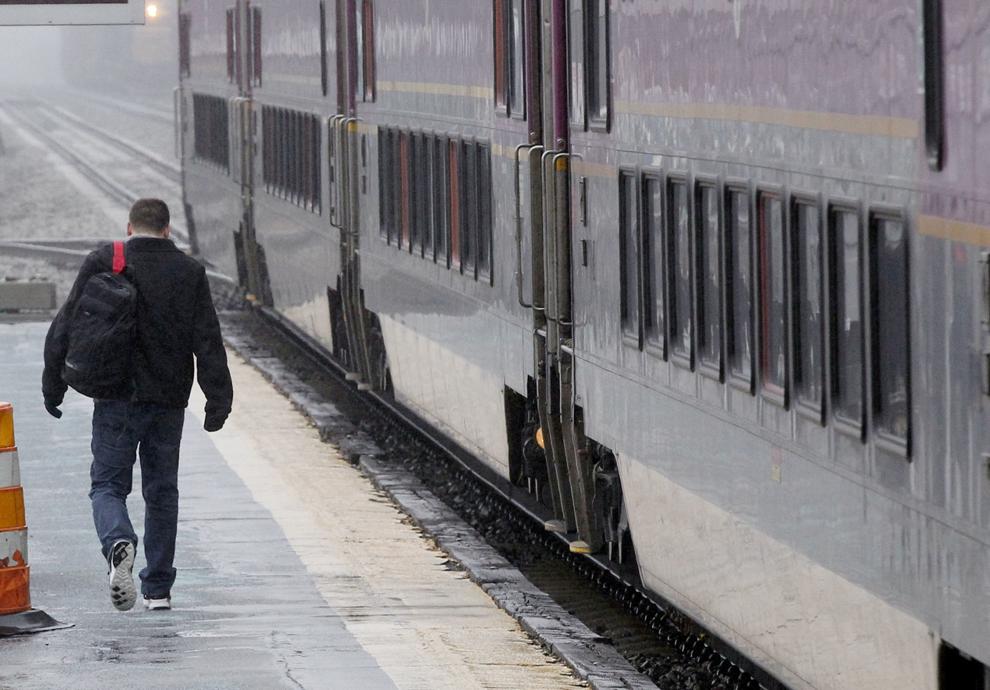 Chris Dempsey, director of Transportation for Massachusetts, a group that advocates for better transit, said the problem is that the commuter rail was designed for a 1950s world of 9-5 workers.
There are a lot of trains in the morning and in the evening, but not at other times.
He said commuter rail has never adapted to the flexible work schedules many big companies have now or the needs of commuters who are going to Boston for reasons other than work.
There is a lack of service during the early afternoon, so anyone who gets out of work early, or has to get home to a sick child, has to wait long periods for the next train, he said.
Providing more trains would be costly, he said, but European countries do it because they had decided there is an economic and social benefit to having fast, reliable, convenient and inexpensive public transportation.
Of course, the inconvenient schedule is just one of many complaints commuters have about the rail service.
Trains are often crowded, late and either too hot or too cold.
When an MBTA commuter rail train derailed in November with 800 passengers aboard because a wheel came loose, commuters along the Fitchburg line complained that service was often unreliable because of aging equipment on the system.
But, experts contend commuter rail in the Greater Boston area has actually improved in recent years and they expect it to get even better in the future.
"It's getting incrementally better," Dempsey said.
"The MBTA has gotten better," said Charles Chieppo of the conservative Pioneer Institute.
Both men, however, caution that they are not saying service is great. They are only saying it has gotten better and more improvements are on the way.
"Clearly commuter rail is a huge challenge," Chieppo said.
He said the equipment is so old and the system has been neglected for so long that fixing it will take a lot of time and money.
"It's a classic case of turning around the Titanic," Chieppo said. "It will be years before reforms and investments result in much better service."
The commuter rail is run by a private firm called Keolis, which is contracted by the MBTA.
Tory Mazzola, a spokesman for the firm, said the percentage of trains arriving at their destination within five minutes of their scheduled time is up from a 10-year average of 87 percent to 89 percent the past three years.
One reason for the better on-time rate is that the number of conductors employed by Keolis has been increased from 369 in 2015 to 409 last year.
He said the extra conductors help passengers get on and off trains and open and close doors more quickly, contributing to keeping the train on time.
The improved performance is also partly the result of upgrades to tracks and switches so there are far fewer problems caused by extreme weather, he said.
Those measures include new tracks and rails as well as heaters on switches so they don't freeze.
Mazzola also said revenue from commuter rail fares has increased 25 percent over the past three years.
One of the biggest complaints about commuter rail over the years, Mazzola conceded, is passengers who get away without paying because conductors do not have enough time to make their way through crowded cars to collect money.
The complaint mostly comes from regular passengers who buy monthly passes and do not appreciate others riding for free.
Mazzola said the additional conductors are helping with that situation and have been outfitted with electronic devices so passengers can pay with credit or debit cards.
Ticket agents have also been hired for North and South Stations to stand by trains to check tickets and encourage passengers to purchase them before boarding.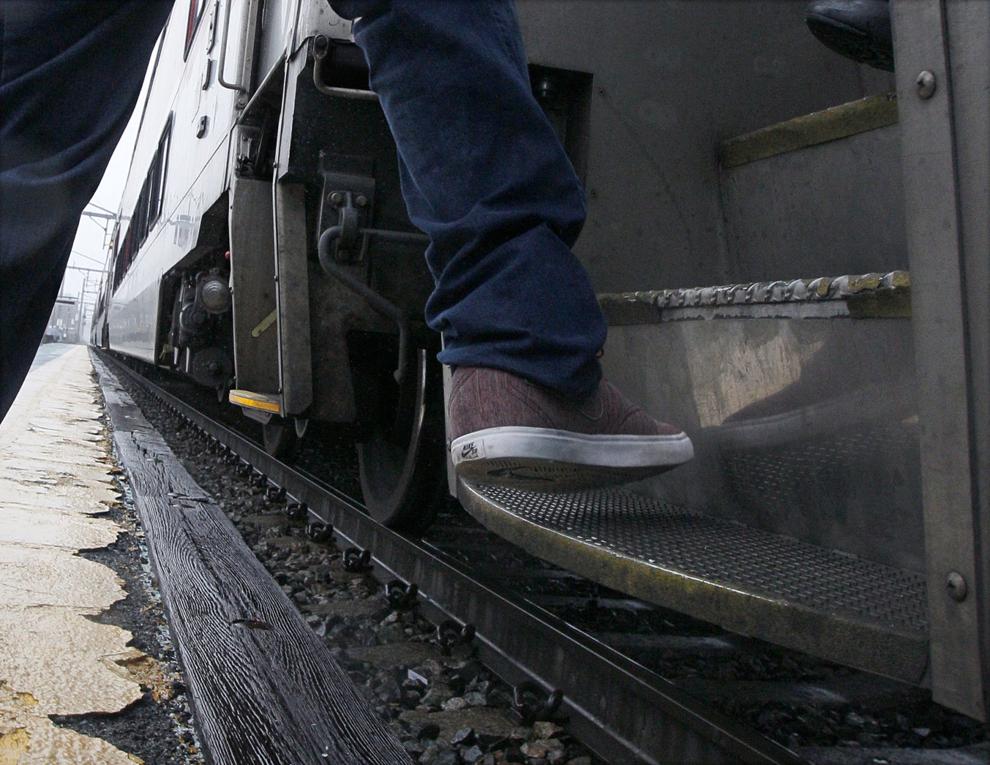 A monthly pass for trips from Attleboro to South Station in Boston is $336, which comes to $4,032 a year. Parking is $90 a month, putting another $1,080 on the yearly commuting tab.
Dempsey said the high cost is a result of society subsidizing highways more than public transit. Although the Massachusetts Turnpike is a toll road, other major highways into Boston, such as the Southeast Expressway, are free.
On the other hand, driving into Boston often means huge parking costs, which can be as much as $40 a day.
Paul Harvey, a commuter from Attleboro, said he would drive to work in Cambridge if his company provided parking, but it doesn't, so he takes to train.
Still, Dempsey said many commuters are willing to pay the price for the train because it means they don't have the stress of driving in rush hour traffic.
Instead, they can either work, read or relax on their train ride.
Chieppo said he expects the service to get better in coming years because a more streamlined purchasing system in the MBTA will allow new trains to be obtained quicker.
The new trains will mean better service and fewer breakdowns.
One mistake he believes the MBTA is making is considering expansion of commuter rail to Gillette Stadium in Foxboro and the South Coast. A pilot program is being developed for Gillette.
Chieppo said it's unclear to him whether commuter rail service will even exist in the future, so it would be a waste to expand it.
He said 40 to 50 years from now, self-driven electric cars might allow more vehicles to travel at higher speeds and in bunches to get commuters from the suburbs to the city.
Because the cars will be driven by computer, they will be able to travel close together without fear of colliding, allowing existing highways to handle more vehicles, he said.
Rapid transit within the cities will still be needed, he said, and that is where the focus should be.
Another big question facing commuter rail is who will run it in the near future.
The MBTA's contract with Keolis ends in 2022 and it's unknown if the French firm will continue on.
Chieppo said he believes Keolis seriously underbid for the contract in order to get a foothold in the United States. But, he said, that results it the company losing money and not having enough funding to operate efficiently.
Some are calling on the MBTA to take direct control over running the system, as it does with most subway and bus lines.
Mazzola concedes Keolis has not made any money on its contract, but attributed that to the company reinvesting funds to improve the system.