After the Japanese attacked Pearl Harbor on Dec. 7, 1941 killing more than 2,400 U.S. sailors, soldiers and airmen, President Franklin Roosevelt went before Congress to ask for a declaration of war.
World War II had been raging in Europe since 1939 when Germany invaded Poland and the American public was reluctant to get involved, but now there was no choice.
Millions would go and confront murderous, despotic regimes in Europe and Asia that threatened world freedom.
Roosevelt characterized the day of the attack as "a date that will live in infamy."
But he was right in a way of which he was not aware and most of the world was not aware, and today many people are still not aware.
Dec. 7, 1941 was also the day Germany's Nazi regime began "deporting" Jews from the Lodz ghetto in German-occupied Poland to the town of Chelmno to be murdered en masse by gas.
It was the day Nazi Germany intensified its efforts to exterminate Jews and other "undesirables."
It was the day the evil regime took the first step to transform a relatively disorganized and inefficient killing scheme to one of horrific efficiency, a cataclysm to be known as the Holocaust.
And six weeks later it would be intensified even more at the infamous Wannsee Conference.
That's where Holocaust masterminds, SS (Schutzstaffel) Lt. General Reinhard Heydrich and SS Lt. Col. Adolf Eichmann enlisted the "enthusiastic" aid of key military and civilian officials to proceed with the slaughter on an industrial level.
The SS, headed up by Heinrich Himmler, started out as the elite bodyguard for Germany's blood thirsty fuehrer, Adolf Hitler, and was comprised of the most fanatical of Nazis.
The goal was to kill all 11 million Jews in Europe.
They succeeded in killing 6 million and millions of other innocents as well.
According to the U.S. Holocaust Memorial Museum, 15,270,900 died in the inferno.
It's not surprising Roosevelt didn't know of the mass transfers to Chelmno.
While much was known about the persecution of the Jews in Germany, which started as soon as Hitler took power on Jan. 30, 1933, the massacres and knowledge of the massacres would not come until later.
What is surprising is 78 years later, 45 percent of U.S. adults and 49 percent of millennials, the most recent generation to come of age, cannot name one of the 40,000 concentration camps and ghettos — gathering points where Jews were held before being "deported to the east" and killed — that were established in Europe during the Holocaust, according to a poll conducted by Shoen Consulting last year.
Astoundingly, almost half of those polled never heard of Auschwitz, Treblinka, Belzec, Sobibor, Majdanek or Chelmno, the six most notorious death camps established by the Nazis — not one.
And 11 percent of all U.S. adults and 22 percent of millennials "haven't heard or aren't sure" if they've heard of the Holocaust, according to the same poll.
The Holocaust, simply defined as the systematic murder of more than 6 million Jews, along with millions of other "undesirables" such as Gypsies, homosexuals, disabled people, criminals and prisoners of war, began well before the Chelmno deportations.
It began after Germany's invasion of Poland on Sept. 1, 1939.
Shooting was the first method of execution.
Einsatzgruppen, the name given to SS death squads that trailed invading forces, rounded up Jews in Poland and Russia and shot them to death.
At least 1 million Jews died this way.
But this method of murder was inefficient, time consuming, costly.
And it took too great an emotional toll, even on Jew-hating SS Nazis killers who slaughtered innocent men, women and children, day after day after day.
As a result, the Nazi hierarchy sought quicker, less costly and less stressful ways to kill.
Carbon monoxide gas was used at Chelmno, but it too lacked the necessary efficiency.
It took up to an hour to kill.
But as the Lodz ghetto Jews were being asphyxiated with carbon monoxide, the Nazis had already begun experimenting with Zyklon-B, hydrogen cyanide gas.
Those experiments took place in September of 1941 at the soon to be notorious death camp Auschwitz-Birkenau, which opened in the spring of 1940 in southern Poland near the town of Oswiecim.
There on Sep. 3, 1941 the SS gassed 650 prisoners of war from the Soviet Union, 250 Polish patients from the camp hospital, and "10 prisoners from the penal company."
It was a resounding success.
Zyklon-B took just five minutes to kill.
Chain of command and seeds of genocide
Hitler had been plotting the destruction of the Jews since he wrote "Mein Kampf" in 1925 while languishing in prison after attempting a putsch.
His megalomaniacal and homicidal rage came partly from his deeply rooted anti-Semitism and from Germany's defeat in World War I, for which he blamed the Jews and Communists who he said "stabbed Germany in the back."
When Hitler came to power in 1933 he immediately began to persecute the Jews and that persecution grew in intensity year after year.
They were barred from citizenship, all professions, the arts and schools.
Jew-authored books were burned.
Boycotts of Jewish businesses, enforced by jack-booted storm troopers who stained the streets with Jewish blood at every opportunity, were part of the new way.
The persecution culminated with Kristallnacht, "the night of broken glass," on Nov. 9, 1938 when synagogues throughout Germany were burned to the ground.
Jewish businesses were destroyed. At least 100 Jews were killed and another 30,000 sent to concentration camps.
The violence was incited by Propaganda Minister Joseph Goebbels on the news that a German diplomat was killed by a Polish Jew.
At that time, according to a Gallup poll, 94 percent of Americans disapproved of the treatment of the Jews, however only 21 percent supported allowing more Jewish exiles to come to America.
There was nowhere to run.
With all that in the background, Heydrich called a meeting of 15 high-level government and military officials to discuss the "Final Solution of the Jewish Question" for Jan. 20, 1942.
It took place in a pleasant upscale neighborhood of Berlin known as Wannsee on the shore of a lake by the same name in an sprawling villa, built by a business tycoon in 1915 and sold to the SS in 1940.
The noontime session, called to enforce the cooperation of key civilian and military departments in organizing and implementing the wholesale, industrialized slaughter of the Jews was held in a plush dining room overlooking the lake where non-Jew Germans lounged on sultry summer days.
There was no opposition among the highly educated men, eight of which had Ph.D. degrees and most of whom were lawyers.
Heydrich expected push-back but was greeted with "enthusiasm," according to testimony given by Eichmann at his trial 19 years later.
Eichmann said participants were "blunt" in expressing their plans during the meeting, but he wrote the minutes in euphemistic terms to hide the sickening reality of genocide.
"In the course of the practical execution of the final solution, Europe will be combed through from west to east…the evacuated Jews will first be sent, group by group, into so-called transit-ghettos from which they will be taken to the East…," he wrote.
Chelmno, Belzec, Sobibor, Treblinka, Majdanek and Auschwitz-Birkenau lay in wait.
At his trial Eichmann remembered the afterglow at Wannsee.
He said he, Heydrich and another person sat by a fire talking, smoking and drinking.
And even the abstemious, clean-living Heydrich drank cognac and smoked a cigarette, he said.
"And after this Wannsee Conference we were sitting together peacefully, and not in order to talk shop, but in order to relax after the long hours of strain," Eichmann said.
While polls show an alarming depth of ignorance about the Holocaust, the good news is that 93 percent of Americans believe it should be taught.
But despite that number, only 11 states require Holocaust education.
Massachusetts is not one.
But there's a movement afoot to change that.
Rep. Jeffrey Roy, D-Franklin, introduced a bill this year that would mandate "instruction on the Holocaust and genocide."
He said knowledge of those dark days — for which there are no words to fully capture their utter depravity, cruelty and horror — is a crucial element for the prevention of genocide in the future.
"The studying of this material is a reaffirmation of the commitment of free peoples from all nations to never again permit the occurrence of another genocide... and to deter indifference to crimes against humanity and human suffering wherever they occur," he wrote.
While he's hoping to get the bill through this year, any piece of legislation, even this one, faces "a long road," he said.
"It's difficult to say (if we'll get it through) because there are some folks who say we shouldn't mandate curriculum at the state level and as a former school committee member I can appreciate that. But the way I look at it, some topics cry out for a mandate from the state and genocide is one of those," Roy told The Sun Chronicle.
Roy's bill is in the Education Committee and a hearing is slated for Monday.
Mass ranks 4th in anti-Semitic incidents
Meanwhile, the Anti-Defamation League reported that there were 1,879 anti-Semitic incidents across America in 2018. It was the third highest number in 40 years.
However that number is down from the 1,986 incidents in 2017, the second highest number.
In Massachusetts there were 144 incidents which ranked 4th highest in the nation after California at 341, New York at 340 and New Jersey at 200.
Together, those four states accounted for 55 percent of all anti-Semitic incidents that fall into three categories: harassment, vandalism and assaults.
Nationwide there were 1,066 incidents of harassment, 774 incidents of vandalism and 39 assaults.
The assaults include the murder of 11 worshipers at a synagogue in Pittsburgh by a gunman in October.
In Massachusetts there were 59 incidents of harassment, 82 incidents of vandalism and three assaults.
The good news for Massachusetts was that the total number of incidents dropped in 2018 from 177 in 2017.
The Foxboro Regional Charter School made headlines in recent years as its students pursued a project to collect 11 million stamps, one for each victim of the Holocaust, which went beyond the massacre of 6 million Jews.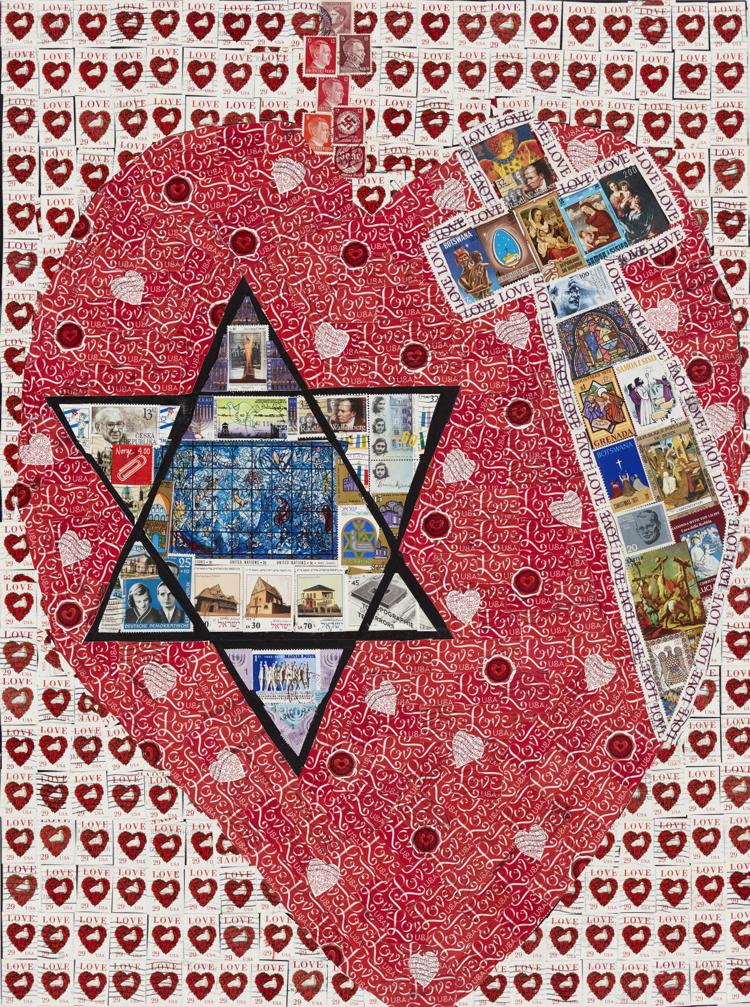 The effort came about when youngsters had a hard time understanding the enormity of 11 million, former teacher Charlotte Sheer explained in a Sun Chronicle article written by Larry Kessler in 2017.
It took students from 2009 to 2017 to collect the stamps. Teacher Jamie Droste took over the project when Sheer retired.
Meanwhile, Attleboro High School teacher Nicole Lane is doing her part to educate upcoming generations.
She started a class on Holocaust history about eight years ago.
"I thought we needed to offer students an opportunity to learn more about the Holocaust because as time goes on there are fewer who remember it," Lane said. "It's something that students are not learning about."
Every year anywhere from 50 to 100 students sign up for the course.
Patrick Morris, 17 and Camille Perry, 17, both seniors, are enrolled this year.
Morris said he took the course because other courses barely touch the story.
"I wanted to see how (the Holocaust) was created and how it can be prevented in future times to come," he said.
Perry believes there's a deficit of knowledge among her peers.
"I feel not a lot of kids are aware of this topic," she said.
In-depth study is needed to gain a better understanding of what happened, how it affected German citizens in general and Jewish citizens in particular, Perry said.
"It's such a big thing in history we need to concentrate on it and acknowledge that it happened," she said.
Morris said the course is helpful because it shows how people were manipulated into committing mass murder.
Lane hopes to help create a barrier against such evil in the future by empowering her students with the knowledge of evil and how it came to be and to stand up against it, she said.
"The goal is for (the students) to be active and engaged citizens in their community and the world by learning about the Holocaust and other genocides," she said.