What you choose to eat affects your mind, body and spirit, says Attleboro resident Jennifer Beauregard, also known as "The Peanut Butter Lady."
And her philosophy, accompanied by hard work, determination and faith, is obviously working.
One of her peanut butter products, Crunchy Cacao, was a winner this year at the annual Good Food Award competition in San Francisco. She recently moved into her own manufacturing space in Rhode Island and has plans to hire a half-dozen new employees.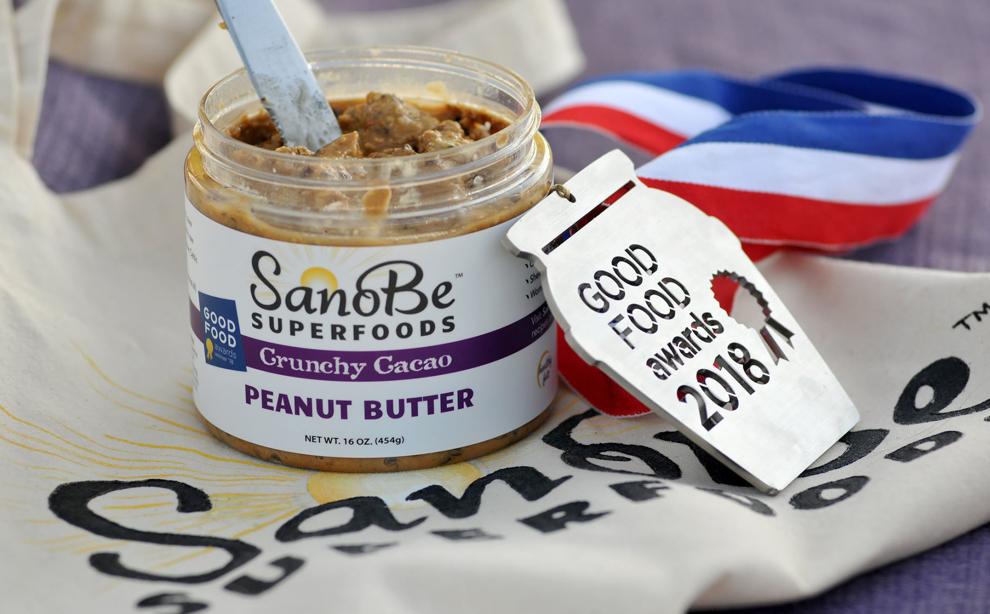 "In the end, it's all about loving yourself — mind, body, and soul," she said during an interview.
Beauregard founded her company, SanoBe Superfoods, in April 2016 with the intention of taking a simple food — peanut butter — and transforming it into a healthy, mineral-rich product that would promote whole body health and emotional well-being.
She says she was inspired by David Wolfe, an American entrepreneur and author who wrote a book titled, "Superfoods: The Food and Medicine of the Future," and by the father of medicine, Hippocrates, who famously said, "Let food be thy medicine and medicine be thy food."
As the youngest child in a family of eight, Beauregard, who is now 52, never imagined that she would start her own peanut butter company. She studied French and International Relations at the University of Delaware, but she said her true passions were yoga, meditation, healing, health and wellness.
Growing up, Beauregard said she was taught to invest herself in her outer image rather than her inner self, an approach she called "destructive to one's well being."
But around the time she met her husband, Peter, she learned to follow a path of self-love and emotional well-being, which led her on a path of healing, she said. This would lead her to become a wellness expert, yoga and meditation instructor, and finally, the owner of SanoBe Superfoods.
Several years before Beauregard started SanoBe, she was seriously injured in a car accident and had to navigate a long road to healing. In her free time, she began experimenting with ingredients to make her own version of peanut butter, combining "superfood" ingredients like sea salt, cacao and coconut oil.
"The name of the company has much meaning in itself," she said. "When translated in Latin it means, 'to heal,' which has been my ultimate mission in life — to not only help heal myself but everyone around me."
During her physical therapy sessions, she would bring in her peanut butter for the therapists to taste test. Beauregard said they immediately fell in love with it and urged her to take her recipe to Hope & Main, a food incubator company in Warren, R.I.
With extra encouragement from her husband, she did just that and was able to produce and distribute three variations of her peanut butter in bulk.
"I remember the first day I was in the kitchen at Hope & Main. I just stood there and cried because I didn't necessarily know what I was doing in a kitchen," she said. "It was a vulnerable situation to be in. Not only was the project unknown but it was a huge challenge, and I had to trust the people around me."
Faith, love and trust
She said that through faith, love and trust she was able to hire five workers to assist her in the production, distribution and social media side of her business. The company has been on the rise ever since.
This year, SanoBe Superfood's Crunchy Cacao peanut butter won a regional Good Food Award in the pantry category from the nonprofit Good Food Foundation, which promotes and recognizes healthy, sustainable and socially responsible products. In all, there were over 2,000 award contestants and 195 winners across the country.
Beauregard went to San Francisco to accept the award, an experience she said was "unforgettable" and "truly rewarding."
Beauregard recently moved into her own manufacturing space in Johnston, R.I., where she makes her three peanut butters — Crunchy Cacao, Hearty Hemp and Jammin' Java. She sells her products in 17 stores and at the Attleboro Farmers Market.
Beauregard described Crunchy Cacao as "decadent," the Hearty Hemp as "pure" and Jammin' Java as, well, "jammin'."
According to Beauregard, every ingredient in her peanut butter serves a specific purpose. For example, cacao is high in antioxidants, hemp is high in fiber, peanuts are rich in protein, dark roast coffee beans are anti-inflammatories and coconut oil is one of the healthiest fats.
She purchases most of her ingredients from a wholesale market out of Boston but gets her peanuts from Hampton Farms in northeastern California, sea salt from Celtic Sea Salt, and hemp seeds from a wholesale company out of Canada.
"This peanut butter is truly a meal in a jar," she said. "For me, I think the best way to eat it is right from the spoon."
At the end of the month, SanoBe will release its updated website, which will include recipes to make with the peanut butter and her newest hazelnut spread. In the next several years, Beauregard said she hopes SanoBe will grow into a nationally recognized company that will inspire consumers to eat healthy and lead healthy lifestyles. As well, she hopes to hire at least six new employees.
"The reason I make these products is with the intention to inspire self love," Beauregard said. "Because in the end, what you eat is one of the closest things to who you are."