The Cape Verde islands are a great place to vacation.
Blown into existence many millennia ago by volcanic eruptions, pictures show brilliantly clear blue-green water gently lapping wide, sandy beaches. There are 10 islands in the grouping located about 350 miles west of Senegal in Africa, and they're populated by about half a million people.
There's sunshine and warm water every day.
In June, water temperatures vary from 73 to 75 degrees Fahrenheit. It tops out in October from 79 to 81. In January, it's 73, warmer than some Cape Cod beaches in August.
It's a subtropical paradise, about 1,100 miles north of the equator.
By contrast, Miami is about 1,780 miles north of the equator, but Cape Verde has a better year-round climate, more temperate and stable.
Not for the islanders. It's for those who live thousands of miles away.
Just to the south of this idyllic place lies a breeding ground for violent and vicious storms, which kill people and destroy billions of dollars worth of property. These storms emerge with great regularity.
The latest to emerge from this cauldron of misery was Hurricane Irene, which blew into Massachusetts as Tropical Storm Irene on Aug. 29, 2011.
By the standards of all hurricanes, its damage to the state and our area was minimal. Here, Irene is remembered principally for the damage she did to the electric grid, knocking out power to thousands of local residents, some for as long as week.
Hurricane Harvey in 2017 was also the offspring of the moody, roiling atmosphere near Cape Verde.
Harvey formed from what meteorologists call a "tropical wave" off the coast of Africa on Aug. 12 and by the time it reached Texas 14 days and 4,731 miles later, it was a Category 4 storm. It packed wind speeds up to 130 mph when it slammed into the Port Aransas/Port O'Connor area at about 3 a.m. on Aug. 26.
The National Oceanic and Atmospheric Administration defines a tropical wave as a "low pressure area that moves through moisture-rich tropics."
Hot, dry easterly winds from the Sahara Desert play a role in the formation these waves. The winds, known as the "African Easterly Jet," are unstable and lend themselves to the formation of unstable and ultimately violent weather.
More scientific and complicated explanations are available, but as NOAA put it, the basic "recipe" for a hurricane is a tropical wave, atmospheric instability and warm water.
The wreckage in the path of Harvey was immense. He decimated parts of Texas and Louisiana. The death toll came in at 105 and there was approximately $125 billion in property damage.
Up to 40 inches of rain fell in some places.
Only Hurricane Katrina in 2005, which found her genesis on Aug. 23, about 200 miles southeast of Nassau in the Bahamas, was more destructive in the most recent of times.
Katrina was a Category 3 storm with 120 mph winds when it raged into the Gulf Coast on the Louisiana-Mississippi border on Aug. 29.
At one point over the Gulf of Mexico, where the waters are very warm, Katrina was a Category 5 hurricane with wind speeds of 175 mph.
The storm surge and the 10-12 inches of rain the storm brought to the low lying Mississippi Delta region created horrendous flooding in New Orleans and elsewhere. The storm spawned its own storms, 43 tornadoes that caused their own devastation.
According to NOAA, 1,833 people died, making Katrina the third deadliest storm since 1900. It tops the charts for property damage at at least $80 billion.
Fortunately, our region hasn't experienced anything like the cataclysms produced by Harvey and Katrina.
By the time Irene hit, she had been downgraded to a tropical storm.
But that's not to say she wasn't a devastating storm. Irene killed 48 people along her approximately 4,529-mile path from Africa. All told, Irene caused $15 billion in property damage, according to reports on the NOAA website.
The worst damage in our region occurred in central and southern Vermont where, fueled by torrential rain and ensuing floods, 2,400 roads were damaged, 800 homes and businesses destroyed along with 300 bridges and six railroad lines.
Meanwhile in Massachusetts, power companies were fined millions of dollars by the government for what was considered a lackluster response to Irene's devastation.
National Grid was the target of outrage from residents and politicians alike.
Then-mayor of Attleboro Kevin Dumas said the company's street crews did and outstanding job, describing them as "awesome and relentless," but he blasted management.
"When we couldn't get any information after the first 24 hours, I decided to go to the street and find the crews," he said. "The city was forced to take the situation into its own hands."
But times have been worse.
Attleboro — Sept. 20, 1938
Sept. 20, 1938 was primary day for state officeholders in Massachusetts.
Even then, primaries didn't attract a flood of voters, but turnout was better than two years previous.
"Heavier Vote Here at 1:30 (p.m.) Than In 1936," said a headline on the front page of The Attleboro Sun.
The top story of the day concerned the siting of a new elementary school that would one day be known as Willett School.
"School Board Does Not Want Responsibility For Building New School On Sanford St. Site" the headline read.
Also on the front page was a story about Adolf Hitler's demand to annex the German-speaking Sudetenland region in what is now the former Czechoslovakia. The situation was dark and tense. If his demands were not met England, France and the rest of Europe feared war would ensue.
"Czechs Stall While Russia Promises Aid," the headline read.
It had been raining on and off for several days, with .35 inches on Monday, Sept. 19 and 2.53 inches over four days.
"The weather bureau promised more rain for today and possibly for tomorrow," a reporter wrote.
"The (rain)fall swelled the total of a rainy week to 2.53 inches and Attleboro awoke today to greet the fourth in a series of dismal days."
There would be a fifth, and it would be much more than dismal.
Florida — Sept. 20, 1938.
The U.S. Weather Bureau had been watching the progress of a hurricane, or tropical cyclone, as they are formally known. It relied on the observations of ships at sea that would issue radio reports of weather conditions in various locations.
The storm, sucking energy from warm ocean waters, had been making its way across the Atlantic Ocean from somewhere near Cape Verde since Sept. 4.
By Sept. 19, it was about 650 miles east-southeast of Miami, Fla. It had traveled roughly 3,058 miles, and it wasn't tired.
At that point, it took a right and headed north. In those days hurricanes weren't named.
At 1 p.m. it was about 350 miles east of Daytona Beach, Fla. — 243 miles north of Miami, as the crow flies.
"The Jacksonville (Fla.) office (of the Weather Bureau) is indicating the storm will speed up and turn to the north or northeast," according to an advisory.
By 9:30 p.m., the storm was 400 miles east of Jacksonville, which is about 90 miles north of Daytona Beach. At that time, the Jacksonville office of the Weather Bureau characterized the hurricane as "severe."
Storm warnings were issued along the coast all the way to Atlantic City, N.J.
Attleboro — Sept. 21, 1938
The Sun reported the winners of the primary in blaring headlines.
"Kelley, Wright Win; Curley Tops Hurley…"
And the matter of the site for the new school was settled.
"Council votes Watson (street) site for new school..."
Meanwhile, Hitler was threatening to create the storm of war and the Czechs were feeling the pressure… "Czechs Quit? Soviets Angry" was the headline.
An article on the weather reported that the Ten Mile River was staying within its banks, despite the steady if intermittent rain.
"Ten Mile River Not Rising Here Despite Storms"
And there was some foreshadowing.
"A Tree Toppled At Norton Damages (power) Lines Of The Attleboro Steam And Electric Company," another headline read.
"Some services were temporarily out of commission, but affected no main circuits," the story said.
The weather report had no hint of violent weather.
"Continued rain, clearing Thursday, somewhat cooler."
Rain it would, but the rain was carried on, as Everett S. Allen said, "A Wind to Shake the World," the title of a book he wrote to chronicle the disaster. Allen was a reporter for the New Bedford Standard Times who was hired on Sept. 20, 1938 to cover the waterfront.
His first story was a big and tragic one.
Massachusetts, Rhode Island, Connecticut and Long Island, N.Y., to name just a few places, were hard hit by the storm, but no one in those places knew anything of that impending wind when they awoke to another dismal day.
Attleboro — Sept. 21, 1938
The storm was 275 miles south of Cape Hatteras, N.C.
By 7:30 a.m., it was barreling up the coast and was approximately 140 miles east-northeast of Cape Hatteras.
Reports of the storm's location and other data were few because boats were warned to stay off the water, according to NOAA. There were no alerts north of Atlantic City. The entire Northeast was in the dark.
11 a.m. — The storm was 200 miles south of Fire Island, a long thin strip of land fronting Long Island. It was moving fast.
11:30 a.m. — The Washington, D.C. office of the Weather Bureau issued an advisory with no mention of a hurricane or tropical storm. Gale force winds were mentioned. It was expected they would diminish overnight.
Noon — The factory whistles were blowing in downtown Attleboro and the storm was screaming about 100-120 miles southeast of Atlantic City and about 150 miles south of Fire Island.
1 p.m. — Lunch was over in Attleboro and most everywhere a clock was punched. But conditions were rapidly deteriorating from NYC to the east end of Long Island. Barometric pressure was dropping like a rock and winds and waves were rising.
2 p.m. — The storm was 50 miles south of Cherry Grove, located in the middle of Fire Island. Gusts ripped into the island at hurricane force, 74 mph.
All hell was breaking loose. In New York City, kids were sent home early from school, trees were crashing, telephone and electric lines were being torn asunder. The storm was pushing a vast volume of water on shore — storm surge.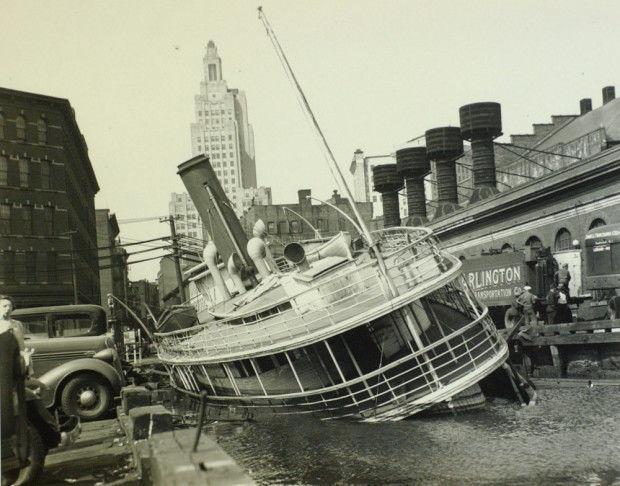 Cars were under water on Providence streets.
Landfall came sometime between 2:15 and 2:45 p.m. Moving at near 50 mph, it didn't take long, less than an hour, for it to reach the shore of Connecticut a mere 36 miles away.
But the first effects were there long before.
It hit between Bridgeport and New Haven, and its terrific wind blowing at 120 mph, which made it a Category 3 hurricane, engulfed the whole of southern New England.
The region was blindsided. Residents hunkered down and watched as their world disintegrated in front of their eyes.
Attleboro — Sept. 22, 1938
The headlines were different that day.
"200 Dead in N.E. as Property Toll Grows; Cape Suffers Worst; Tidal Wave Rushes 1,000 feet inland at many points…"
"The worst storm in 115 years, yesterday and last night, cost 96 lives in N.E. and did property damage estimated at hundreds of millions…" was the lead to the story.
Ultimately the dead would be tabulated at between 600 and 800 and property damage at over $300 million. In today's dollars, the damage was near $6 billion.
The cost of lives lost was incalculable.
"Attleboro, struck by its first hurricane in history, was literally flattened late yesterday afternoon and last night, every street in the city except one being closed to traffic when wind howling at a 100-mile-an-hour gale broke trees off like matchwood, smashed large plate glass windows out of hundreds of stores and homes, blew roofs off buildings and crippled utilities…Smashing without warning, the storm hit just after 3 o'clock, reached its intensity at darkness and subsided during the late night."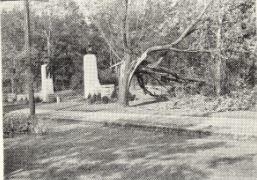 There were at least six deaths from the area. The national guard was called in to patrol downtown to prevent looting.
"Today the city was at a standstill, factories without power and light, stores were open, but employees were busy salvaging where window and store fronts were blown in…" the paper reported.
Damage reported included:
100 feet of Apco Mossberg Co. roof was blown off.
Smoke stack for the Makepeace factory collapsed.
114 trees on Pleasant Street were blown down.
A barn owned by Elmer H. Bennett on Tiffany Street was blown down with eight cows, a bull and a horse inside.
Reynolds and Markman Co. Building on Union Street collapsed.
Metal sheathing from the roof of the Park Hotel was torn off, the same happened to the Bates Building on Park Street.
Windows on the top floor of the Bronson Building were blown out.
The chimney of the Dodgeville Mill collapsed.
The roof of St. Rose's Church in Hebronville was blown off.
Part of the roof of St. Stephen's church was blown off.
The newspaper was without electricity and was printed on a press available in Norwood.
Reports issued later showed just a hint of the world to which residents awoke.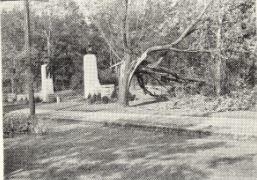 Capron Park was decimated. Park commissioners reported that "our beautiful pine grove was totally destroyed" along with all playground equipment.
All told, the park lost 730 trees due to the storm, commissioners said.
The New England Power Association reported that 536,555 of its 607,054 customers, or 88 percent, lost electric service.
It took until Sept. 14, 23 days, to bring that number to zero.
It took 4,637 workers, 446 trucks, 778 autos, 1,228 miles of wire and 9,452 poles to do the job.
The cost was $3.4 million.
In Tropical Storm Irene, by way of comparison, just under 500,000 customers lost power. Some reports online had the number at about 518,000 out of 1,331,395 customers in Massachusetts, or 39 percent.
By Sept. 3, eight days after the storm, all were restored.
In eight communities served by The Sun Chronicle, National Grid had 67,481 customers. Out of that number, 60,853, or 90 percent, lost power.
In Attleboro, 99 percent of National Grid customers lost power. In Rehoboth and Seekonk, the number was 100 percent.
National Grid and other utility companies were heavily criticized for the response despite Irene's devastation and fined millions of dollars by the Department of Public Works.
Today, the company says it spends $3.3 billion annual on infrastructure improvements.
"At National Grid, being prepared for emergencies is a year-round commitment. We work constantly to make certain that our transmission and distribution systems will stand up to severe weather conditions," spokesman Robert Kievra said.
2019 — Preparation is all
If another storm of the magnitude of the 1938 storm ever hits the region, everyone from utility companies, to public officials, to residents will need to be ready and its likely they'll be prepared as well as they can be.
The Massachusetts Emergency Management Agency wasn't around in 1938. There was no structure in place to organize a response to disasters, so rescues and restoration was more difficult.
And today hurricanes won't blow in unannounced.
Weather forecasting and alert systems have made the advances that 81 years of effort allows.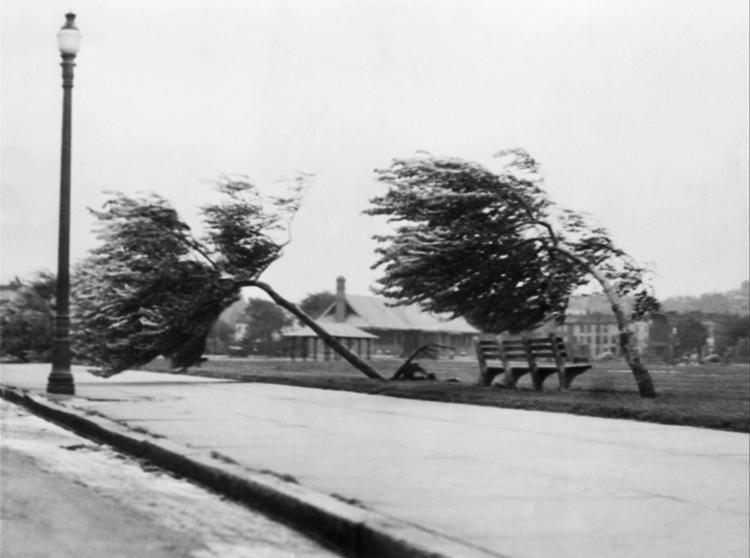 "Forecasting and the notice provided is the biggest difference," MEMA spokesman Christopher Besse said of now-vs.-then. "Sometimes we'll be watching a storm one or two weeks out. We have the ability to see a hurricane coming days out."
And while notice is provided by television and radio, people are individually informed on their smart phones and a large segment of the population has the devices.
In 1938, the U.S. Weather Bureau didn't have the ability to watch storms from space. Now everyone does at any time.
In addition, disaster managers like MEMA and its federal counterpart FEMA have gained years of experience and are constantly improving their response to save lives and property, Besse said.
"We have a lot of experience dealing with disaster and it's a lot more formalized than it was 80 years ago," he said.
That can likely be said of conditions 65 years ago when Hurricane Carol belted the region in August 1954, or 59 years ago in September 1960 when Hurricane Donna hit.
Donna was another demon child of the moody waters of the West African coast. And so was Hurricane Gloria, which blew through in September 1985.
Hurricane Bob, which racked the area in 1991, was spawned in the Bahamas.
2011's Irene also made the trip from Africa to Attleboro.
So will another hurricane with the strength of the 1938 storm hit again?
The logical answer is yes. Storms don't stop happening. When, is the real question.
And whatever comes could well be stronger than the Hurricane of 1938.
When asked whether global warming will impact future storms, a spokesman for NOAA referred The Sun Chronicle to a website created by NOAA scientist Tom Knutson.
The answer, according to findings by Knutson, is yes, and the effect will not be to our benefit.
As time goes on, the rise in sea levels is expected to cause more coastal flooding; rainfall rates are projected to increase 10 percent to 15 percent; the intensity of hurricanes will likely increase 1 to 10 percent and the proportion of hurricanes that reach very intense levels will likely increase.
When this story was written on Tuesday, The National Hurricane Center in Miami was watching a "disturbance" just south of Louisiana in the Gulf of Mexico.
It had a 10 percent chance of developing into a tropical cyclone within 48 hours.
The seas around Cape Verde were quiet.
Those conditions may be different when this story appears on Saturday.
And since most of the storms affecting our region come calling in August and September, remember, it's still early.