XXX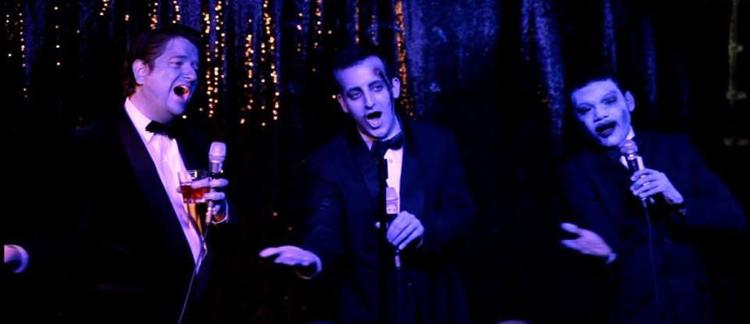 MMAS Black Box Theater, 377 North Main St., Mansfield, will present The Rat Pack Undead on Friday night, Oct. 19, with shows at 7 and 9. The comically creepy show channels Frank Sinatra, Dean Martin and Sammy Davis Jr. as crooning zombies. Tickets are $28 and there will be a Halloween costume contest for those attending the 9 p.m. show. Call 508-339-2822 or go to www.mmas.org.
XXX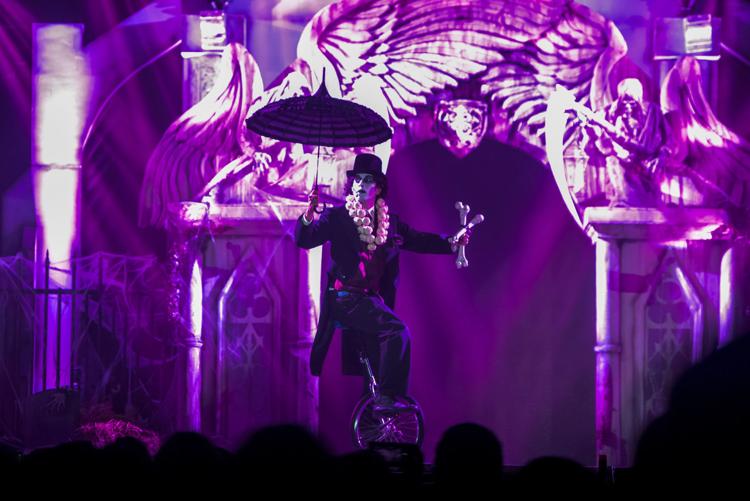 The Vampire Circus will bring a fusion of cirque, theater, comedy and cabaret to the Stadium Theatre in Woonsocket on Friday night, Oct. 19, starting at 8. The all-ages show features strange characters and acrobats from all over the globe as it takes you through an abandoned 19th century cemetery. Admission is $26 to $41. (401-762-4545, www.stadiumtheatre.com)
XXX
The Boston Circus Guild will present its annual Halloween Gorefest, "Cirque of the Dead," Oct. 19 to 31 at Club Oberon, 2 Arrow St., Cambridge. The "seductive" adults-only Halloween horror is billed as not for the faint of heart, but has as much humor as gore. It's accompanied by the synth-rock and and "nerd-nostalgia" bands. The show is 18+ only due to graphic/disturbing content and uses strobe effects. (617-547-8300, cluboberon.com)
XXX
The School of the Arts at Dean College will perform "Arts Mosaic" at 8 p.m. Friday and Saturday, Oct. 19 and 20, at the Guidrey Center in the Campus Center, 109 West Central St., Franklin. The evening will feature student works integrating dance, theater, song, film and more. General admission is $22, seniors $12 and children $7. (www.dean.edu/boxoffice)
XXX
Newly appointed artistic adviser and conductor Bramwell Tovey joins the Rhode Island Philharmonic Orchestra and pianist Aaron Diehl on Friday and Saturday, Oct. 19 and 20, at The Vets in Providence for a program of Gershwin and Hindemith. The program explores the two composers' reaction to the jazz music of the 1930s. Saturday night's show starts at 8 while Friday's "Rush Hour" concert begins at 6:30. Tickets start at $15. (tickets.riphil.org, 401-248-7000)
XXX
Composer Eva Conley Kendrick's chamber opera "Emily" will be performed in concert at 7:30 p.m. Friday and Saturday, Oct. 19 and 20, at First Parish Unitarian Universalist of Medfield, 26 North St. The concert will open with a collection of show tunes and art songs followed by the one-hour concert performance of "Emily." It's based on the life and poetry of Emily Dickinson. Tickets are $20 general, $15 seniors and students. Order at www.ticketstage.com/fpmedfield, email music@firstparishmedfield.org or call 774-526-5093.
XXX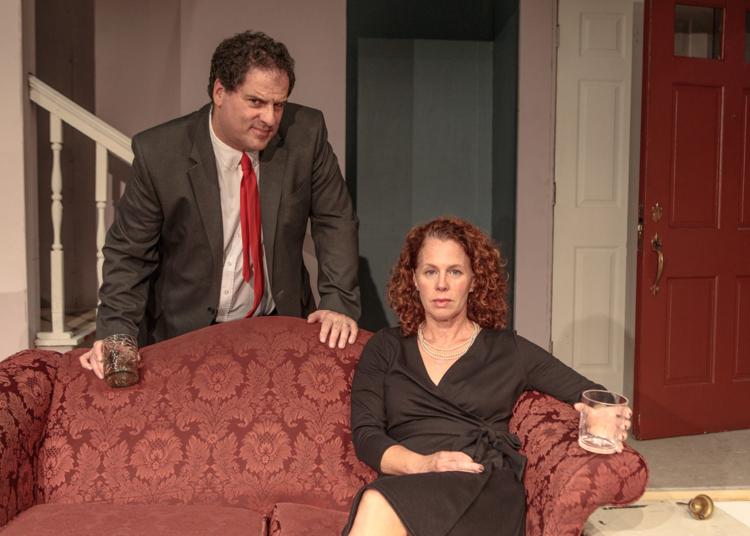 Mansfield resident Jim Cannizzaro plays a lead role in the Walpole Footlighters' production of the noir comedy "Flemming (An American Thriller)," running weekends Oct. to Nov. 4 at the company's Playhouse, 2 Scout Road, East Walpole. Tickets are $20 and all seats are reserved. (508-668-8446, www.footlighters.com)
XXX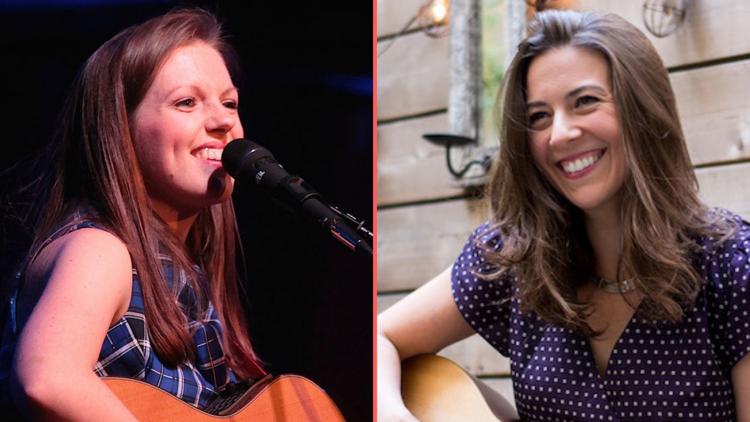 Boston-area singer-songwriters Lisa Bastoni and Grace Morrison will perform a split bill on Saturday night, Oct. 20, at the Rose Garden Coffeehouse in Mansfield. Bastoni, whose "Rabbit Hole" was the grand prize winner of the Great American Song Contest, has opened for Lori McKenna and Arlo Guthrie, among others. Morrison is a past winner of the Eventide Arts Songwriting Competition and the Big Break contest, where her music video was played on the season finale of "American Idol." The concert will start at 8 p.m. in the Congregational Church, 17 West St. It's wheelchair-accessible and alcohol-free. Tickets can be purchased at www.rosegardenfolk.com for $16 or $20 at the door.
XXX
The Attleboro Arts Museum's Art Lovers Book Club will present "Mad Enchantment: Claude Monet and the Painting of the Water Lilies" from 2 to 4 p.m. Saturday, Oct. 20. The program will feature guest speaker Andrew Nixon, an artist, and is free and open to all. Reservations are requested, but not required, by Oct. 19. Call 508-222-2644 x10 or email office@attleboroartsmuseum.org.
XXX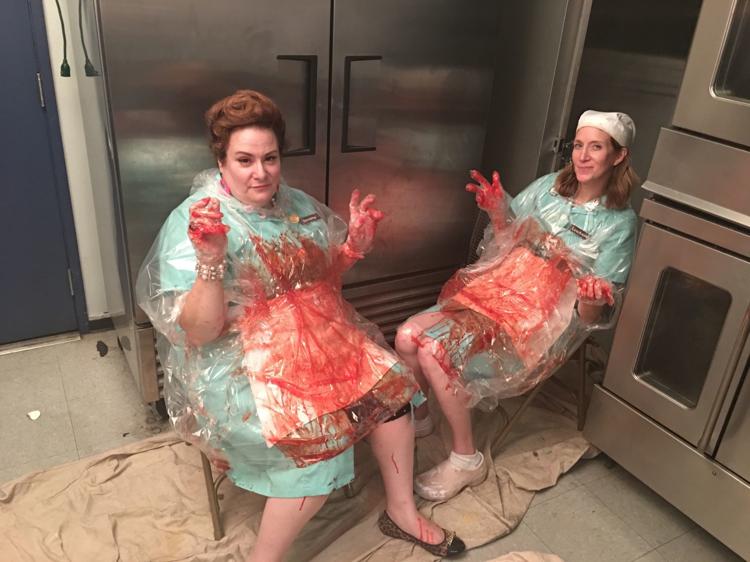 The 19th Annual Flickers' Vortex Sci-Fi, Fantasy, and Horror Film Festival runs Saturday, Oct. 20, to Saturday, Oct. 27. In addition to its traditional spooky film fare, Vortex will showcase an array of sci-fi and fantasy cinema. There will be four free forums that look behind the scenes at creating genre films in the Ocean State, special programming in the RI PBS series, "doubleFEATURE," and a closing night "Dead Celebrities" Halloween party on the Rooftop of the Providence G. All screenings are free except those at the RISD Museum Metcalf Auditorium on Saturday, Oct. 27. The schedule for this year's festival can be found at www.rifilmfest.org.
Also, this year's festival marks the return of the annual H.P. Lovecraft Walking Tour series. It's set for Saturday and Sunday, Oct. 20 and 21, and Saturday, Oct. 27. Led by the R.I. Historical Society, the 90-minute tours begin at noon and will be followed by a screening of a film inspired by Lovecraft, a renowned fantasy and horror writer who called Providence home. Tickets for the tour are $19, can be purchased at www.film-festival.org/HPLovecraft17 and include a pass to the film screening.
XXX
The Museum of Science in Boston will celebrate its Hayden Planetarium's 60th anniversary Saturday, Oct. 20, with the release of the new film "Destination Mars: The New Frontier Explores Humankind's Efforts to Reach the Red Planet." The film explores the the human desire to travel to Mars and gives audiences an up-close look at the epic endeavor. Throughout this month, the museum is featuring a variety of programming to celebrate the planetarium's anniversary and its technology. More info: www.mos.org.
XXX
F. Gilbert Hills State Forest in Foxboro is holding a "Mystery of Dolmen Rock Hike" from 1 to 3 p.m. Sunday, Oct. 21. Participants will trek to see the forest's dolmen, a flat rock perched on three or more rocks, much like a table. Retired park supervisor Ron Clough will also take participants to a number of standing stones, alignment stones and stone beehives in the area. The hike will cover about three miles. It's free, open to the public and intended for adults and children 12 and older. It will be held rain or shine. Meet at the High Rock Road parking area off of Route 1. For more information call 508-543-9084; for a map, visit www.mass.gov/locations/f-gilbert-hills-state-forest.
XXX
The 2018-19 LiveARTS concert season will kick off Sunday, Oct. 21, with an all-Mozart benefit show featuring artists James Buswell, violin, and Victor Rosenbaum, piano, and the Buswell Ensemble, with Amy Galluzzo, violin, and Carol Ou, cello. It will be preceded by a lecture on the featured music by Ann Sears, music professor at Wheaton College and a member of the LiveARTS board of directors. The concert will start at 3 p.m. in the Meetinghouse of the First Universalist Society, 262 Chestnut St., Franklin. Tickets can be purchased at www.liveartsma.org or at the door.
XXX
Audubon Caratunk Wildlife Refuge, 301 Brown Ave., Seekonk, is holding a fall foliage hike from 10 a.m. to noon Monday, Oct. 22. it's an easy hike on established trails. Cost is $10/member; $14/non-member. it's for ages 6+. Register online through the events calendar at www.asri.org.
XXX
An Unlikely Story Bookstore and Cafe, 111 South St., Plainville, will host a panel of horror writers at 7 p.m. Tuesday, Oct. 23. Paul Tremblay, Christine Lajewski, Tom Deady and Pete Kahle will discuss their books, what inspired them to write in the horror genre, and share some of their own eerie tales. Visit www.anunlikelystory.com/event/horror-writers-panel to learn more about the authors, their books and to register for the free event.
XXX
Swan Point Cemetery, 585 Blackstone Blvd., Providence, is holding its annual fall foliage walk at 2 p.m. Wednesday, Oct. 24. The guided walking tour by Swan Point's horticultural staff will visit the most scenic areas and point out the various unusual and distinctive trees in the cemetery. It's free and open to the public. Meet in front of the office building near the main gate entrance for the two-hour, moderately paced walk. Refreshments will be available afterward in the Gray Coale Reception Hall. Reservations are appreciated; call 401-272-1314 or email anitav@swanpoint1846.com. The rain date is Thursday, Oct. 25, at 2 p.m.
XXX
Coinciding with the 50th Anniversary of the feature film "Alice's Restaurant," folk music icon Arlo Guthrie brings his Alice's Restaurant — Back By Popular Demand Tour to the Odeum in East Greenwich on Wednesday night, Oct. 24. The movie starred Guthrie as himself, was directed by the renowned Arthur Penn and was filmed in the Berkshires, site of Thanksgiving "massacree" Guthrie sang about. (arloguthrie.com)