When Stu Singer was a youngster growing up in Harrisburg, Pa., sports were his passion. After all, his parents ran a family sporting goods store in town, and he and his older brother made a point of playing sports as much as they could.
"Basketball and soccer were the sports that I dedicated myself to," Singer said. "But we played every sport possible in the neighborhood."
Like many kids of that era, he was a huge Julius "Dr. J" Erving fan, and hoped to someday become a pro basketball player. But that dream never really gained a realistic foothold.
Nonetheless, he said, "My life really revolved around sports at that time. Whether I was playing, watching, or even doing projects for school, it always came back to sports," he said. "Never did make it to playing for the Sixers, but I'm not surprised I'm involved in sports as my profession."
And while he isn't on the court or the pitch or the field in an athletic capacity, he's an integral part of sports communities in his role as a director and performance coach for his own company, WellPerformance.
The company website spells out its ethos clearly:
"It isn't enough to just have performance success without an approach that is healthy for the individual or the group they're performing within, as this is not sustainable for the long run. True success is based on a foundation that can handle setbacks and challenges. Adversity will always be a part of the performance environment, so we train to handle each moment that leads us to our ultimate potential."
Singer has worked with individuals and teams at all levels of competition, leaving the coaching to the coaching staff while lending his expertise to helping athletes deal with the mental aspect of sports, on and off the court.
According to and article in the Washington Post, Singer helps athletes deal with "the outside pressures they face and the internal focus they need; . . . with their fears and increasing their mental performance, and making sure they don't get trapped in downward spirals, and focusing on process rather than outcome."
As mentioned, Singer had hoped to make athletics his profession, and in a sense he has, but in a more roundabout way and in a fashion that helps young athletes flourish in competition. That's because they've been able to, with his help, focus not on their roles in the team's offense or defense, but with their anxieties, their confidence and their ideal versions of themselves.
Locally, Singer, who moved to Attleboro in 2006, has worked with the Mansfield High soccer and volleyball programs, the Bishop Feehan baseball, lacrosse, and soccer teams, Attleboro Youth Soccer, the LIVESTRONG Foundation at the Attleboro YMCA, and the Shamrock Soccer Academy.
He has worked extensively with the Wheaton College athletics program in Norton, but also higher-profile NCAA Division I collegiate programs such as Fordham University and the University of Maryland women's basketball teams, which advanced to back-to-back Final Fours the first two years Singer worked with them (2014, 2015).
He has also worked with professional teams, including the WNBA's Connecticut Sun and the Washington Mystics.
So how did the self-professed sports junkie end up as more of a consultant than an athlete?
"My high school basketball coach had us do clinics for the younger players in our school district before our regular Saturday morning practices," Singer said. "I realized then that I really enjoyed coaching. Additionally, he gave us a handout about using visualization to improve performance. I didn't truly get it then, but I found it interesting. I would say that those two experiences were the spark that created this pursuit."
The interest in this field really took hold when he got involved with a couple of local sports legends' programs.
"Some of my first clients locally started with MT Elite, (Attleboro native and Shamrock hoops, swimming, and tennis standout) Missy Traversi's AAU program, and Bishop Feehan girls' soccer coach Phil Silva," Singer said. "However, I had been working in the field of counseling and was coaching for a while. Also, around the time that I started doing some more speaking and individual client work around the area.
"I spoke at a basketball coaches' clinic in Pennsylvania. The keynote speaker that day was Mike Thibault, who at the time was the head coach of the Connecticut Sun in the WNBA. Mike listened to my session that morning and ended up inviting me to observe his team and do a team session with them. That was really the moment that I realized I was going to jump all-in to making this my full-time work. That working relationship opened up the doors to my work with Fordham and Maryland, and it's been a passion that has grown ever since."
In the specific case of working with the Terrapins, Singer goes to College Park once a month for team sessions, which players refer to as "Group Stu," according to the Post. He's available for voluntary phone or Skype sessions, and some players speak to him once a week for up to 40 minutes at a time during the basketball season.
"It's made a huge difference," Maryland junior center Malina Howard, who spoke weekly with Singer during her college career, told the Post in 2015. "It was hard to open up at first because it's someone you don't know at all. But he's very personable. He makes you feel really comfortable, so it was an easy transition for me talking to him. I feel very comfortable talking to him, all the time, about anything."
Singer collaborated with Terrapins head coach Brenda Frese, and the relationship blossomed almost immediately.
"The whole staff at Maryland was all-in. They were phenomenal. They just said, go for it," Singer told the Post. "The players were great from the start. If the first couple of players that I worked with said, 'You know what, this guy doesn't know what he's talking about,' I think it would have tanked quickly. Players are very, very savvy; they're only going to do it as long as they think it's going to help them."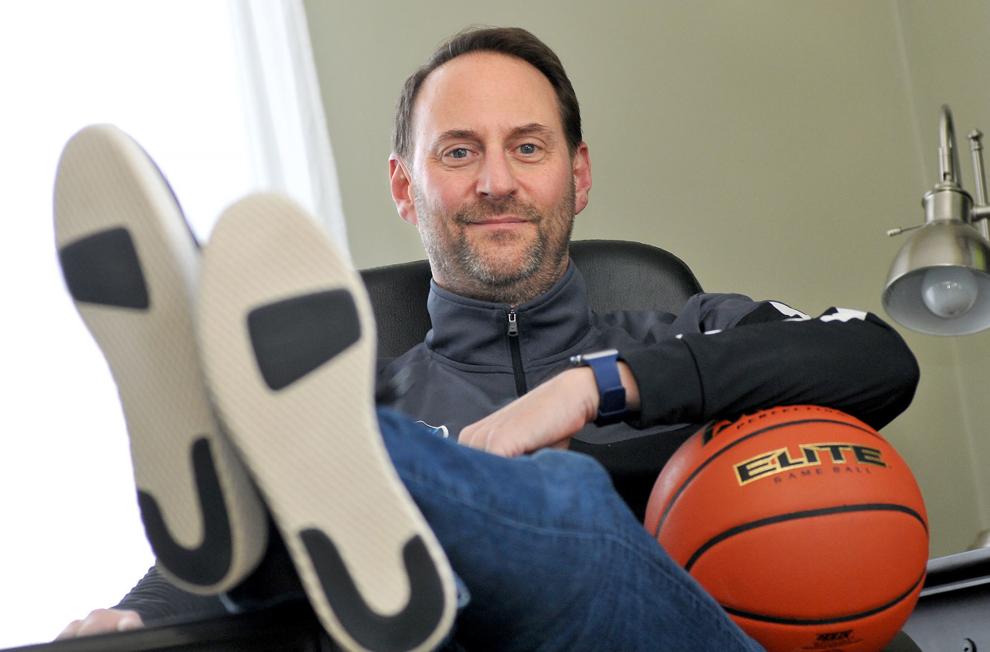 Singer, who still works out of his Attleboro office, has a master's degree in counseling and a doctorate in sports psychology. A lot of his job can be done via multimedia avenues.
"Most days include work via FaceTime or Skype with my individual athletes, or the athletes from the teams that I contract with," he said.
But travel is obviously a big part of his profession.
"I do a ton of my work down in the Washington and Baltimore area — the Washington Mystics and University of Maryland — but also in New York, Houston, Kansas City, etc.," he said. "Going on-site to work with my teams is absolutely one of the most powerful and important parts of what I do. I have been fortunate now to be on the bench at multiple Big Ten tournaments, NCAA Final Fours and a WNBA championship."
And he probably wouldn't have been to any of those sporting events if not for his impact and influence on those programs.