Jonathan Lynch had a plan.
Some of the details seemed preordained, some not, and others he plotted out on his own. And while there were some detours and changes of plans along the way, the 23-year-old Lynch's grand plans for his life and career have pretty much come to fruition: getting educated and trained in law enforcement, and ultimately becoming involved in the field at the federal level.
Oh, there was briefly that opportunity to blossom as a baseball pitcher, and perhaps make a living on the diamond as a submariner, baffling hitters with an unorthodox sidearm delivery. But Lynch went about his business and preparation in the classroom knowing that a baseball career might very well be a fleeting prospect, showing a maturity and big-picture mentality that have already taken him to great places, but will also serve him well as he prepares for the next step of his life.
Growing up in Cumberland with his younger brother, Joseph, and his parents, Brian and Carla, in a Catholic household, Jonathan saw early on how his educational path would play out. After all, both of his parents attended Bishop Feehan High School, and Brian was a renowned basketball player under legendary coach Ed Gagnon. Carla was on the cheerleading squad, and she and Brian began dating their junior year.
So it was no surprise that the Lynch boys would also become Shamrocks.
"I definitely did (know I'd be going to Feehan)," Jonathan said. "We used to go to the basketball games, football games a lot. My dad would bring me. I didn't see a lot of baseball games, but it was always fun to go. I was really excited to go to Bishop Feehan."
Jonathan had grown up playing T-ball and Little League, but not primarily as a pitcher.
"We exposed them to Feehan sports early," Brian Lynch recalls. "In Little League, Jonathan played infield, and he pitched. And the thing was, he wasn't big in size, but he could throw strikes, which was more important than anything else at that level — better to know where it's going.
"When he made it to the big field at 13, he became an outfielder and pitcher. He couldn't throw hard, but he threw and pitched to contact at that level, and he was effective. Not a lot of strikeouts or walks, but a lot of outs."
Jonathan's progression as a baseball player continued into high school at Feehan, where he made the JV team as a freshman and sophomore. But that progression was rudely interrupted when he failed to make the varsity squad as a junior.
"Junior year, I did not establish myself that well, and didn't make the team," Jonathan said. "Senior year, I basically put myself together."
Jonathan had played summer Legion ball and also was encouraged to try out for the L&M program by Idris Liasu, who was the summer coach and co-founder of the league in the Northeast.
L&M brands itself as "an elite-level baseball program designed for players with aspirations of playing in college." Founded in 2012 by Liasu, the program "is dedicated to providing an advanced level of teaching, competition and development for athletes striving to play college baseball. We look for players that are focused athletes who possess a combination of the drive, work ethic and talent necessary to succeed."
"Jonathan used to play youth baseball at Cumberland," Liasu recalls, "and he took lessons with one of my friends. And through this interaction and seeing him around, I had approached his family to try out (for L&M). He had a nice little workout; he was a kid that was a baseball junkie, loved the game, and had a knack for making the right decisions. He was a very studious baseball player; he didn't have all the ability, and was a lanky kid, but as he started to fill out, he got stronger."
The summer after Jonathan's non-playing junior year at Feehan, adjustments made to his pitching wind-up and style changed his baseball prospects dramatically.
"Jonathan was an outfielder and pitcher for L&M," his dad said. "Coach E (Liasu) brought up the idea of the sidearm motion. Jonathan was topping out at 74-76 mph, which no Division 3 baseball program would want. Coach E said that you need a certain amount of athleticism to be a sidearmer, and not everyone could do it. But we were surprised how Jonathan took to it. He would get strikeouts — batters swing over the top or miss it. But his No. 1 goal was ground balls."
"Jonathan was an over-the-top right-handed pitcher, and then he went through some hiccups with high school ball," Liasu said. "I helped him to push hard. I recommended the submarine, a different look, because everyone goes over the top, but 78 (mph), that's a 4 mph difference. He bought in and he ended up playing at different levels (of baseball). High school coaches told him he would never be able to play college baseball, but I told him to shut out the noise, and stressed hard work."
Jonathan worked in tandem with one of his fellow L&M pitching prospects, Jake Rockefeller, who was excelling as a left-handed submariner.
"I've known Jake since Little League, but we got close when we started L&M," Jonathan recalled. "He was definitely the hardest worker. He had a vision: He was going to get to Division I baseball. He basically taught me to transform my pitching style into submarine. I kept working with him. He helped me out. We'd go to a local field in Cumberland, perfecting our craft, throwing a lot."
"I converted both of those guys (to submariners)," Liasu said. "They were partners in learning it. It gave them each someone to bounce stuff off when things weren't going right, similar cues. They helped police each other on mechanics.
"We did a lot of video work together, to get them comfortable. We'd do 10,000 dry throws in a two-year span, without a baseball, using towels, bottle caps, Frisbees, to work on mechanics. We even worked on skipping rocks at times."
Lynch's dedication and hard work paid off. He made the Shamrock varsity team as a senior, and compiled a dazzling 1.85 ERA in 11 appearances as a reliever, holding opponents to a .132 average and striking out 11 in 11 innings.
"He did a really good job of masking every pitch," Liasu said. "He'd drop it out of the same slot; batters couldn't tell what was coming. I thought he had an awesome chance to be a good college player because of what kind of worker he was. I didn't have to do much at that point."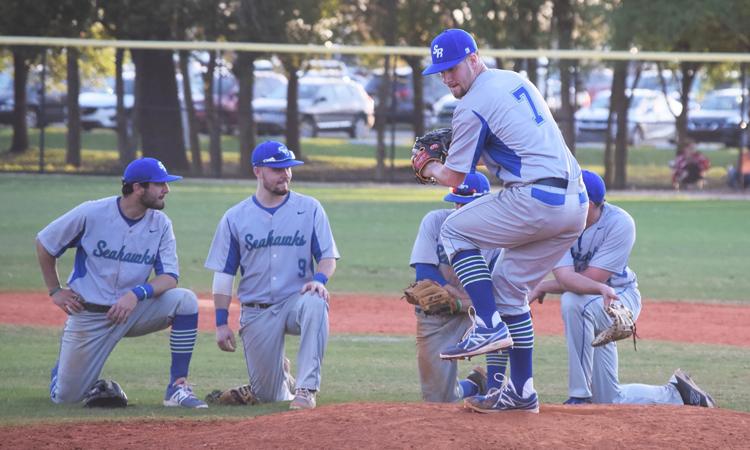 Next stop for Jonathan was Newport, home of Salve Regina University, a school attended by both his dad and uncle.
"Primarily, it wasn't my dad (that convinced me to go there)," he said. "It was the location; it's an unbelievable city, a beautiful city, and they had a great Administration of Justice degree and a five-year masters program, which piqued my interest. And it was a chance to play baseball."
As a freshman, Jonathan only had five appearances, with a 13.50 ERA. But he settled down sophomore year, compiling a 4.66 ERA in 16 relief outings, and then was lights-out his junior year as a team captain. He had three saves and a ridiculous 1.89 ERA in 16 outings as the Seahawks won the CCC championship with a 36-12 record and advanced to the NCAA Division III New England Tournament.
Prior to that breakout season, Jonathan had been hopeful of finding a place to play ball during the summer, and he found that chance in a most unlikely place.
"So, I was trying to find a place to play my sophomore year–junior year summer," he recalls. "Coach E had a connection with a coach in the MINK league in Missouri. He knew the St. Joseph Mustangs and said it would be an unbelievable opportunity. They also have top-10 fan count in the nation for college summer baseball — they're used to averaging 2,100 fans per game. The city of St. Joe supports the team immensely."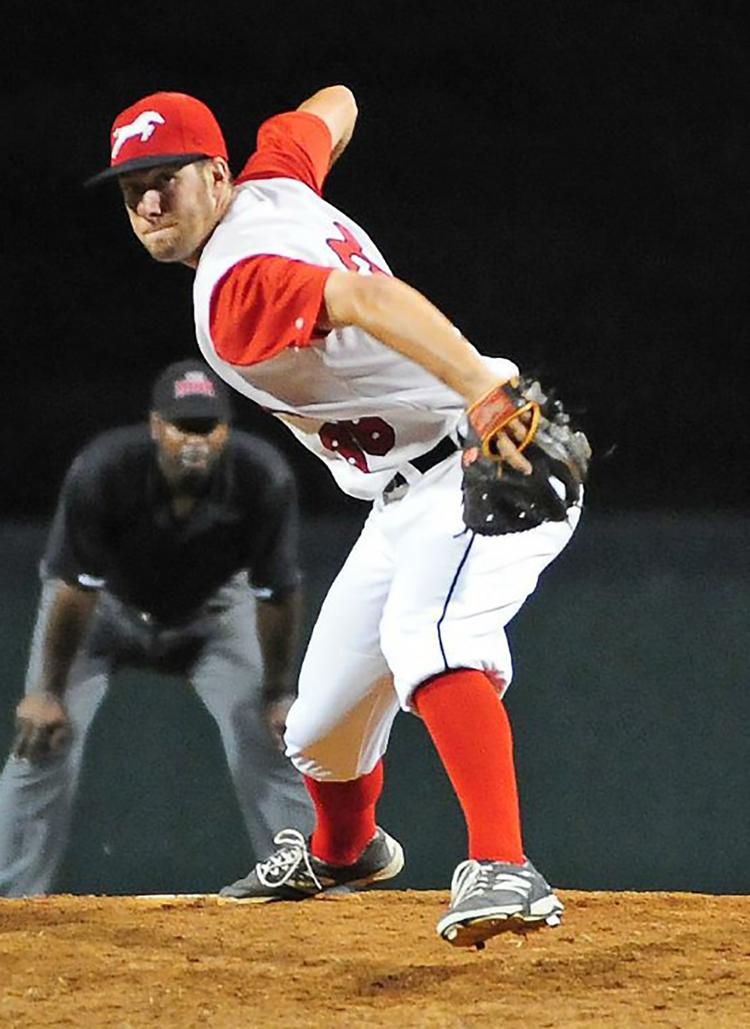 The eight-team MINK Baseball League is composed of teams from Missouri, Iowa, Nebraska and Kansas, with its origins dating to 1910. It derives its name from the Class D Missouri-Iowa-Nebraska-Kansas League, the modern evolution of the league that dissolved its MLB affiliations following the 1913 season. The MINK, like the Cape Cod League, provides venues for college players who wish to develop their skills to enter the MLB Amateur Draft to play in a more competitive environment than what many of their colleges offer.
"(Then-Mustangs manager) Matt Johnson and I had a really good relationship," Liasu said. "I was helping put collegiate players in summer leagues, and coach Johnson was in the market for pitchers at the Division I level, so I told him about Jonathan, told him he'd be a great dugout guy, an impact guy in the community and on the field. And coach Johnson opened his arms to him, and Jonathan ran with it."
Jonathan was one of only a handful of NCAA Division III collegiate baseball players on the Mustangs roster, competing against players at the Division I and II levels. During his second summer in St. Joseph's in 2017, the Mustangs compiled a 37-14 record and won the league championship. Jonathan pitched 13 innings over 10 relief appearances with the Mustangs that summer, notching 11 strikeouts, and was named to the MINK All-Star Team as well.
He returned to Salve Regina for his senior year, but despite being named a captain again and ultimately setting the Seahawks' career record for appearances (52), he struggled on the mound, compiling a 5.82 ERA.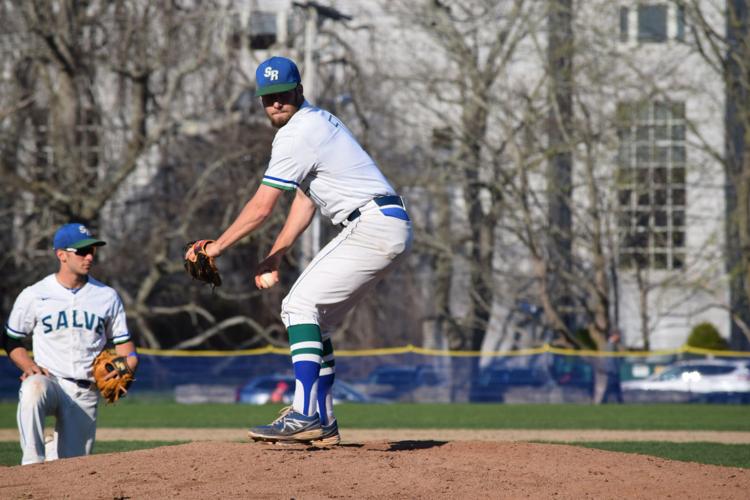 "I definitely could have had a better offseason," Jonathan said. "In the weight room, I was more determined my junior year; senior year, I had a lot of excuses. I definitely could have worked harder, with a better mental skill set; I didn't make it as much of a habit as I could have."
Upon graduation, "(Baseball) was still something I wanted to pursue," he said. "I emailed a lot of coaches, in the Independent baseball league. I knew I was going out to Missouri for one more summer of play. The Michigan Traverse City Beach Bums tried me out, but they told me they had too many spots for pitchers. So I made the decision to play at St. Joe's, and I still had my masters program to pursue."
He ultimately graduated Salve Regina with a bachelor's degree in Criminal Justice and Law Enforcement Administration (with a 3.684 GPA) and a master's in Homeland Security, a Certificate in Cybersecurity and Intelligence and a Certificate in Digital Forensics (3.827 GPA).
He helped out as an assistant baseball coach at the school following graduation, helping the school to another conference championship, but he is eschewing baseball for now and is completing training in law enforcement at the federal level.
"My brother, Mark, is a retired DEA agent," Jonathan's father, Brian, said, "and his wife is a Miami Police officer. So Jonathan had those stories to go on, and from a very early age he knew he wanted to focus on law enforcement, and then took it to another level, to federal."
"He's a kid that can accomplish anything he wants to," Liasu said. "He's driven, motivated, has a great priority system, and embraces the opportunity that he gets every day. I loved having him in my program, and he's a guy I root for in every facet of his life. He's going to be successful in any path of life he chooses to go.
"I also think that a lot of Jonathan's successes come from his support system as a family," his former coach adds. "His mom and dad are tremendous human beings; that was what made him so easy to coach. A winner knows the values of hard work. He has the respect of his peers and coaches by the way that he conducted himself."
Jonathan's his career path seemed like it was on course from an early age, and now he wants to get on with it.
"I'm pursuing a lifelong dream in law enforcement," he said, "and finally, seeing the pieces come together in this giant puzzle in my life."