ATTLEBORO — There are four sets of siblings representing Bishop Feehan High School on the soccer field. And, believe it or not, of those siblings, the four sisters and four brothers all defend for the Shamrocks.
In goal, from Norton, is senior Maddie Breckner for Coach Phil Silva's Shamrock girls' team while her brother, James Breckner, a junior, is in goal for Mike Pariseau's boys' team. On the defensive back line from North Attleboro are senior Anna Jones for the girls' team and brother Will Jones, a junior, for the boys' team. From Plainville, are the Pearl twins, Annie Pearl, a junior defender and John Pearl, a junior defender. And also from North Attleboro, are senior defender Kelly Coady for the girls' team and brother Sean Coady, a junior for the boys' team, from North Attleboro.
Defending has been the hallmark for the Shamrock girls' team, which not only went unbeaten through its first 10 games of the season, but did not yield a goal.
Similarly, the Shamrock boys' team is unbeaten through eight matches, having allowed merely five goals.
The four sisters were all integral members of Bishop Feehan's MIAA Division 1 State Tournament championship team of 2019, which compiled a 23-0-1 slate and stunned No. 1 seeded, previously unbeaten King Philip en route to the Division I South Tournament title. They've compiled a 51-6-3 record over their three varsity seasons, each time advancing to the MIAA Tournament.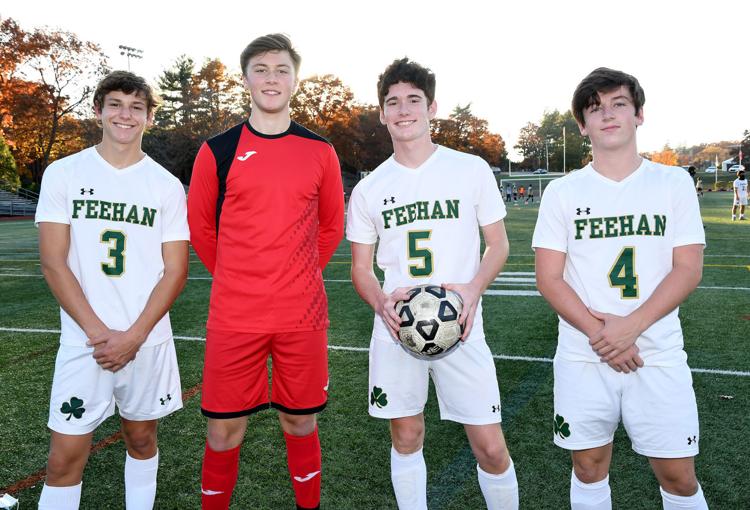 The Shamrock brothers have taken 20 wins and six ties over the past two seasons, as freshmen and sophomores, qualifying for the MIAA Tournament in both years, advancing to the 2019 Division 2 South Tournament semifinal round.
On the girls' team, Silva holds the siblings in high regard.
"(Pearl) has been an outstanding defender the last two seasons; one of the best centerbacks in the state," he said. "Jones is an outstanding outside back who played centrally for the first half of the season while Pearl was out. She does a great job one on one defending and gets forward quickly to support the attack."
He said Breckner has been a "solid keeper for us the past two seasons," adding , "she's very composed in difficult situations and always asking questions."
Silva said Coady played forward for her first three seasons, but she switched to defense over the summer to fill two defensive gaps left by graduating seniors.
"She continues to improve and grow as a centerback," he said. "She has good size speed and field awaremness."
On the boys' team, Pariseau feels similarly to Silva about his group of Shamrock siblings.
"James (Breckner) is an excellent technical goalkeeper," he said. "He is aggressive inside the 18, and is never afraid to come off his line to retrieve a ball or to challenge a defender. He does a great job of being a sweeper behind our back four.
"John (Pearl) is aggressive, yet intelligent, in his play and understands his role and responsibilities, as well as how to organize our back four," he continued.
"Will (Jones) possesses all of the qualities that make him solid on the defensive side of the ball, but more importantly, he exhibits the offensive skills that the position demands," Pariseau said.
"Sean's (Coady) athleticism and speed make him perfectly suited to play as an outside back," he said. "He does a great job getting forward into the offensive third of the field, creating turnovers and offensive opportunities. His work ethic is second to none!"
The Jones siblings
Anna and Will Jones grew up playing soccer in the North Attleboro youth program. Anna gravitated to the NOVA club program in the seventh grade and then moved along to GPS upon becoming a Shamrock, while Will, also a member of the Shamrock hockey team, does not play club soccer.
"We talk a lot of soccer," Anna said of the sibling chats.
"I've been (into) soccer since I was little, and I've always loved it," she continued. "I can't imagine not playing. I love how fast it is and I love my teammates. Of course, winning makes soccer even more fun."
Anna was an attacking midfielder as a freshman, a holding midfielder as a sophomore and moved to a more exclusive defensive role over the past two seasons. She moved into Pearl's central defender role (alongside Coady) with Grace Robison out with an ACL injury at the start of this season and has since moved to an outside back spot with Pearl's return to action.
"I do foul people a lot," Anna said of her physical nature to defending. "When I'm in the middle on defense, I can see the whole field, where the ball is. I've had a lot of great coaches through the years and most of what I've learned is from playing games, having that experience."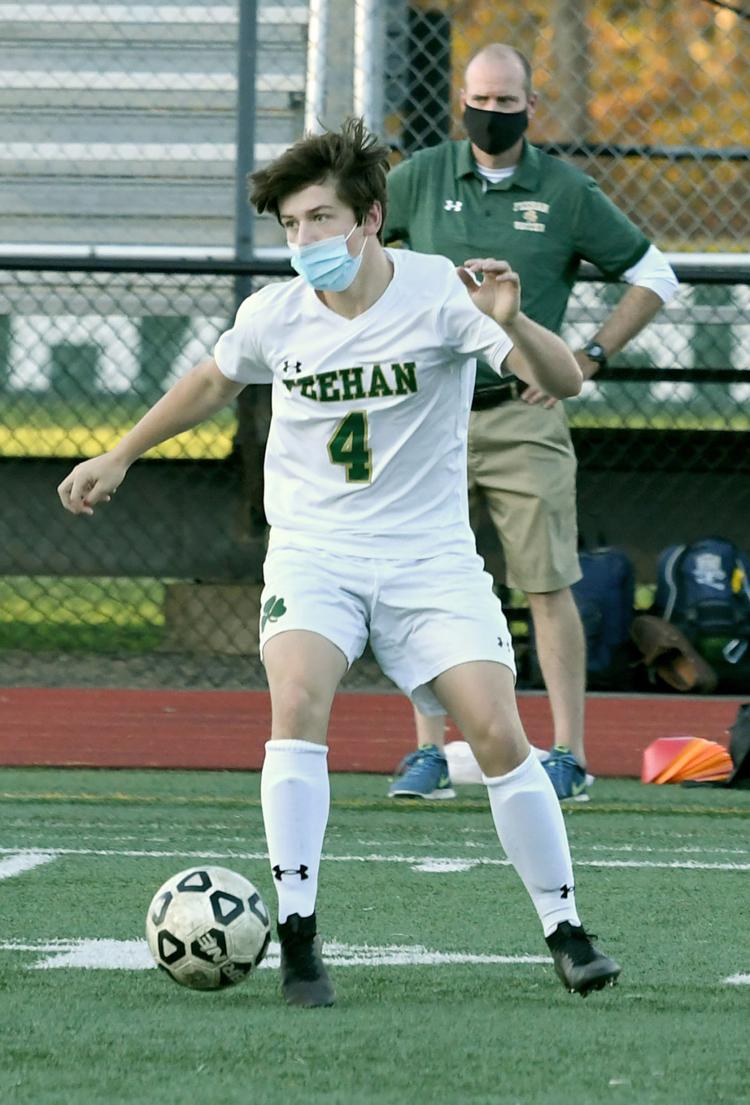 Will takes some of his aggressive nature from the hockey arena to the soccer field, always nurturing his defensive role throughout his Shamrock career.
"That's what I played in youth soccer and in hockey," he said. "I've learned from hockey to keep the ball in front of me on the soccer field. Hockey's probably my favorite sport and being a defender I have to be ready for anything.
He says he and Anna talk soccer all the time
"She's probably my worst critic," Will said of the sibling exchange. "It helps having an older sister know the game so well."
The Pearl siblings
Annie Pearl, who tore her knee playing summer soccer for her club, NESC, a program she has been with for four years, said she likes the adrenaline of playing soccer.
"Like when you win a tackle, you did something for your team," the 5-foot-8 Annie said of her naturally aggressive nature in forcing the action. "It definitely comes with practice and playing a lot of matches."
She said she liked following in her older brother Alex's footsteps as he played defense as well (Alex now attends Sacred Heart University). She also likes seeing the whole field in front of her.
"Sometimes we look at game film and if a team scored a goal, I'll look at what I should do different," she said.
"Playing defense is a lot of everything, a lot of it is reading the passes," she said of reducing space and cutting down angles. "It's a lot of being aware of the space around you and communicating with your teammates."
The Pearls exercise a lot of passing, dribbling and juggling skills in the backyard. Fortunately, the Pearls haven't shattered any glass on the house, but have put a few dents in the garage with their soccer salvos.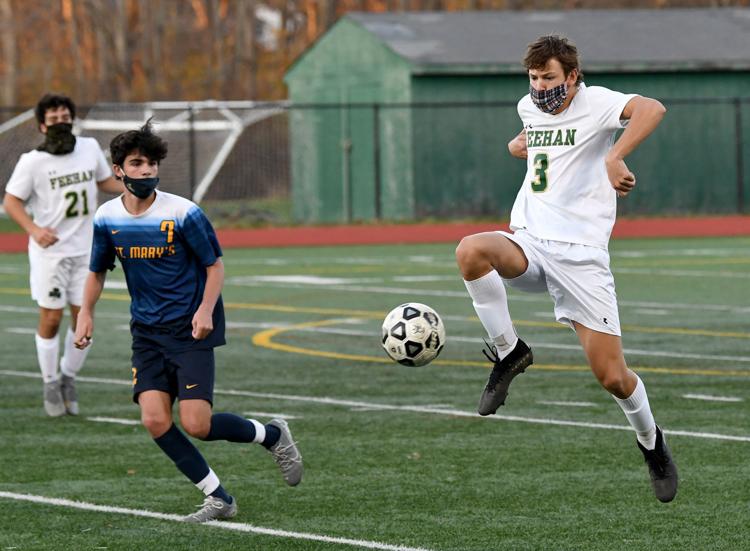 John stands 5-foot-10 and similarly likes to put his body into the fray, but this is his first season of playing defense, having dropped back from his customary midfield role. And he only plays high school soccer, not on any club soccer teams.
"I play soccer for fun," he said, the duo having played in the Plainville-King Philip youth soccer program.
He said he switched to defense to get more time on the field.
"I heard a lot of good things about it (defense) from Annie and I've always been better at defending," he said. "I've never been a good dribbler."
He's also a member of the Shamrock boys' lacrosse team and finds the pace of soccer similar to that of lacrosse.
"They're both good sports to stay in shape," he said. "I love my teammates and I've always enjoyed soccer my whole life."
The Breckner siblings
James and Maddie Breckner grew up playing in the Rehoboth-based NOVA Premier soccer program – James being coached by Silva, the Shamrock girls' coach.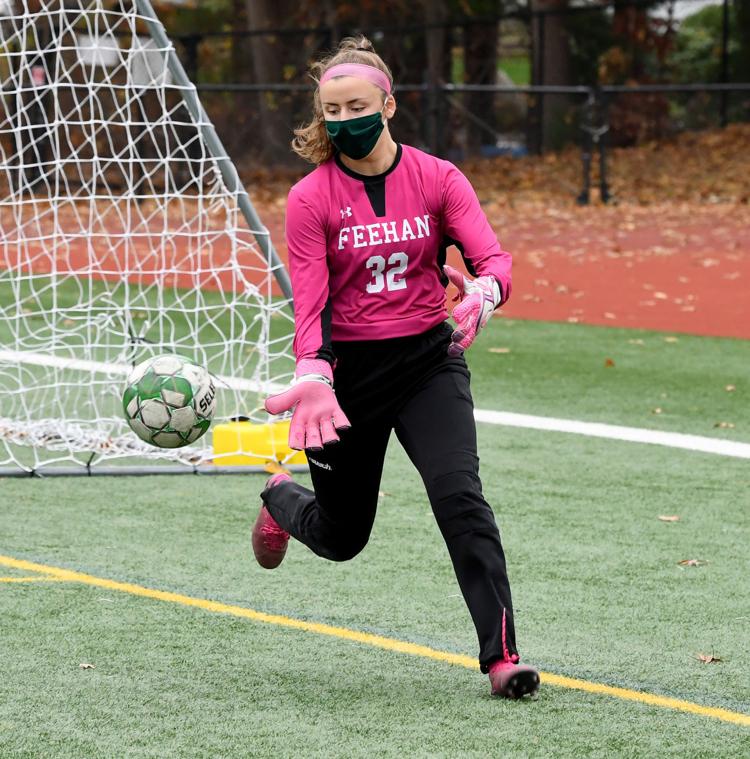 Maddie became a goalkeeper when she was eight years old.
"It was the first time that I had played travel soccer before and I was not good at it," she recalled. "But, I kept working on it."
She had played recently in the Taunton-based GPS program until the coronavirus forced the program to the sidelines.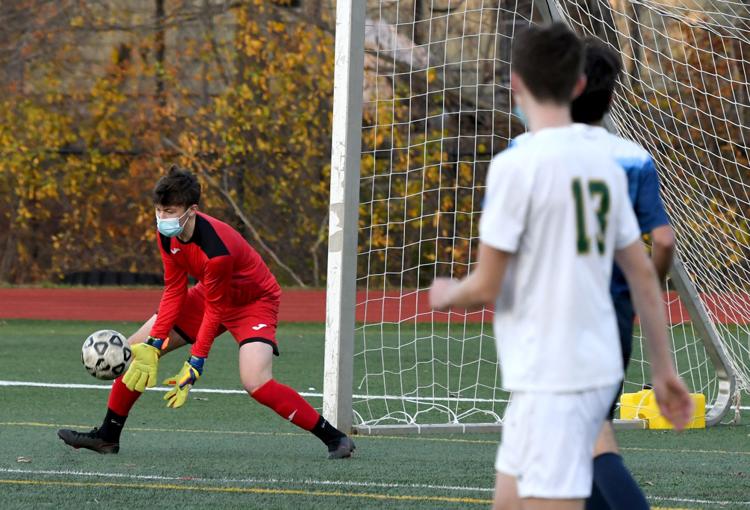 James stands 6-foot-1 on the Shamrock goal line. He had played for his dad's Norton youth travel team, which needed a goalkeeper, "so being the coach's son, I felt that I had to step into the situation," he said. "As time went on and training, I've been in goal ever since."
"I always think that the first thing is to not let the ball in the net," James said of his primary duty. "You have to block out all of the distractions."
"Once you make a mistake, it can determine the fate of the game – no question about it," he continued. "You're the last man on the field, so a win, a loss, a tie kind of depends on what you do. You have to be focused."
The 5-foot-7 Maddie had been mostly a defender, not a goalkeeper, during her club soccer days.
"I was told by my club coach that Feehan needed a goalie," she said. "They had a couple of goalies up the line, but I finally got a chance to play varsity (during her second year)."
"The keys to being a good goalie are being sure of yourself, being very confident in your own abilities, being able to trust yourself," she said.
Knowing when to come off of the goal line, when to dive, when to leap, when to throw the ball out, when to punt the ball out – all while reading the angles and the flow of play make for a goalkeeper having to be on their toes at all times.
The Breckner siblings are their own worst critics and will head over to some empty field in Norton to hammer balls at each other, working on their craft.
"We'll talk about how we played, different happenings in the game," Maddie said of the chatter in the car and at home. "I'm always interested to come home and see what he has to say."
"We talk a good amount to and from school," James said of his sibling chatter, also with another Shamrock standout from Norton, Sydney Kofton. "We're always talking about soccer and what's going on with the teams, who we're playing, getting hyped up."
The Coady siblings
Kelly Coady will always have a special spot in Shamrock history – she scored the game-winning goal against Brookline in overtime in the semifinal round of the state tournament and then scored the tying goal in the title game against Westfield.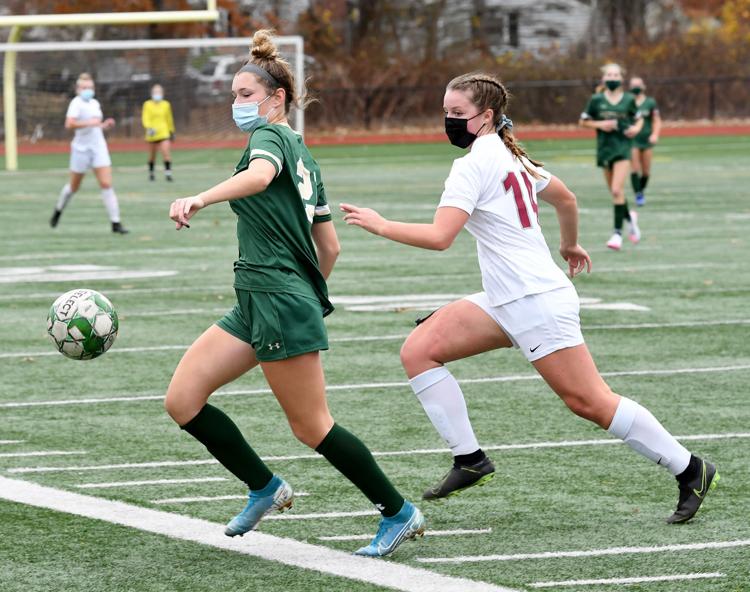 "I started playing soccer when I was really young (in the North Attleboro youth leagues) then started playing club soccer (Scorpions, then GPS) and I just loved it," she explained, her brother also with GPS. "Soccer is cool because it's such a team sport and there's not so much individual attention on you like basketball and soccer moves at a fast pace."
Coady had pretty much been at attacker throughout her career, but moved to defense to camouflage the absences of both Pearl and Robison due to knee injuries.
"We needed someone to play defense, so I moved there. I actually like playing defense more than I thought I would," Coady added. "I like it because the action is in front of me, playing defense came naturally to me because I used to be a midfielder and I had to play defense there. But it is a big change from playing up front."
The Coadys, with younger brother Danny, a freshman at Bishop Feehan, have had more than their share of backyard futbol battles and like the other Shamrock siblings, their share of broken windows.
"We help each other a lot," Kelly said of both the tactical and emotional support provided. "When we get frustrated, we help each other feel better and we always give each other advice."
Sean Coady said both he and his sister are "really competitive people. We both give each other advice."
"Soccer really stuck with me. I was always quick, I like to run around," he said of his talents brought to the pitch. "I tried basketball, baseball, lacrosse. Baseball was a little too slow for me and I was a little too short (5-9) for football or basketball."
He has been a defender throughout his career, the match experience aiding him in reading what's in front of him and cutting down the angles. "Our coach (Pariseau) is really good at explaining how everything moves, where to position.
"Soccer was the perfect fit for me. On defense, I like that feeling of stopping a play, not giving up a scoring chance," Coady said. "I like the feeling of working as a team and winning. It's nice knowing that you contributed to the team."