It is, undoubtedly, a tale of two cities.
And, as in Dickens's classic, it represents the best of times and the worst of times for two prominent New England locales.
And it also tells the stories of a heartbroken community, mourning a significant loss, that didn't get its proper goodbye, and New England's second-biggest city, brimming with exuberance, pride and excitement — even though it's not sure yet when it will actually get to say "hello" to its newest residents.
For 50 years, the Pawtucket Red Sox — the Triple-A affiliate of the Boston Red Sox — made its home in the heart of Rhode Island's fourth-largest city (pop. 72,000), and served up a family-friendly environment that was eminently more cozy and affordable than the parent club's facility in Boston.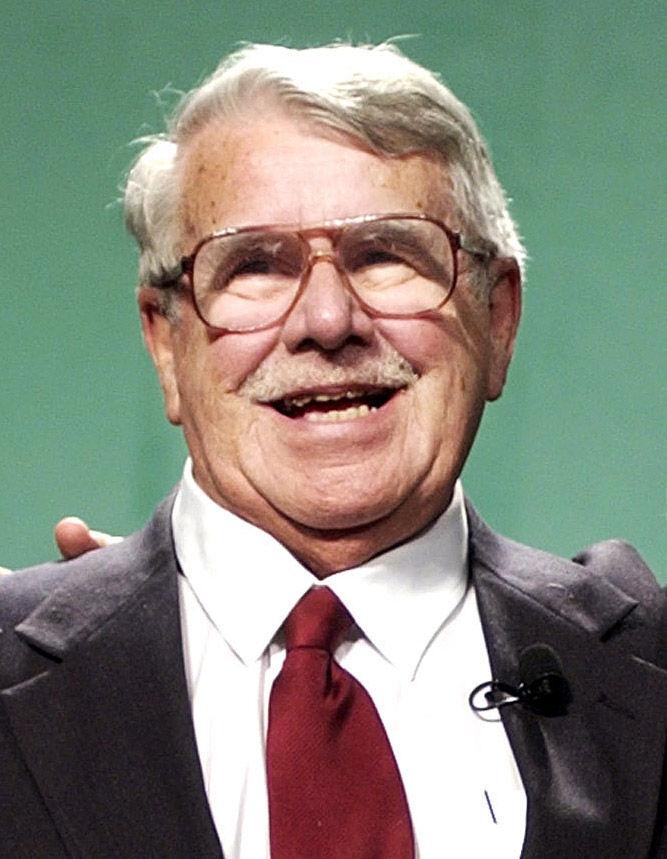 In 1977, retired textile businessman Ben Mondor bought the team out of bankruptcy and turned it into one of the premier franchises in minor-league baseball. He renovated McCoy Stadium in 1999, and attendance ultimately increased from 70,000 in 1977 to over 600,000 annually in the 2000s.
But even with those upgrades during Mondor's tenure as owner (he died in 2010), McCoy needed significant and expensive improvements in recent years, and when the state legislature refused to help the team, there were rumblings of either relocating the team to a new facility in Pawtucket or building a new stadium in Providence.
Seemingly out of nowhere, though, emerged a campaign by Worcester to bring the team north, with the commitment of a new state-of-the-art stadium that would contribute to the city's growing revitalization.
Four years later, Worcester's field of dreams has come to fruition, and Polar Park is poised to open, perhaps in April but dependent on state pandemic restrictions, in the city's Canal District.
Pawtucket, meanwhile, having already seen the PawSox' final season wiped out by the Coronavirus without a proper sendoff, is facing its first season without any baseball activity since 1968. For a city whose face and legacy often coincided with the personality of the ballpark and the team, losing the PawSox represents a significant blow to the fabric of the community, and seeing a reincarnated version of the organization 45 miles north in Worcester, creates complicated feelings of regret and loss.
This tale of two cities, and what happens to the respective communities now, begins on the banks of the Blackstone River, in downtown Pawtucket.
The shift
With every baseball ballpark empty in 2020, the PawSox came up with a novel idea: outdoor dining on the field at McCoy Stadium. The team invited fans and families to return to McCoy to enjoy ballpark fare at pre-reserved picnic tables on the iconic diamond. "Dining on the Diamond" began on the evening of May 29, 2020.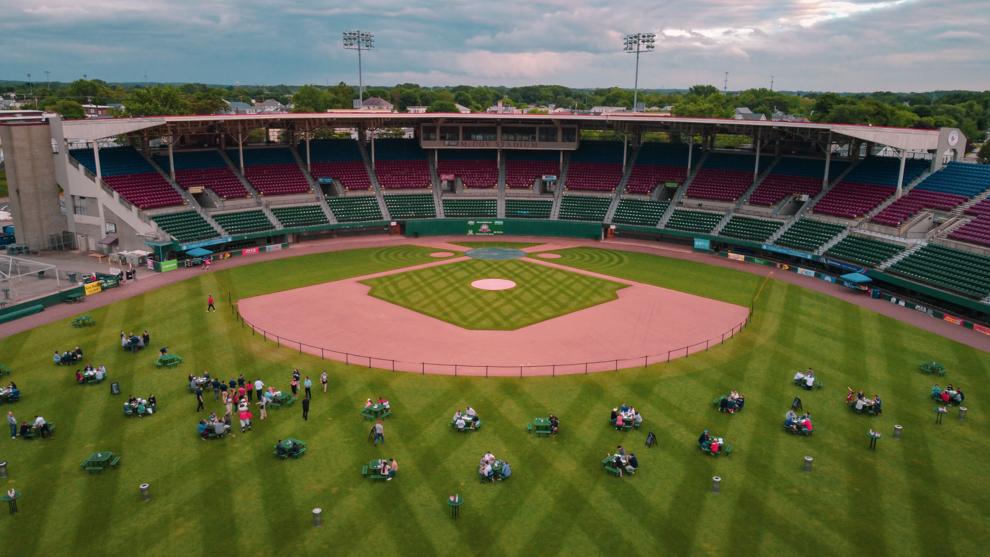 "It was a phenomenal surprise, a wonderful surprise, to see how strongly it resonated," said Dr. Charles Steinberg, the PawSox' president since 2015. "I would go around and talk to fans at these tables (last summer), and we were giving them an outlet to express the joy and sentiment. But some would ask what would happen (with the stadium), and I would say that maybe you're the answer. You can see the memories (here); Mo Vaughn played right over there, Fred Lynn made a catch right there! It was a marvelous experience."
The dinners continued through September, with thousands attending and hundreds more on waiting lists, and then the team had a final Open House in October.
"Folks got to stroll the ballpark one more time, there was batting practice for high school kids," said North Attleboro's own Bill Wanless, who serves as the team's Senior Vice President/Communications and has been with the team for 36 seasons. "It was a whole weekend of activity, and a nice way for one more chance to soak up McCoy. We set it up mainly as a thank-you for everything, no charge, just come out for the afternoon."
McCoy had served as the alternate training site for the parent club last summer, giving minor-league and non-roster players the opportunity to stay in baseball shape in case they were called up to Boston, but now the stadium is empty.
Up at Polar Park, offices and other areas have yet to be completed.
"We don't have areas to store our equipment — baseball equipment, concessions equipment – though half the stadium moved by Jan. 31," Wanless said. "But groundskeepers are still there daily, operations people; we're organizing things that we didn't get to, we're getting things marked up and packed up.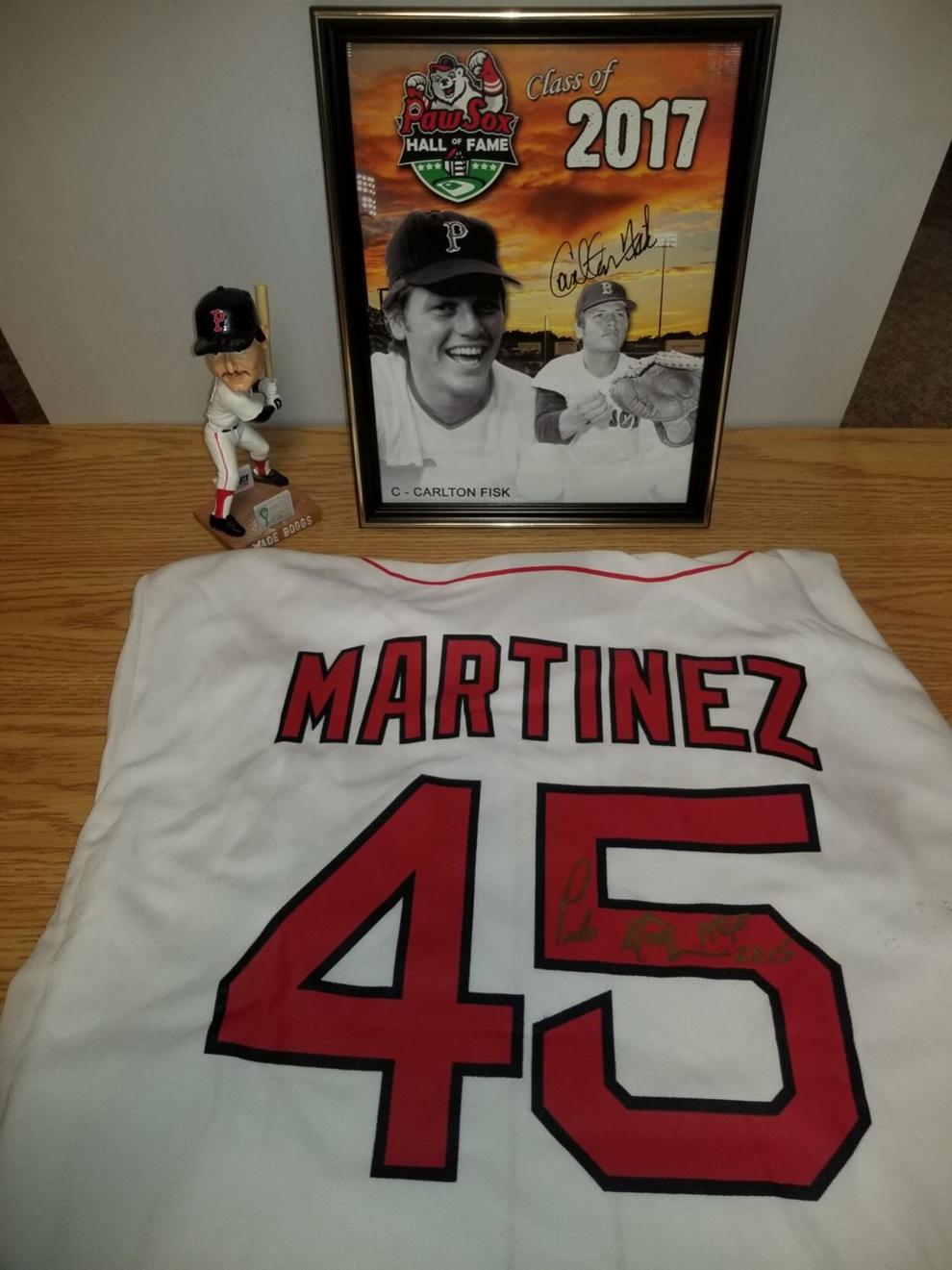 "We're also going to have an auction in the middle of March," Wanless added. "We're going to auction a lot of memorabilia that didn't go in the ballyard sale in December — things on the walls, in the clubhouse, artifacts, stadium signs, from all over the ballpark."
Some might wonder if there is lingering resentment among the team's local fandom regarding the franchise's move.
"No," said Wanless. "That's not surprising either, but comforting. I think that initially, maybe, when the move was announced in 2018, but as the story played out, fans realized we did want to stay – that we wanted to build a new stadium."
"I would say there was such affection for the fans of Rhode Island," added Steinberg, "from (PawSox Chairman of the Board) Larry Lucchino, and in turn from me, when Lucchino was running the Red Sox. We used to talk about Rhode Island in the most glowing terms, and the passion of the fans; there was a real affection that we had toward the fans there."
The fan base was there, but a new facility was much needed, and staying in Pawtucket became untenable.
"(McCoy) was built in 1942, renovated in 1999, served 50 years as a Red Sox affiliate, got the history, which was unmatched, but the time had come; it was time to move on and make new memories," Wanless said.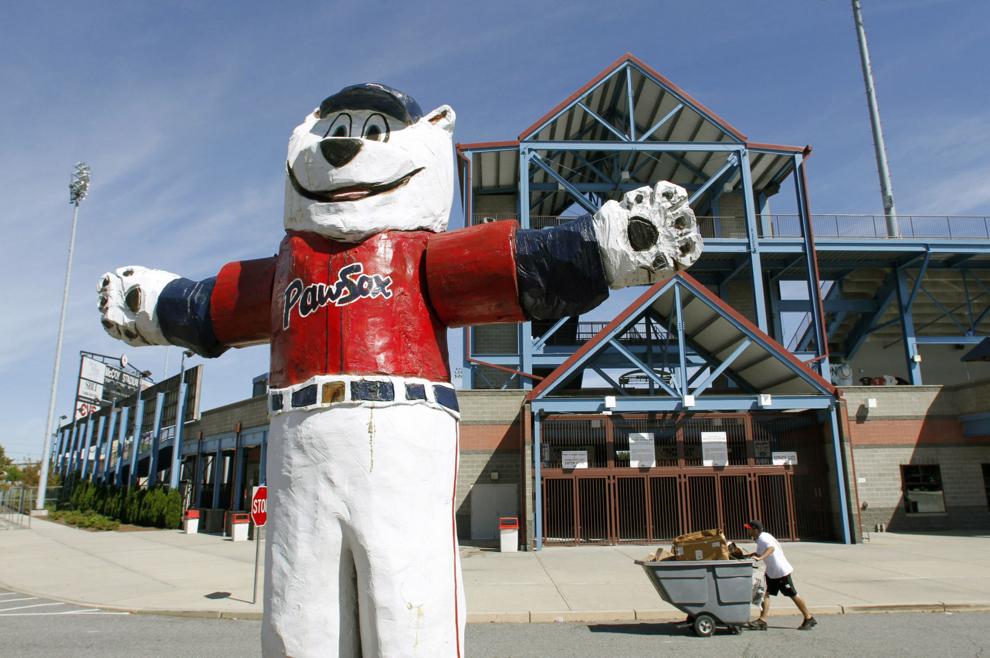 In time, the remaining flurries of activity at McCoy will cease. What will happen next?
"I don't know," Wanless said. "The city doesn't know; no one knows the future of McCoy. I hope it somehow benefits Pawtucket and that neighborhood. I hope it does have a purpose, but it's anyone's guess."
Adds former Red Sox catcher Rich Gedman, who grew up in Worcester and now serves as the team's hitting coach, "I have a heavy heart for Pawtucket. When I was 17 I saw what Triple-A baseball was like, what a fever they had, then I came there in 1980 to play (professionally). It was always packed, and it made for an exciting time for a young player.
"Then I came back there as a major-leaguer, as a former Red Sox, and it was a still a pretty special place to be; that was the next step, one step closer to the majors when you got to Pawtucket," he said. "It's kind of sad that we're going to a new place, but I hope that Pawtucket never gets forgotten, and that the ownership group will make sure that it will never be forgotten. It holds a special place in my heart."
Polar Park a busy place
If you follow that same Blackstone River that flows through Pawtucket northward, eventually you will end up in Worcester. And while things at McCoy get more dormant by the day, the opposite can be said of what's going on at Polar Park and the surrounding neighborhood, as construction continues in hopes that the ballpark will be ready for Opening Day, currently speculated to be in April.
But how did Worcester end up as the new home of the PawSox, or as they'll now be called, the WooSox?
"There was chatter about what cities might want the PawSox if we left Pawtucket," Steinberg recalls. "From the time that I joined the PawSox on Nov. 5, 2015, I never seriously tuned into the chatter because I honestly believed we were going to stay in Pawtucket.
"There were 18 cities that had reached out to us, saying, if Rhode Island doesn't want you, we do, and Worcester was quietly really making progress, but it was quiet, it wasn't loud."
But one behind-the-scenes campaign went a long way toward moving Worcester to the top of the list. City resident Gene Zabinski sprouted the idea to organize an effort to have residents start sending postcards to the PawSox ownership group, with a picture of a proposed ballpark and including return addresses, essentially saying "Come to Worcester." Eventually, upwards of 10,000 postcards arrived in Pawtucket, and, according to Wanless, "The truth is it really impacted Larry Lucchino and ownership, and they saw this and said we have to take Worcester seriously."
"Starting in May of 2018, I started to meet with Worcester leaders and officials and saw the excitement was real," recalls Steinberg, "but still didn't think that it would happen. But as spring turned into summer, even though we still thought Rhode Island was going to pull it out, I believed, as the summer went on, that the franchise was going to be successful in Worcester.
"Yes, we're not moving far away," added Steinberg, "and a state border should have no relevance, but to the culture of Rhode Island, it did have relevance. But Worcester and the commonwealth made a harmonious effort to show us how good it could be."
By the autumn, the deal was done, and on Sept. 17, a celebration was held outside Worcester City Hall, featuring an hour-long red-carpet gala that included Sox legends Pedro Martinez, Jerry Remy, and appropriately, Gedman, who received Martinez's ceremonial first pitch from the City Hall steps.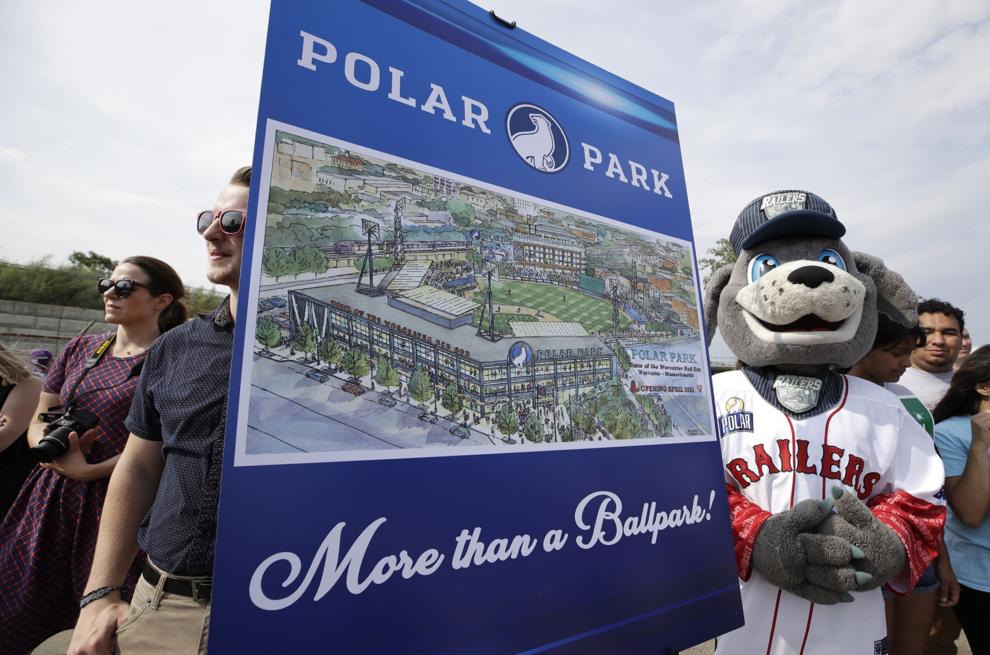 On July 11, 2019, ground was broken for Polar Park, and less than two years later, the $117-million ballpark is almost ready to open its doors, despite a seven-week construction hiatus last summer related to the pandemic.
The ownership group spared no expense, hiring as a consultant noted ballpark architect Janet Marie Smith, who worked with Lucchino and Steinberg in Baltimore to create what has become recognized as the groundbreaking model for the modern-day MLB ballpark with the design of Camden Yards, and has since been part of renovation and expansion projects at Fenway Park (which introduced the Green Monster seats), Turner Field in Atlanta, and Dodger Stadium in LA. Smith's task for a minor-league ballpark in Worcester was not unlike what she had done at a major-league level prior, but she also was very familiar with the ideologies that Red Sox and WooSox ownership held dear when it came to the park's design.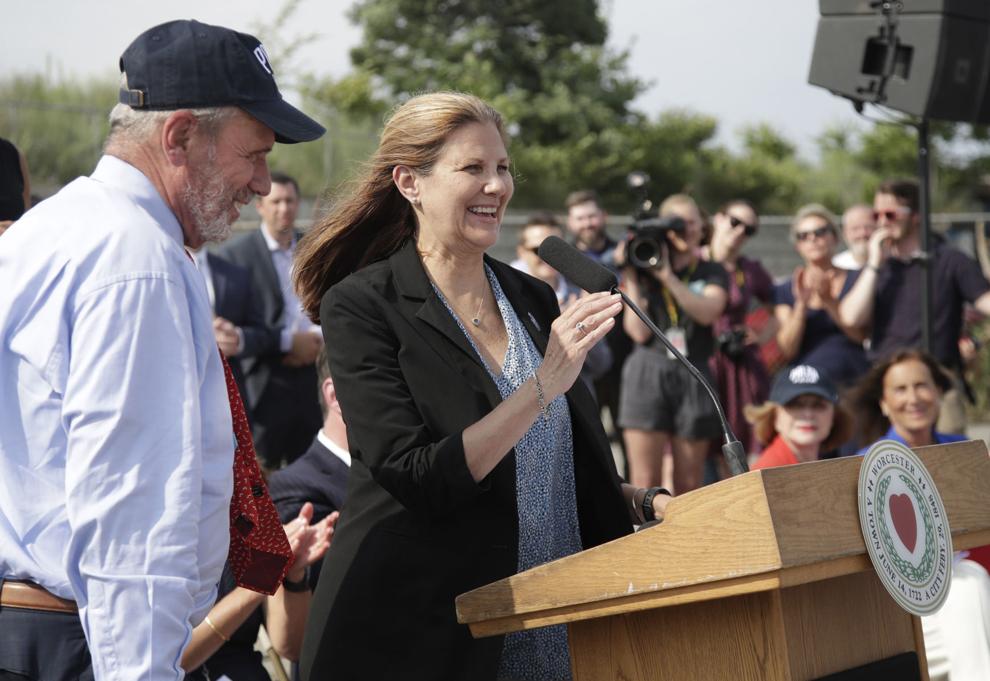 "When it comes to the creators of Camden Yards and Polar Park, it's not so much borrowing from others, it's hearing a songwriter who has a style, and that songwriter's style is going to be evident," Steinberg said. "I don't think that Paul McCartney borrows from his style; he is simply Paul McCartney, and when Larry Lucchino and Janet Marie Smith invented the concept of the modern ballpark, you're getting the greatest designers of ballparks in the history of the U.S. They're reuniting to create their first ballpark, from scratch, since Camden Yards, so when you're in meetings, the words are the same: urban ballpark, intimate ballpark, seats close to the field. It's in Larry's DNA, and when Janet Marie Smith plunges into her unprecedented artistry, to then add these wonderful touches, she's not saying, let's not do Camden Yards; it's the same principles that are a guide to an artist's thinking.
"They're both (future Baseball) Hall-of-Famers, not for imitations, but because their passion for what a ballpark feels and looks like is unwavering," Steinberg adds. "Make sure your ballpark looks and feels like your city. For Polar Park, you see a decidedly urban ballpark that brings life and activity to an already resurgent city.
"Look at what's at the end of each row (at Polar Park)," Steinberg notes. "There's notable artwork, an iron 1880 Worcester Worcesters logo. That's very symbolic of Worcester baseball. "Go to Camden Yards and look at the end of each row: there are cast-iron green, 1890s Baltimore Baseball Club logos," he adds. "They are similar adornments because their inspiration to make a ballpark reflect a city is a constant principle, though the application is unique to each city."
The special touches around the park undoubtedly reflect Worcester's heritage, including its invention of the "smiley-face" (whose images will adorn the foul polls), and the outfield lights will be heart-shaped (as Worcester is known as the "heart of the commonwealth"). Even the capacity, 9,508, incorporates the city's area code (though only 6,000 actual seats will be installed, encouraging fans to take advantage of the numerous standing-room areas that will also offer amazing viewing areas to watch the game, but allow for meeting spots and hangouts). Running alongside the third-base line will be the city's Amtrak line that connects Boston with the rest of the country, and the famed Fenway wall will be in right field at Polar Park, 22 feet high instead of 37, and will be blue, a nod to the city's blue-collar persona.
Local Worcester restaurants will provide the majority of the concessions available at Polar Park, and the relocated team has no plans to leave behind, figuratively or literally, the relics and legacy of the PawSox.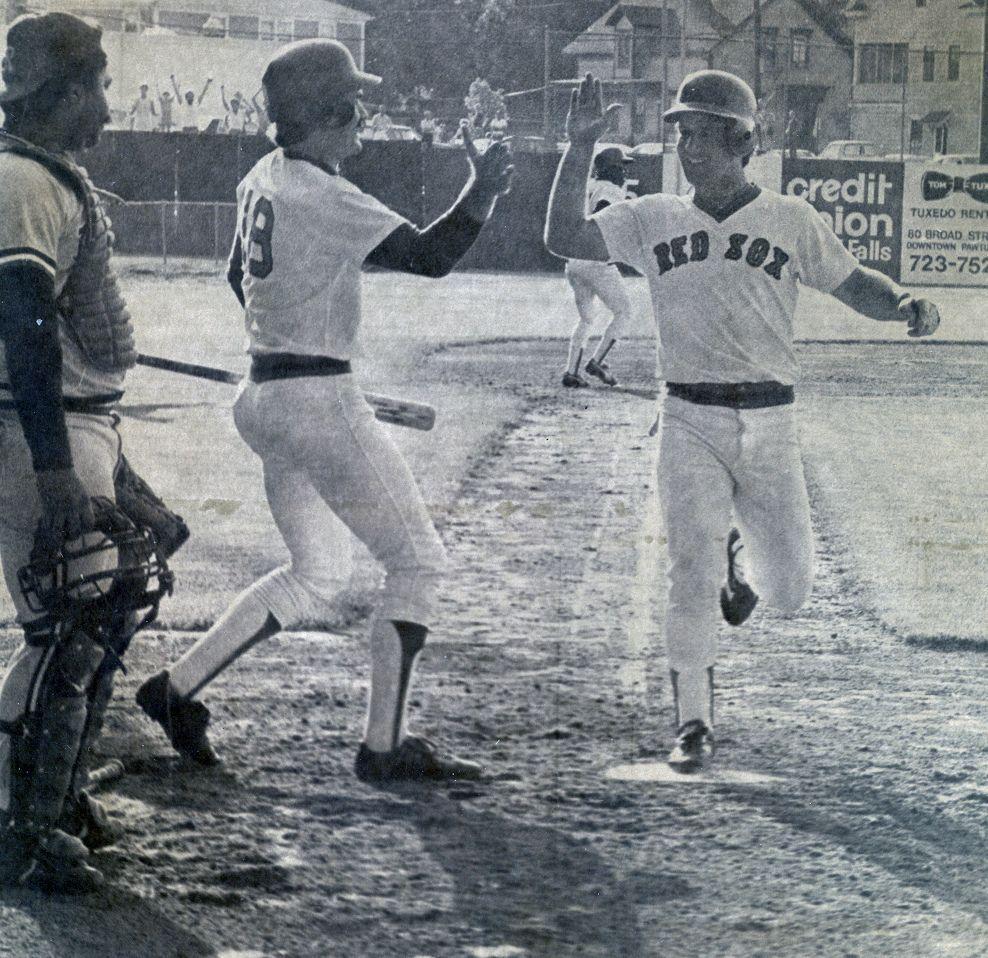 "The team's Hall of Fame, including 2020 electees, will be displayed, along with a lot of PawSox history," Wanless said. "(Smith) has taken a lot of things from McCoy to have them at Polar Park — team photos from every year, 1973-2019, memorabilia to keep on display.
"We did work with the Rhode Island Historical Society and the Providence and Pawtucket libraries, and took a lot of things that we had, scrapbooks from every season, and are digitizing them, and eventually they will be ready to look at all of those through the years. She has all sorts of ideas for a museum to show the history of the PawSox and history of the baseball in Worcester."
One might ask: So are the WooSox just a continuation of the previous franchise, or is a lot of it creating something brand-new?
"You have to straddle both concepts," Steinberg said. "The first batter in the history of the WooSox will be the first batter in team history, and we will start records anew, and everything about Polar Park is done with Worcester in mind, so there is a newness. This is not the St. Louis Browns moving to Baltimore in 1954, nor the Brooklyn Dodgers moving 3,000 miles away in 1958; this is one franchise that is moving just about 45 minutes away, so you want to retain connection.
"Yes, if someone amasses 300 home runs in WooSox history, that might set a WooSox record, but you would like to say it's part of the entire history of the Pawtucket Red Sox and the Worcester Red Sox," Steinberg adds. "Don't ignore your PawSox past, celebrate it, include it as part of the story. It's not the story, but it's a part of the story. Let the PawSox history flourish, and have two parts of the story. The Blackstone River connects the two cities, they are relatives of each other, and that's a reason you don't turn your back on Rhode Island."
Adds Wanless, "It's a fresh start, a new start, and all the history that came through in PawSox history. But now it's time to make that in Worcester; start a new chapter and history."
Gedman, the Worcester native, sums it up best regarding baseball in his hometown: "It's always been a blue-collar city for me, full of hard-working people; it has its ups and downs like any other city, but it's going through a growth spurt, and it's kind of neat what's going on – there's a lot of energy.
"I grew up in a city that had a train station that had no trains, and an airport that had no airplanes, very matter-of-fact; even now, in these seemingly flourishing times, during the pandemic, (Worcester) seems to be getting stronger, acknowledging there they're in the center of New England."