When Logan Mankins first arrived in Tampa Bay in 2014, Josh McCown was the quarterback and the Buccaneers won two games.
A year later, quarterback Jameis Winston arrived in camp as the No. 1 pick overall in the NFL Draft, and the fortunes of the Buccaneers expanded to six wins.
More recently, that felt like an eternity away for Logan Mankins, a seven-time Pro Bowl selection and the nine-year cornerstone of the New England Patriots' offensive line.
But the North Attleboro resident has taken his Tampa Bay Buccaneers jersey No. 70 out of the closet, and might just be rooting for the Tampa Bay Buccaneers rather than North Attleboro native Anthony Sherman and the Kansas City Chiefs in the Super Bowl.
"I was wearing one of my Tampa Bay sweatshirts in the fall and I was getting grief," Mankins chuckled of his dual affinity living in Patriots Nation.
"I always root for Anthony (Sherman) to do well. I see him every now and then in the off-season when he's home, I always want him to do a good job. He's a good guy and that's a good family," Mankins said. "And Kansas City is a team that's hard to root against. The quarterback (Patrick Mahomes) seems like a good guy, I like the head coach (Andy Reid)."
Despite playing his entire collegiate career at Fresno State at tackle, Mankins, who was a first round draft pick by the Patriots in 2005, was stationed at left guard by the Patriots to replace Joe Andruzzi, who left in free agency.
Mankins started all 16 games in his 2005 rookie season and in 2006, he became a member of Patriots folklore by scoring his first NFL touchdown in the AFC Championship game against the Indianapolis Colts when he recovered a fumble in the end zone.
In 2007, Mankins allowed just one QB sack, and in 2008, he guided the New England running backs to a season total of 2,278 yards, the best by a Patriots' team since 1985.
Mankins found great success with the team. He was named to New England's 50th Anniversary All Time Team (protecting Brady to such an extent that he took a career-low 16 sacks in 2009), the Patriots' All-2000's Decade Team, the Patriots' All-2010's Decade Team; and to the NFL's All-2010's Decade Team.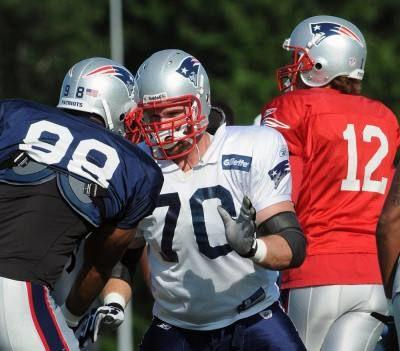 Mankins signed a six-year, $51-million contract with the Patriots in August 2011, which made him the highest paid guard in the NFL.
He was a member of New England's 2007 and 2011 Super Bowl teams — both losses to the New York Giants.
Other than John Hannah, there may not be a more esteemed offensive lineman in New England Patriots history than No. 70, the California country boy, who never lost his fondness for plaid shirts, blue jeans with a cowboy tested leather belt, blue jeans and a pickup truck. At the end of the 2009 season, Mankins was selected as a starter to his second Pro Bowl and became just the second guard other than Hannah to do so.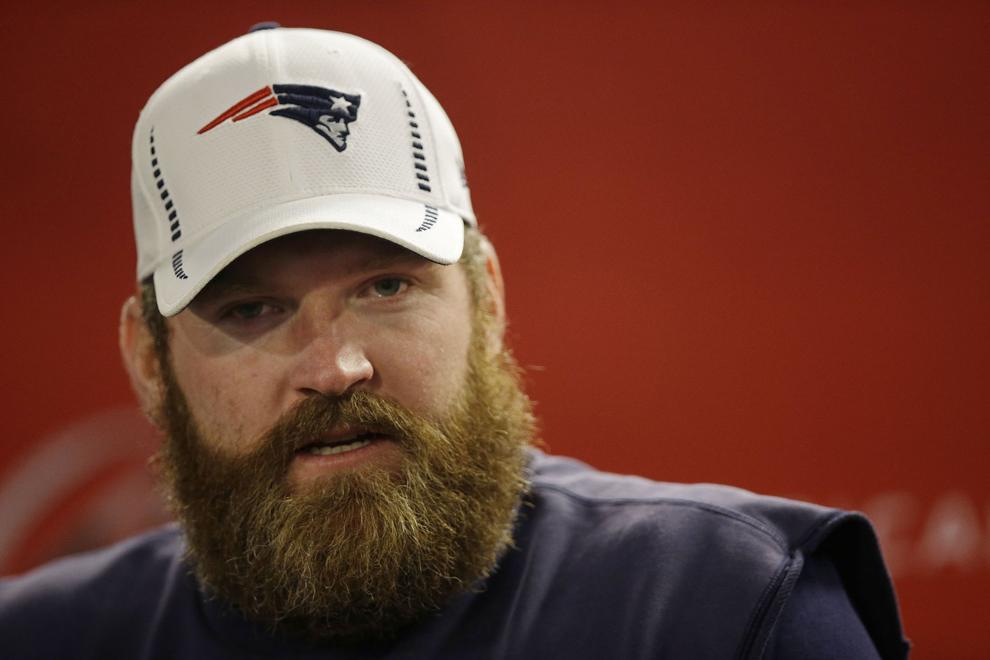 Success like Mankins enjoyed in New England hasn't been the routine in Tampa Bay.
While the Buccaneers won a Super Bowl in 2002, defeating AFC champion Oakland for the XXXVII title, until Tom Brady led them to this year's big game, Tampa Bay had gone 12 straight seasons without a playoff game.
"I'm definitely rooting for Tampa, Tom (Brady) is down there now so I'm definitely rooting for him, and I have some friends down there," Mankins said. "I had a good experience there with a lot of good guys so I hope that they do well.
"Some of the guys who were rookies when I was there are still there – I'm happy for those guys. Gronk (Rob Gronkowski) is such a nice guy too, it's hard not to root for good people."
After some contentious contract negotiations in New England, Mankins was traded (for tight end Tim Wright and a fourth round draft pick) by the Patriots to Tampa Bay prior to the 2014 season. Mankins played that season and 2015 in Florida, being named to the Pro Bowl team that year.
After 161 starting assignments in the NFL, in March 2016, Mankins retired and returned to New England.
"I enjoyed Tampa, I had a good relationship with those people, they were turning the program around, getting the kind of guys that they needed," Mankins said of the Glazer family.
"They sure got the right quarterback now and look where they are!"
Mankins started all 16 regular season games for five consecutive seasons in New England (2005-09) and again from 2013-15.
Tampa Bay wanted Mankins with General Manager Jason Licht and Head Coach Lovie Smith seeking to replace Pro Bowl guard Davin Joseph.
The 2014 season was notable for the Buccaneers as long-time owner Malcolm Glazer died in May of that year and his sons took over the team operations, the first season of a new regime since 1994.
In Mankins' second season with the Buccaneers, the team's fortunes rose. In the eighth week of the season, Tampa Bay had already won three games. Entering December, the Buccaneers stood at 6-6 and in contention for a playoff berth.
However, Tampa Bay lost its final four games of that 2015 season and finished last in the NFC South Division for a fifth straight season. Despite missing the playoffs, running back Doug Martin ranked second in the NFL behind Minnesota's Adrian Peterson in rushing yards, while Tampa Bay finished ranked among the top five teams in the NFL in total offense.
"They (the Buccaneers) were well supported, depending on how the team was doing," Mankins said. "There were a lot of fans in the stands. They do like the Bucs, there were quite a few fans there. When we lost, maybe not so. When we won a few games, the fans came back. It was not like Gillette (Stadium, the Patriots' home) sold out every game.
"College football is huge down there."
It was 83 degrees and cloudy on Dec. 27 at Raymond James Stadium when the Buccaneers met the Chicago Bears and Mankins took to the field for the last time.
The Catheys Valley, Calif., native who played at Mariposa High, might be also be renown for being physically and mentally superior to his peers, having played the 2011 season with both a torn ACL in his right knee and a torn MCL in his left knee.
Despite the ACL tear, Mankins started 15 games for the Pats that 2011 season. He is one of the only players known to have played a season with a torn ACL and reportedly kept the injury to himself, not reporting it.
As legend has it, Mankins didn't realize the severity of the injuries and the risks to his health. He tore his MCL during the AFC divisional playoff game against Denver, but he still tucked jersey No. 70 over his broad shoulders and suited up for the Patriots in Super Bowl XLVI.
Wounded knees took their toll on Mankins, who started in 31 of 32 games as a Buccaneer.
At the time Bucs GM Jason Licht said, "He's one of the toughest, most intelligent and skilled players at his position that I have seen in my years around this game. Logan distinguished himself as the ultimate professional over his 11-year career and he was an unquestioned leader for us over the last two seasons. His leadership, work ethic and selflessness played a key role in the development of our younger players and he set the standard which we use to evaluate all of our offensive linemen."
To this day, Mankins said that blocking for Tom Brady during his days as a New England Patriots and now watching him perform to such standards of excellence and production are an honor.
"He's such a good player and such a good teammate," Mankins said of Brady. "He's done it all and proven himself so many times, he has so much clout," he added of Brady's leadership and ability to instill confidence within his teammates.
"People really listen to him, I love the guy. When I played with the guy, I would run through a brick wall for him."
Truth be told that Mankins has not changed much since his first day in Foxboro, his first NFL training camp to his final game in Tampa Bay.
"Usually I go tieless, unless it's mandatory," Mankins said of his sartorial and personal style. "I was driving a pickup truck back on the farm when I was 12 years old.
"My dress codes are my clean jeans and my clean flannels!"