It would be unfair to say it's deserted. You won't find any tumbleweeds rolling around the 18-hole layout like you would in an old Western film.
But this weekend at TPC Boston in Norton is different.
Production trucks from the PGA Tour didn't roll in, neither did those from television crews who have the rights to broadcast the event. And you won't find any Boston sports radio stations with their own space near the 18th green as a way to interact with the fans.
The traffic will be much less gridlocked on Route 140, which some homeowners nearby will be happy about. But those opinions will change if you ask the parking attendants, or those who stand outside their driveways in attempts to wave down passing motorists all in hopes to make a quick buck for a spot on their lawn.
Like many other businesses who benefited from the event, their services are not needed this weekend — a weekend, which according to the Greater Boston Convention and Visitors Bureau, had brought in somewhere between $60 million and $70 million annually to the Greater Boston and Greater Providence area.
There was no media golf outing or Pro-Am during the past week, either. Those who would have attended didn't get a chance to see their favorite film stars or former professional athletes tee off before the real professionals stepped to the tee box for Friday morning's first round.
And perhaps most notably, area golf enthusiasts are left searching for a way to fill their three-day weekend. They, unfortunately, won't be dragging along their spouses, children or even grandchildren, the latter of which likely attended in hopes to stand at the string-thick barrier and get tossed a loose golf ball, or the lucky ones, a golf glove.
"This year, I don't know what we're going to do on Labor Day weekend," said Peter Gay, a North Attleboro resident, who had attended TPC Boston this weekend for each of the last 16 years.
It used to be the perfect end to the summer, before the kids went back to school and parents had to get back to the reality that vacation season was another nine months away.
Those who attended, and those who put the event on, all agree this year is different.
"It's really weird," said TPC Boston General Manager Dan Waslewski, who has held the position since October 2012. "I've completely lost focus on the fact that's its Labor Day weekend. You get so accustomed to this time of year, having such heavy activity, it's a little bizarre."
This year marks the first time in 16 summers that Massachusetts will not host a professional golf tournament. Dating back to the inception of the Deutsche Bank Championship in 2003, TPC Boston presented a gathering place for golf enthusiasts to watch the top-tier players in action.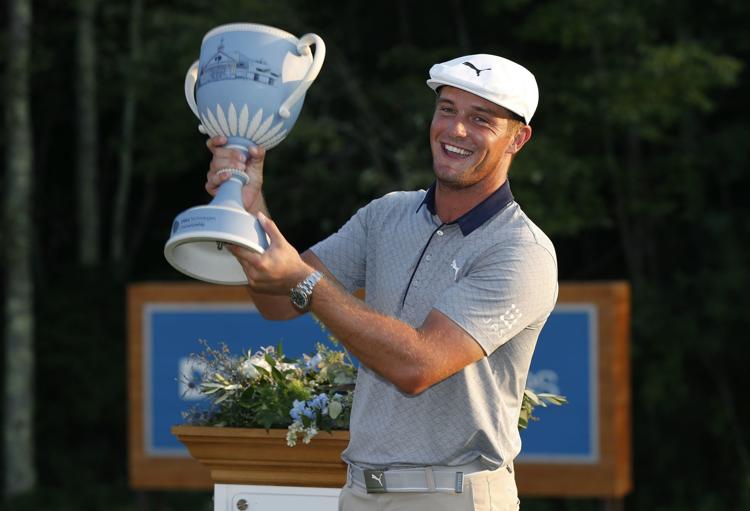 The course, which hosted the first Dell Technologies Championship in 2018, an event which Bryson DeChambeau won, has had the most-recognized names in the sport travel to Norton, especially since becoming a FedEx Cup playoff event in 2007.
Tiger Woods brought among the biggest crowds while there was there was never a shortage of spectators following others like Phil Mickelson, or more recently, Justin Thomas and Jordan Spieth.
"There was just so many special moments over the year with that tournament," Gay, a Sun Chronicle columnist, said.
And those moments on the course were just as common as those off of it. It was an event for the community, as well, with many area residents volunteering their time during the tournaments, and local nonprofit organizations benefitting. Waslewski estimated the 15 Deutsche Bank Championships and one Dell Technologies Championship combined to raise $28 million for charity. One of those organizations that benefited was the Hockomock YMCA.
It's different this time.
Waslewski said workers at TPC Boston will be having a more relaxing weekend than the past 16 years, which drew the attendance of approximately 30,000 people. And they're not the only ones who benefit.
"For the first time in 16 years, members are able to enjoy the club without interruptions, so we decided to just stick with status quo," Waslewski said.
Waslewski added the idea of holding a members-only tournament was introduced, and it may be something the course holds in the future, but a weekend without a schedule was the way to go in the first go-round.
"I hear the striped bass fishing on Cape Cod Canal is great this time of year," he joked. "But I wouldn't want to get too many (people there), because I plan on going down there myself."
Fortunately for Waslewski and other New England golf enthusiasts, the brief year off doesn't mean it has reached the end. TPC Boston will be back in the PGA Tour fold next year.
As part of a joint agreement with the PGA Tour, the Northern Trust will be hosted at TPC Boston in August 2020. The Northern Trust agreed to a four-year deal rotating between New York and Boston for what is now the next three summers. The tournament was held in New York earlier this month.
TPC Boston will play host the Northern Trust in both 2020 and 2022. Future plans have not been finalized, however. Waslewski said the Northern Trust will be held in the middle of August as the Olympics in Japan push the PGA Tour schedule back one week.
"We are very excited," Waslewski said. "We think they're going to be great sponsors going forward."
But for now, area golf enthusiasts will head to the beach. They'll be left thinking about their prior Labor Day weekends in Norton, once watching the best the game had to offer.