They lined the middle of the pitch, helping coach Kevin Smith keep Mansfield High School's girls' soccer team in balance.
They were the backbone, as he put it.
The Temple University-bound Mikaela Maughn was otherworldly with her speed and skill at center back. She took pride in going against the best offenses in the Hockomock League and helped rewrite every defensive record in program history.
The Bryant University-bound Melissa Reef was the focal point in the center of the midfield, and her consistency was perhaps the most admirable asset. Reef, a four-year contributor for the Hornets, never missed a contest during her 78-games career. She remembers playing through both ankle injuries and sickness, but never wanted to come off the field.
A UMass Lowell-commit Stephanie Kemp was at her best when using her size at center forward. She could keep any defender off the ball, having the touch for teammates play to feet and tenacity to win the ball in the air. Her rare size-and-speed combination was a constant threat to defenses around the Hockomock.
The Mansfield High trio, who were much of the reason the Hornet girls had as much success as they did over the last four years, are now packing up and shipping out. They will all represent Mansfield in the collegiate soccer ranks in their respective Division I programs.
Reef, Kemp and Maughn were among a group of 19 seniors the Hornet program graduated this spring. During their time, Mansfield won three Hockomock League-Kelley Rex Division titles with a total of 55 victories in four seasons. Mansfield recorded 15 wins this past season, advancing to the Division 1 South Sectional semifinals. Previously, the Hornets tallied 13 wins in 2017, 14 in 2016 and 13 in 2015.
Smith knows a major reason for that was the play of Reef, Maughn and Kemp.
"Right from the get-go they brought a very high level of play," Smith said. "All three are incredibly athletic. And they also brought a high work ethic, they raised the level of everybody around them.
"They earned the right to play Division I," Smith added, noting it's the first time he has ever sent three players on the same to highest level of college soccer.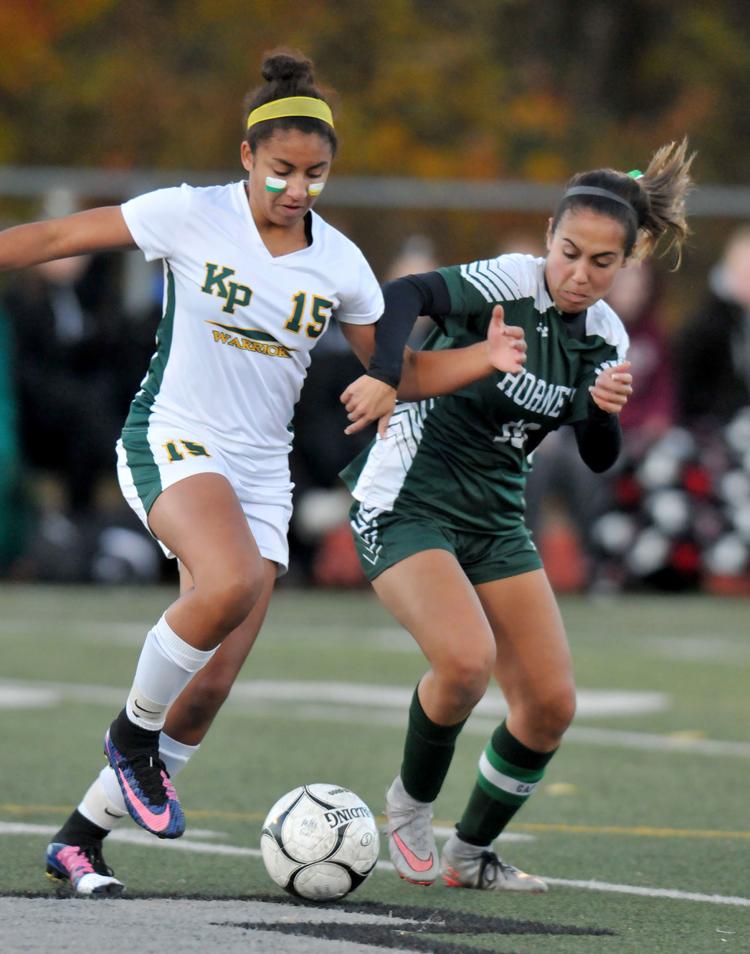 Melissa Reef
Reef had a "different" experience in deciding her future. She had originally committed to play at UMass Amherst, but the Minutemen coach was fired as Reef was heading into her senior year at Mansfield.
"I was seeing all my friends around me being recruited and I had just de-committed so I was a little freaked out," said Reef, a two-time All-State selection and three-time Eastern Mass. All-Star.
"And going into senior year, I knew I really only have a couple tournaments and games to show my stuff, so it was a little stressful. But, I don't know, I tried really hard and stayed with it and it paid off."
Reef decided to venture out and look into new schools. Her first tour of Bryant was during a recruiting visit.
"Immediately when I got home I was like, 'I love this place.' I could see myself there, so it was pretty immediate," Reef said, adding that she also considered UConn and Bentley during her "second" recruitment.
While playing the midfield for Mansfield, Reef was mostly on defense when she competed with her club team, the South Shore Select in Hingham. She is listed as a defender with the Bryant University team, where she will join former Foxboro High Warrior Kristen Bortolotti.
While some would rather play the same position during both high school and club seasons, Reef said she thrived on the switch.
"Honestly I love it because I love being able to play at different parts of the field," Reef said. "And honestly, I think it helps me overall as a player, being able to play more than just one position. As challenging as it can be sometimes and adjusting to that, I love it."
She was a two-time All-State selection, three-time Eastern Mass. honoree and three-time Sun Chronicle All-Star.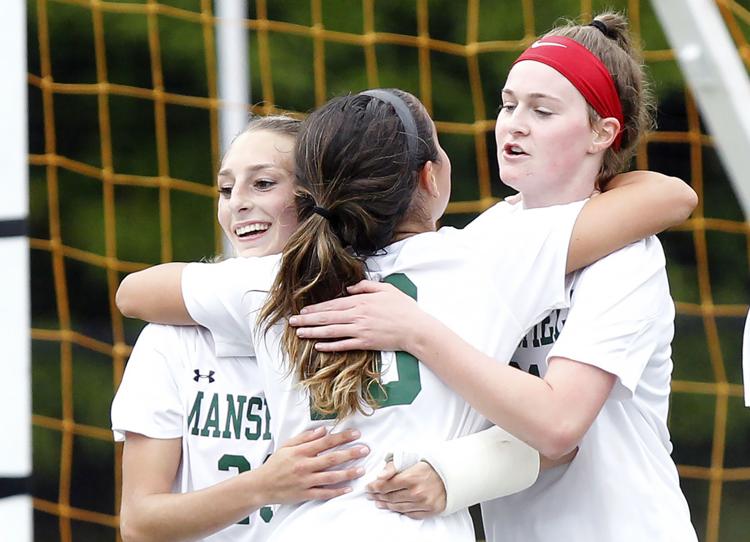 Stephanie Kemp
The 5-foot-9 forward, who started each of her final three seasons, finished third-highest in points in MHS history.
Kemp, a three-time Eastern Mass. All-Star, committed to UMass Lowell at the beginning of her senior year and will start her college career as a business major. She also looked at Bryant University, St. Anselm's and Lesley University.
"I was all over the place," Kemp said. "But once it got down to it, (Lowell) had the best options for me and I liked the size."
Kemp never shied away from playing in college, but the NCAA level was not the most important thing to her.
"I mean, when I was younger, it was like, 'Oh, I have to play at Division I," Kemp said. "But when I got looking at schools, you don't want to force yourself to go to this school because its Division I and you not like it. And I did look at a few Division I (schools), but (they) didn't fit.
"So, it was definitely a goal of mine, but I wouldn't have done it if it wasn't the right fit. I would've been fine at Division II or III, as long as it was a good program and it felt like it would be a challenge. That was more the important part."
Kemp concluded her Mansfield career with 43 goals and 27 assists. She was a three-time Eastern Mass. selection and was an All-Hockomock honoree and Sun Chronicle All-Star each of her final three seasons.
A few of her favorite memories at Mansfield High included the run the Hornets went on her sophomore season, when "no one expected us to be that good," and the MIAA Tournament win over rival King Philip her senior year.
"That was one of the most memorable wins for sure," Kemp said, referring to the No. 5-seeded Hornets taking down the 12th-seeded Warriors, 2-0, in the first round of the Division 1 South Sectional. "Just because it meant so much with the rivalry and just getting past that first game. And it meant that we seniors did want to have that be our last game together, so every win meant we got to be together for another week or so."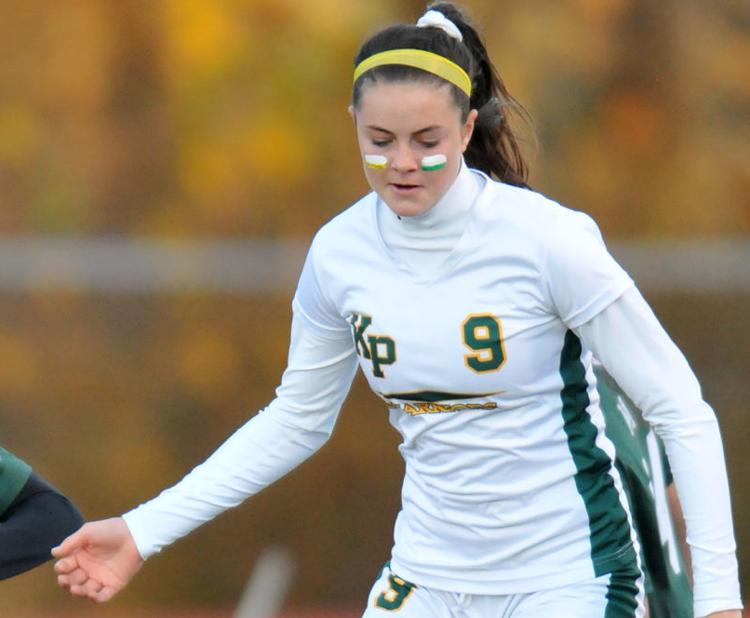 Mikeala Maughn
Maughn was another to commit later in the process, choosing Temple in January after finishing her senior season.
"I was considering other schools, but in the end, Temple just had all the things that I wanted," Maughn said. "It was a different environment from Mansfield and I also just really like the diversity there."
Maughn said she was looking into UMass Amherst and University of Tampa, as well as Division I University of Maine and Division III Oberlin (Ohio) for soccer. But with Temple having an emphasis on sciences and Maughn planning to study biology and continue onto the premed track, it made the most sense.
A majority of her recruitment was conducted through her club program, GPS Massachusetts out of Marlboro. GPS had an ID Clinic, where Temple first saw her play.
During her Mansfield career, in which she was a three-year contributor and two-year starter, Maughn's key responsibility was defending the best players in the Hockomock. And she did so efficiently, as the Hornets tallied 15 shutouts in 22 games this season. Mansfield also finished second in the league in goals allowed (11). In her career, Maughn was part of 32 shutouts in 57 games played.
"It was a difficult challenge, but I kind of liked it," Maughn said. "I liked being challenged by players that I knew were really good. It only helped me get better. So, whenever we were playing a team that was hard competition, I was always really excited and looking forward to it. I felt like I was playing my best when I was challenged."
Asked for some of her favorite memories as a Hornet, Maughn said she had a hunger both on and off the field.
"I would have to say it would be the pasta dinners," she said. "It was a great time being hungry after practice and just going to the pasta dinners."
What about the three league titles and 55 wins in four years?
"Oh, well yeah, those of course, too," Maughn laughed.
All three clearly enjoyed their time together, on the pitch and off.
"It was really awesome," Reef said of her Mansfield career.
"I mean, people always say when I go back to my club team now like, 'Yeah, I'm so glad high school is over.' But I'm like, 'I miss high school.' Obviously, they didn't have as much talent as we did. I loved it. Everyone got along so well and I really think that's what helped us as well, not just the talent, but our team chemistry."