Within days, Molly Dunn went from being a student-athlete participating in an NCAA Championship Meet in Morgantown, W.Va., to a pre-med student without a classroom or a campus at Fordham University in New York.
Her swimming career concluded, Dunn was about to dive head first into the second semester and final months of her academic journey as a senior on the Bronx campus. But for the well-prepared and organized Dunn, a Bishop Feehan High graduate from North Attleboro, the coronavirus pandemic has tossed her personal and future professional world into a swirl.
It was in the Aquatic Center at Mylan Park on the campus of West Virginia University on March 10 that Dunn last leaped into the air off of a diving board at the NCAA Zone Championships in 3-meter diving.
"When I got out of my last competition I heard that we didn't have classes anymore and two days later, classes were canceled," Dunn said. "It was with mixed emotions — I was on a high from competing in my last meet and enjoying it and also wondering if I'd be able to go back (to campus), to go back to school at all.
"But being a female scientist, I understand the public health concerns," she said.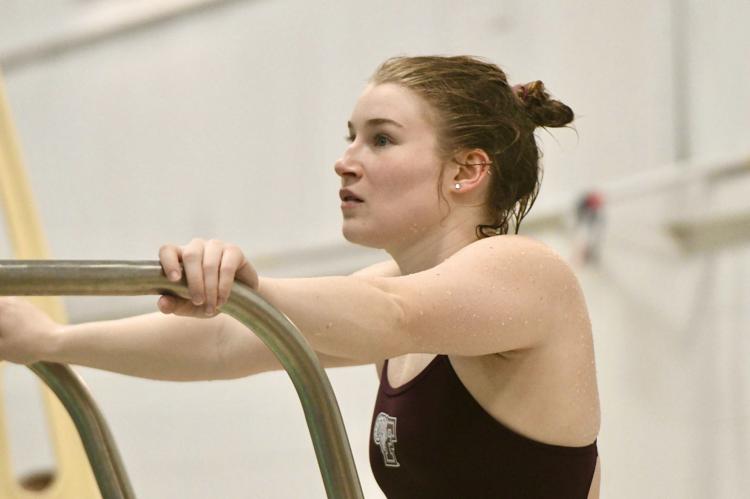 While she was at her last meet, Dunn was trying to stay in that moment.
"I wanted to get everything that I could out of my last meet," Dunn said of her final days as a student-athlete.
"I was really looking forward to this semester, to experience Fordham and New York City as a regular student," she added. "My whole three-plus years, I've been a pre-med student athlete and didn't have much time to enjoy what the city had to offer."
Oddly enough, Dunn had never competitively lunged off of a diving board before competing for the first time as a first-year student at Fordham's Colonel Francis B. Messore Aquatic Center. Yet, she became a two-time university record holder and scholarship recipient during her senior season.
During high school, Dunn had been a gymnast and didn't represent Bishop Feehan, which does not field a competitive team.
Her athletic journey began when she represented the Ace Gymnastics Academy in Ipswich for some 15 years. And it was there, based upon her performances on the balance beam, she was able to join the Fordham University women's swimming team.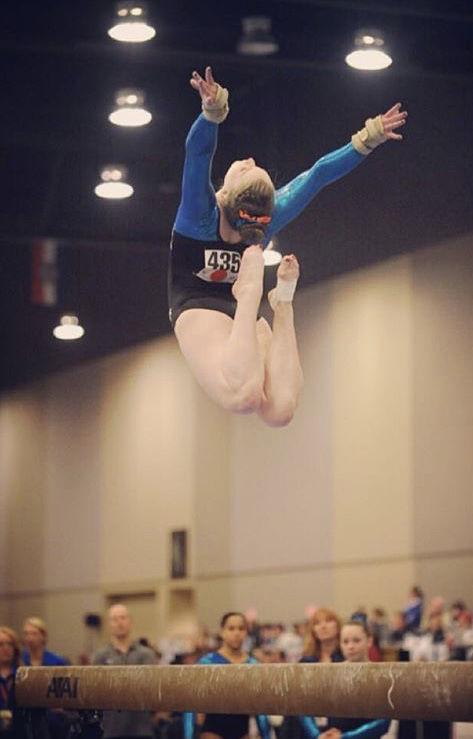 With the Ace Gymnastics team, Dunn was the Massachusetts State Balance Beam club champion in 2014 and the Junior Olympic Regional vaulting champion that same year.
Dunn qualified to the Junior Olympic National Championship two years in a row, becoming a Junior Olympic Balance Beam medalist during the 2013-14 season. And she even has a skill named after her in USA Gymnastics Code of Points.
Dunn did not partake in any high school team sports, spending six days a week, 12 months of the year heading to the North Shore to train. The rest of the time, she was a scholar of the highest order, earning membership in the National, Math, Science, History, Art and English Honor Societies.
"(Gymnastics) was a great atmosphere for me," she said, but her four knee surgeries (ACL, MCL, LCL, meniscus) throughout her career prevented her from signing a scholarship to Bowling Green State University, even though their coaching staff were prepared to honor the scholarship. "I didn't want to be the athlete that takes a scholarship away from another athlete, but knows she'd never compete."
When she got to Fordham, she sent the diving coach an email wondering if she could "walk on" to the team.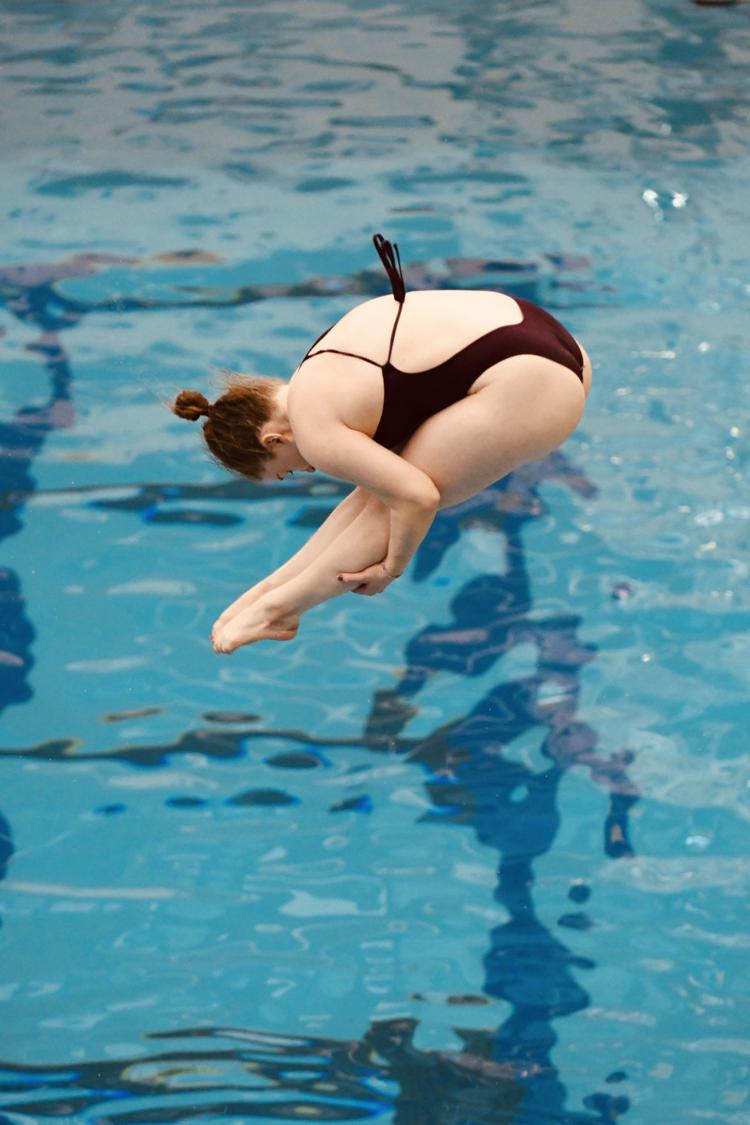 "I had always been on a team. Throughout my gymnastics career, you hear about people who had transferred to diving. If I was a good enough of a gymnast, I thought that I'd be able to do it (dive) in some capacity to transfer those skills," she said. Soon enough, she was being trained by Zhihua Hu, the former Chinese National and Olympic Team coach
Dunn has inked career best scores with the Rams – who mastered a 10-1 dual meet season record – in 1-meter diving at 297.45 and 310.80 in 3-meter diving. This winter season, Fordham captured second place at the Atlantic 10 Championship Meet in Geneva, Ohio, as Dunn posted scores of 198.0 in 1-meter diving and 226.80 in 3-meter diving.
As a junior, Dunn scored in both events at the Atlantic 10 Championship Meet, taking fourth place in the 1-meter dive (267.05) and 10th in the 3-meter dive (262.20). Then Dunn participated in the NCAA Zone Diving Championship Meet.
That junior season Dunn won both events in dual meets against Manhattan and Fairfield, had a pair of top 20 finishes at the Bucknell Invitational and a pair of top 10 showings at the Brown Invitational Meet.
As a freshman, Dunn placed in three meets in one-meter diving and finished among the top 20 at both the Princeton and Bucknell Invitationals, breeding confidence that she belonged on the Fordham varsity roster.
That trend continued as a sophomore as Dunn posted then career best scores of 245.93 in one-meter diving and 247.45 in three-meter diving in dual meets against Iona and Richmond respectively.
The collegiate swimming seasons begins in mid-October and runs through mid-March, so Dunn's days were chock full of duties and details, morning swimming practices and late night study halls.
"Then I'd go to sleep and do it all over again the next day," she said.
Nervous at the final meet
Dunn and her teammates arrived in West Virginia early to get used to the diving boards they'd be using in the competition.
"Being at the pool, it was like any conference meet. But there was a lot of talk about classes being canceled," Dunn said.
"We were nervous even going down there because we had heard about the virus," Dunn said. "People (other competitors) were coming in, girls from Columbia came in, and said their classes had gotten canceled. In diving, you have a lot of time to interact (between dives on the pool deck), there was a lot of chat about what was going on."
Dunn said people at the meet focused on whether the meet would continue and if they'd get back to school and class.
"We knew that it (coronavirus) was serious," she said. "New York City is an epicenter and our campus in the Bronx is surrounded by a densely populated neighborhood – we knew that people were going to get hit really hard with it."
The competition continued with Dunn ending her career with a dive that challenged her.
"My very last dive (a reverse 2½) was a category that I have always been most scared of, it was ironic that I was ending with that one," she said. "I was trying to get it down, flipping with my head going back toward the board – I had a good takeoff. My goal was to not go short, I have a tendency to go short on my reverses in competition, and I didn't go short."
"I didn't do that well in the meet because we (Dunn and Fordham diving coach Zhihua Hu) had increased the difficulty of my dives," she said. "I'm the type of athlete that needs more practice to feel confident in a meet. But, I was still happy with what I did, with my career overall."
After the meet, reality set in fast.
"On the way back, there were probably eight people on the flight and half of them worked for the airline," Dunn said.
Dunn lived in an off-campus apartment (with teammates from California, Pennsylvania, Colorado and Pawtucket, R.I.) in the Bronx, a few blocks away from Fordham's campus. "Within 24 hours of me getting back everybody left," she said. "I packed my stuff and my dad (Kevin Dunn, the Bishop Feehan High hockey coach) came down and picked me up.
"Some of my stuff is still down there; I thought that I'd be home for maybe two or three weeks."
Like other seniors, Dunn is upset to be missing what she thought would be the best months of her senior year.
She's completed her studies online, even taking a "lab" course Human Anatomy, a virtual reality of the human body. "It would have been better in a class than a simulated diagram. With my major there is a lot of studying, you can't rush to learn something."
At home, Dunn's new day order began as it normally would in the Bronx, between 8-9 a.m. with an 8:30 a.m. class on Monday and Thursday, then with a lab at 1 p.m. and another class at 5:30. She studied three days a week, but said it was hard getting into the mindset to do so at home.
"At Fordham, I could leave the apartment and just go to the library and study," she said. "It's more difficult to separate my school work-home life here."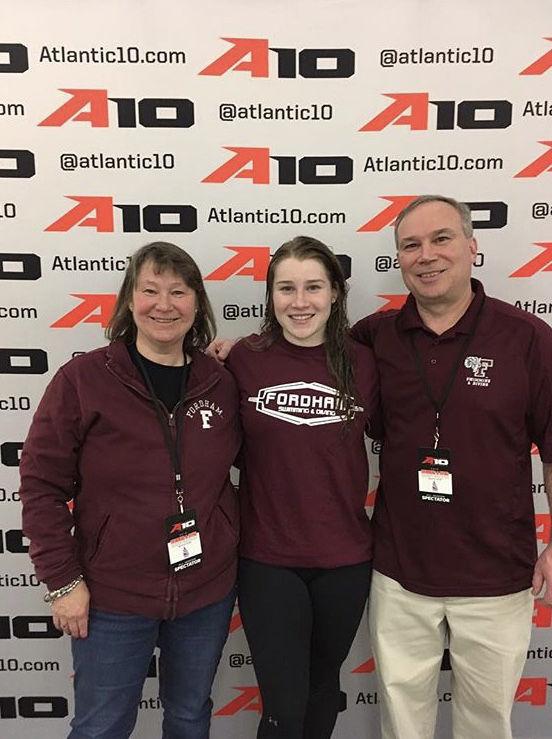 With in-person commencement exercises, the senior ball, the parent appreciation dinner at Fordham canceled, Dunn's plans are to do clinical work in the Boston area for a year or two before applying to medical school. At home, she's been able to see her mother, Donna, a nurse practitioner, and her father, more.
"I've seen my mom and dad more over the last month than I have over the last four years!" she said.
"Because of my mom, I have a good idea of how the medical field works, and I've had four surgeries, so I was in and out of the hospital. I had my first surgery in December 2014. Over a two-year span, I was on crutches for 52 weeks. Getting to know my physicians, it really solidified what I want to do with my career."
And of her final dive at Fordham, she's thankful she was even able to compete.
"I'm fortunate that I was able to finish my season, my career when so many spring season athletes could not," said Dunn. "It's disappointing, even missing my roommates. But, athletics, the gymnastics and the swimming helped make me the person that I wanted to be.
"I have something to be proud of."