You may have seen a red-headed kid traversing around the Dwight Estey Track over at North Attleboro High School, or perhaps running in the rain on Landry Avenue, possibly out on the back roads by the farms on Ellis Road or even over at Highland Park in Attleboro.
However, that red-headed kid, North Attleboro High junior William Atwood, is one very special runner.
This season, he was the Rocketeers' consistent No. 4 finisher during their abbreviated seven-meet cross country season. After having to sit out two of those meets due to a possible coronavirus exposure, Atwood grabbed the 50th position at the 2020 Hockomock Championships at the Mark Coogan X-C Course at Highland Park in October. As a sophomorem he finished dead last in the same meet.
"I was really disappointed that day," Atwood said. "I realized I had to deal with the pain if I wanted to keep up with the pack."
That meet was the only one his dad, Mike Atwood, a former Bishop Feehan High (Class of 1989) and Boston College distance runner, couldn't attend this season.
"He was devastated," Mike said. "However, he has worked so hard since March."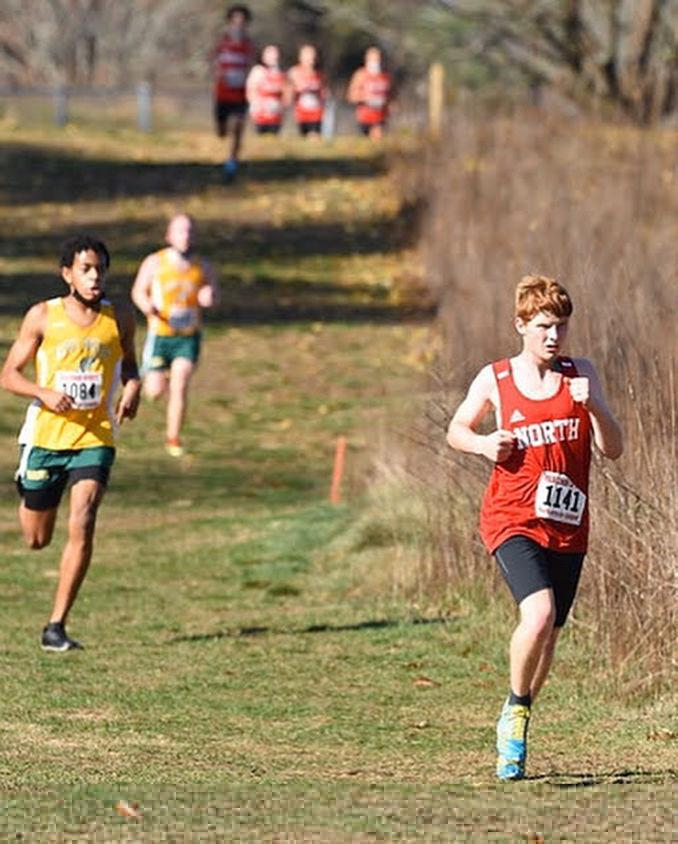 And he's come a long way since he first started running competitively.
"I used to stop and walk a lot when I started running on the track and then one day, it just kicked in," Atwood said. "I made it two laps then three, then a mile."
The 17-year old Rocketeer is on the autism spectrum and more than happy to share his experiences in becoming a Rocketeer student-athlete. And nothing is going to stop Atwood from getting to the finish line.
"I've always had a lot of energy," Atwood said the other day before a weight training and conditioning sessions with his teammates. "When I was little, I ran with my dad. We just ran around the block. I liked to do races as I got older. I was always fast."
"Then we started going to the track and running on the streets of North Attleboro. I haven't looked back since."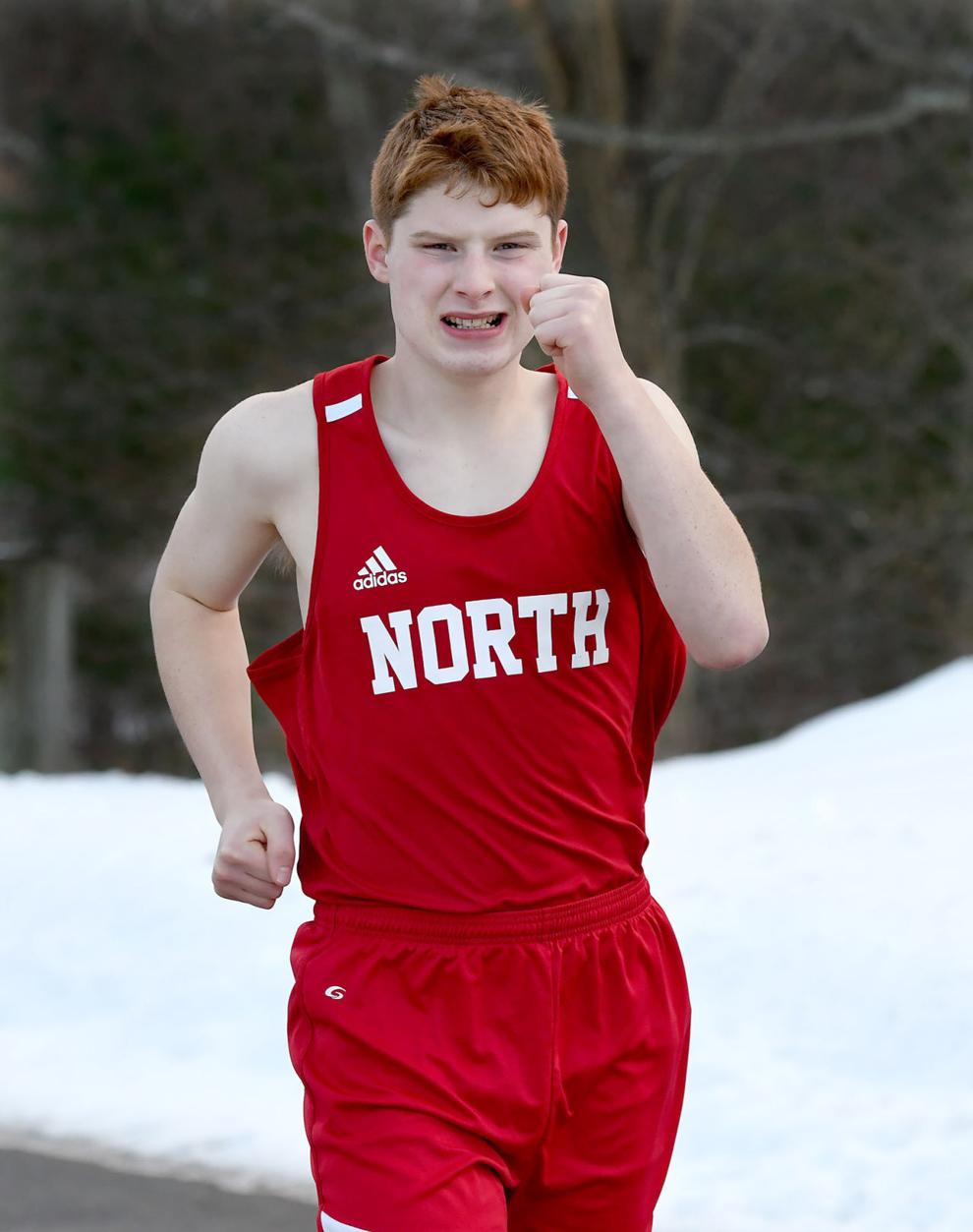 Born in Santa Monica, Calif., while Mike was in graduate school at the University of Southern California, William showed some early signs of autism, but was not diagnosed until he was three years old. By then, the Atwoods had moved back east.
"He was screened that the North Attleboro Learning Center," said his mother, Melanie Atwood. "We were told that 'something was not right' and had him evaluated further at the Ladder's Clinic and then later at Children's Hospital Boston. Dr. Ronald Becker, a neurologist who William has worked with for the last decade and a half, diagnosed him with PDD-NOS, but was later changed to ASD."
"It has literally taken a village to get him here," Mike said. "ABA (Applied Behavior Analysis) therapy with Erik Wells, of Amego and John Ferguson, a U.S. Army veteran, among many others, has drastically changed his behavior over the last decade. Long-time ABA therapist Stacey Galego guided him through his childhood and Coach Tammy Monahan coached him in middle schools. We can't say enough about the Special Education teachers in North Attleborough K-12. They are with him daily."
Atwood's first race was at five years old, running in the fun run portion of the Butterfly 5K, a race held every August to benefit the Julia Cekala Charity Foundation at the World War I Memorial Park in North Attleboro. Atwood began taking running more seriously when he was about 10 years old and was soon taking part in summer meets.
"It did inspire me," Atwood said of running as a kid alongside his dad for workouts and his late grandfather John Atwood taking him to Boston Red Sox games. "But, it wasn't until after that I found out about my dad's success at Bishop Feehan and Boston College. I saw him run the Boston Marathon twice, I was about 7 or 8 years old. He was doing a lot of 5K races and half-marathons. I attended his Hall of Fame Ceremony at Bishop Feehan and we even ran around the campus at Boston College."
"My dad, who passed in January, was the SPED Director in Norton for 40-years. However, it was understandably hard for him to accept his eldest grandson was on the spectrum. Like all of us, there was a period of denial," Mike said. "However, they formed a remarkable relationship and I think he became a bigger fan of William's running than my own. He was so encouraging toward him with academics and athletics."
Autism Spectrum Disorder, or autism, is a complex neurological and developmental disorder that affects how a person acts, communicates, learns and interacts with others.
ASD affects the structure and function of the brain and nervous system. Because it affects a child's development, ASD is called a developmental disorder. It can last throughout a person's life. People with this disorder have problems with communication, interactions with other people (social skills), restricted interests and repetitive behaviors. Different people with autism can have different symptoms. For this reason, autism is known as a spectrum disorder — a group of disorders with a range of similar features.
"My freshman year, I got lost on a course in Milford," Atwood recalled. "I was lost for about 10 minutes and Coach (Ann) McGrail was very worried, but they found me and I finished the race."
A wrong turn this season didn't derail his running a personal best.
"I even made a wrong turn this year in my 5K PR (18:48) at North Attleboro," he said. "They changed the course this year and my teammate Griffin Gouck, who was running with me, quickly told me where to go. My teammates — Chris Galligan, Jack McLaughlin, Kyle Robinson, Jackson Magas and Mark Carlson look out for me and make sure I follow the route."
Atwood earned his second varsity letter this season for Coach McGrail, having posted a personal best time of 18:46 in the 5K run – which puts him on a pace with his dad.
Atwood finished 149th overall (at 19:14) in the Division 1 section of the MSTCA Cup at Highland Park earlier in the cross country season and was the No. 50 finisher overall (at 19:11.8) at the Hockomock League Championship Meet, also on the site of the former Highland Country Club in Attleboro.
"He's come along a huge way," McGrail said. "If you watched him from his first workout with us until now, it's amazing how much he has learned about running and matured. One hundred percent, absolutely, he has learned from his teammates.
"He's really improved, his ability to pace himself and how to run races," McGrail added. "When he first came to us, getting him to go around the track, it was a bit difficult to get him to pace himself. He would speed up and then slow down. He struggled to maintain a pace, he was always speeding up and slowing down."
McGrail credits Atwood's teammates with helping him understand how to pace himself, and how they've learned a lot from him, too.
"They're out there running with him and explaining things to him," she said. "He's a really hard worker and super-dedicated. His teammates learn from him, we're lucky to have him on the team."
Atwood did indeed follow in the footsteps of his dad as the duo have trained religiously since the coronavirus pandemic took root in March, wiping out the spring track season and altering the normal course of summer training for cross country runners.
"When the pandemic hit, I was nervous about no sports and remote school," Mike said. "However, we were shocked: William has thrived despite the isolation, running more miles and reading more books than he ever has."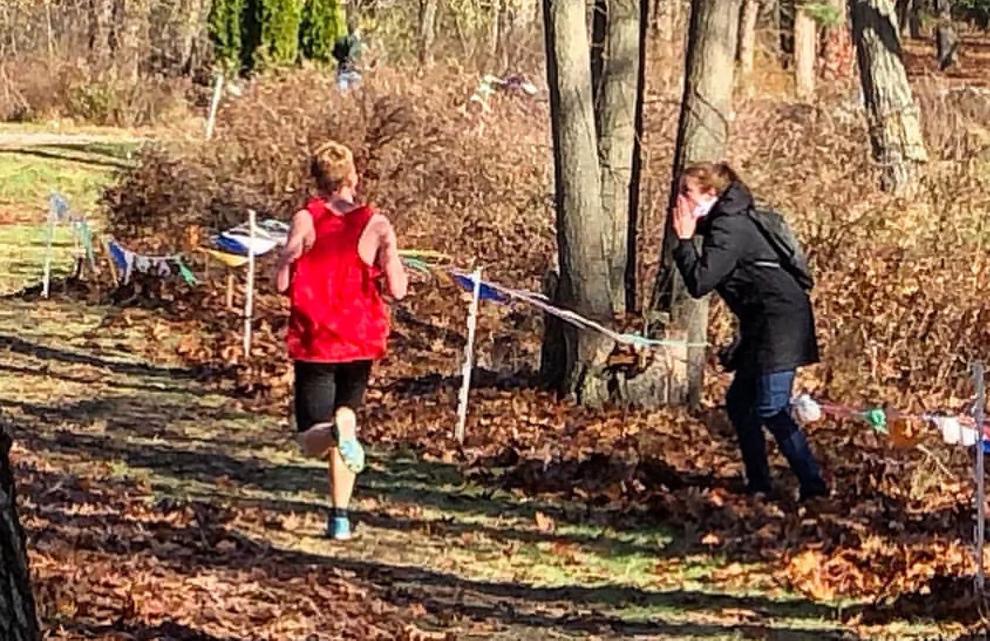 McGrail took the younger Atwood under her wing as she and the elder Atwood served as the cross country and track coaches together at Mansfield High back in the late 1990s and through the early 2000s.
"She has been a fantastic coach for William," the elder Atwood said. "She and William have a great encouraging relationship."
According to William, "She (McGrail) has pushed me to run faster. I've known her since I was in elementary school. She would come by our house and talk about running. Coach McGrail put me in with the top runners in workouts and it got me faster."
It took Atwood his freshman year and most of his sophomore season to develop some strength and endurance.
"It took me a year or two to build up," Atwood said. "When the coronavirus started, my dad put together a program for me. I started doing mileage like 40-50 miles a week, long runs on Ellis Road.
Atwood was forced to the sidelines for a two-week, self-imposed quarantine as a potential exposure case.
"I had plenty of time to train, and I started pushing through the pain," he said.
Atwood has an expressed desire to run faster with every step to the starting line, especially in the mile run.
"I am stuck on the mile," Atwood said. "I used to get frustrated when I didn't beat my time. I ran a 5:25 (indoors) at the Reggie Lewis Center, but I was mad because I wanted to beat by dad's mile time of 5:12 indoors when he was a sophomore.
"I have earned two letters in cross country at North but, I keep coming back to the mile," he said.
His first mile in the seventh grade was over 10:00.
In truth, the running never ends – even on family vacations to London, Paris, Quebec City, Hilton Head and San Diego. With the winter indoor season scratched due to the coronavirus, Atwood is hoping for some indoor competition in the "gap" track season starting in late March, which would be a good base for him for the spring track season.
"I am going to try to mix it up in the future," Atwood said of his potential at any number of events. "But, I am stuck on the mile these days! I want to beat my time, go under 5-minutes!
"I have a Garmin watch my dad gave me. I am very particular about my mileage and time. I kind of get stuck on pace, which is not always a good thing," he said. "I like that challenge of running for you — it's you and the stopwatch."
Atwood enjoys running out along Ellis Road, where several horse farms are located. "There's not a ton of traffic," he said, chuckling at the time his dad dropped him off for a jog one day "and I got lost and ended up by the Wrentham outlets. It was the one day I didn't have my phone because I was doing 12 miles. But, but someone was nice enough to pull over and let me call home.
"My goal was to be in the top five for North Attleboro High this year and earn my letter," Atwood added, being the Rocketeers' No. 4 finisher in six of seven meets. "So I met my goal. I'd love to be in the top two runners on the team. I went from being No. 8 on the cross-country team to No. 4 this year.
"I think because I have autism, I can run faster. Not many people can run a low-five minute mile!"